10 Photos Of Pharrell With Creatives You Should Know By Complex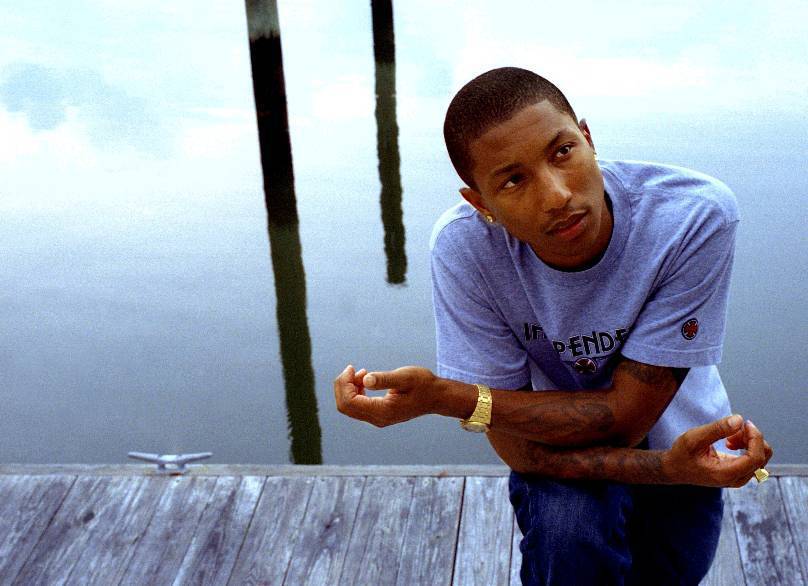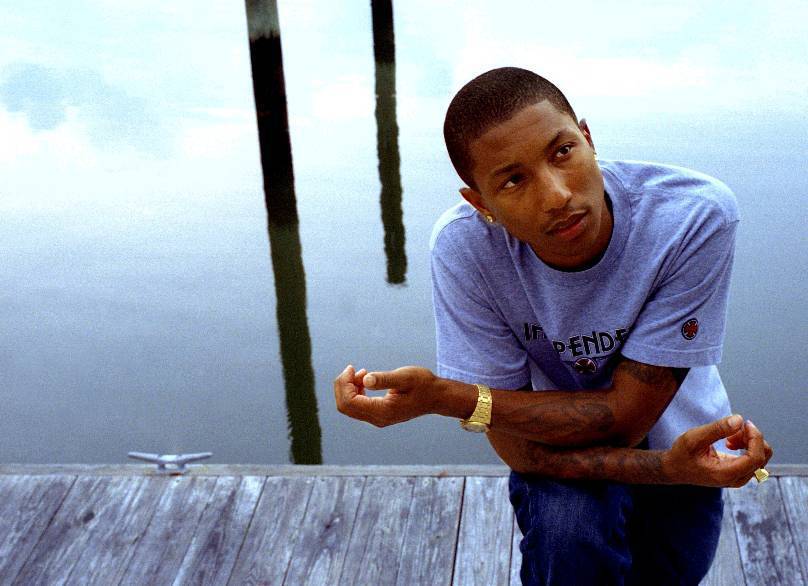 Pharrell Williams is known for many things, among them — producing, singing, rapping, composing, and designing everything from clothes to installations. He consistently creates top-notch work for both himself and others. "Others" includes people and brands like Jay-Z, Miley Cyrus, Louis Vuitton, Marc Jacobs, and Moncler. "Himself" includes The Neptunes, N*E*R*D, Billionaire Boys Club, ARTST, Kidult, iamOTHER, and more.
It's no surprise that Pharrell associates with and works with the best creatives across the industry. On the occasion of his upcoming Rizzoli Book, Pharrell: Places and Spaces I've Been, being released October 30, 2012, we compiled 10 Photos Of Pharrell With Creatives You Should Know. With appearances from Anna Wintour, Takashi Murakami, Nigo, and more, we suggest you pre-order it immediately.
Pharrell & Andre Fu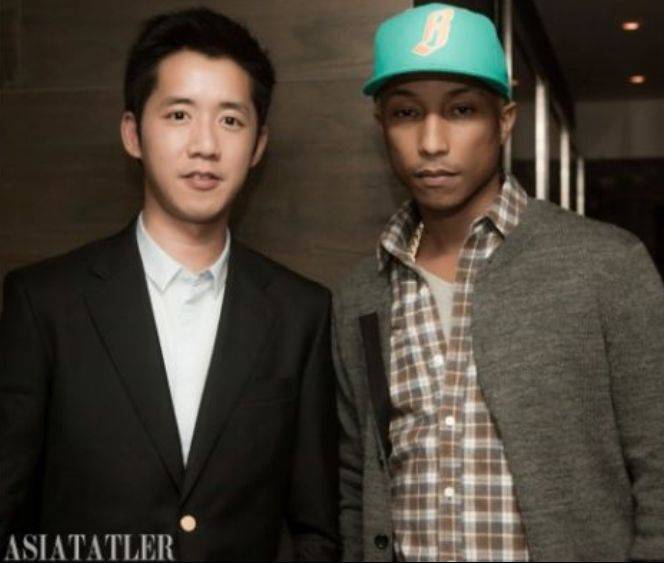 Why you should know about him: Andre Fu designs hotels, galleries, restaurants, and more under his company, AFSO. His client list includes the Four Seasons, W, and Shangri-La hotel groups, Galerie Perrotin, Ben Brown fine arts, Pure Fitness, Agnès b, and Lane Crawford. Put simply, Andre Fu is the man, and when somebody wants a sexy hotel or restaurant, they hit him up.
Pharrell & Friends With You (Samuel Borkson & Arturo Sandoval III)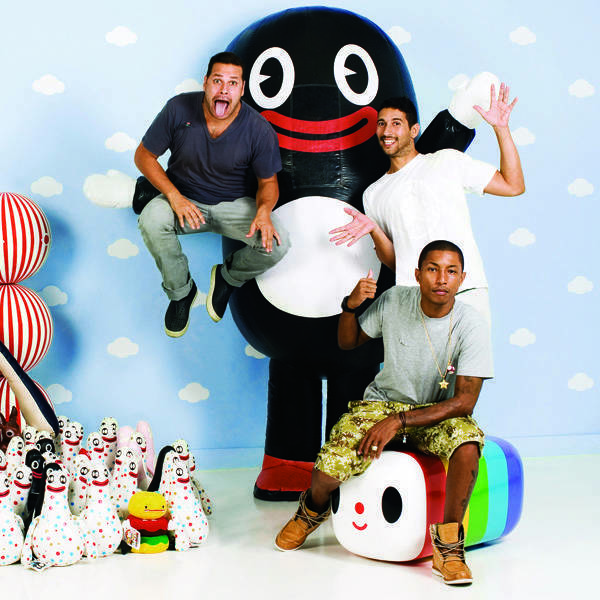 Why you should know about them: FriendsWithYou is the fine art collaborative of Samuel Borkson and Arturo Sandoval III, who work in a range of mediums — paintings, sculptures, large-scale experiential installations, public playgrounds, published works, and live performances. Their post pop visual language is the main theme of their experiential art, which has been shown at the Museum of Contemporary Art North Miami (MOCANoMi), the Indianapolis Museum of Art (IMA), Haus der Kulturen der Welt Museum in Berlin, Santa Barbara Contemporary Arts Forum (SBCAF), and Galerie Emmanuel Perrotin. In 2010, Friends With You and Pharrell collaborated on a psychedelic outdoor installation at Art Basel titled Rainbow City. The same year, FWY designed a wrap for a vintage Rolls Royce, seen in N.E.R.D.'s "Hot and Fun" video. They most recently made a film called "Cloudy" for Pharrell's IAmOther.com.
Pharrell & Zaha Hadid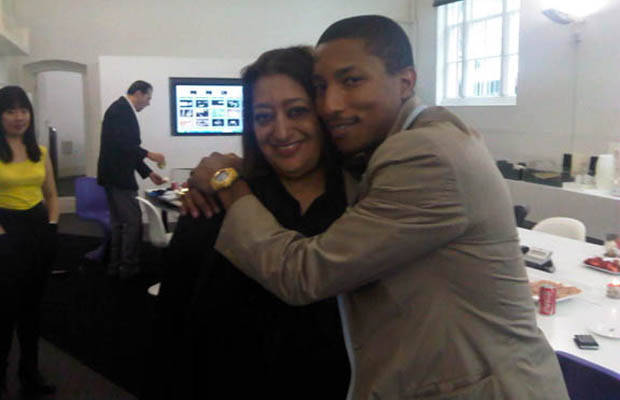 Why you should know about her: Zaha Hadid is one of the greatest architects of our time. Among the many chairs she's held at universities and awards she's won, the Pritzker Architecture Prize in 2004 and Stirling Prize in 2010 and 2011 rank high. She was most recently appointed Dame Commander of the Order of the British Empire in the 2012 Birthday Honours for services to architecture. She's designed the BMW Central Building in Leipzig, Germany, the Guangzhou Opera House in Guangzhou, China, the Rosenthal Center for Contemporary Art in Cincinatti, Ohio, and much more, with a number of ongoing projects, too. Pharrell interviews Zaha Hadid in his upcoming Rizzoli book, The Places and Spaces I've Been.
Pharrell & Hans Zimmer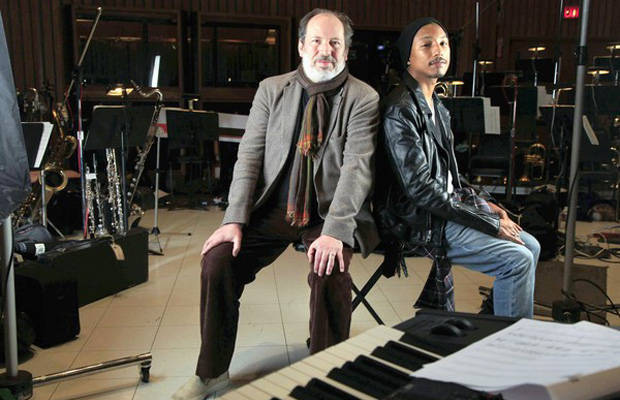 Why you should know about him: Hans Zimmer is a German film composer and music producer, who's the head of the film music division at DreamWorks studios. He's received four Grammy Awards (The Lion King twice, Crimson Tide, and The Dark Knight), two Golden Globes (The Lion King and Gladiator), a Classical BRIT Award (The Dark Knight), and an Academy Award (The Lion King). On top of all of that, The Daily Telegraph added him to their list of the Top 100 Living Geniuses. Pharrell and Hans Zimmer composed and produced the music for the 84th Academy Awards.
Pharrell & Swizz Beatz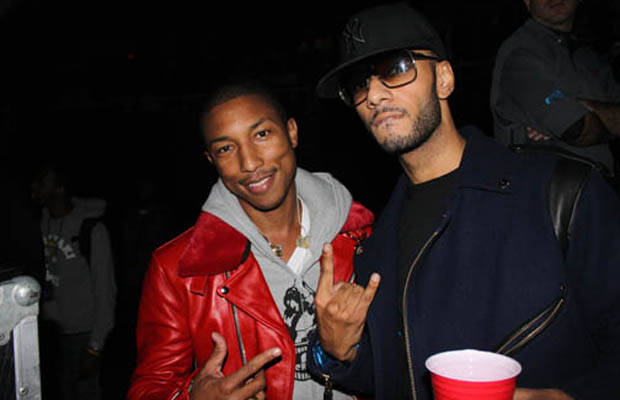 Why you should know about him: Many know Swizz Beatz as a producer and rapper, but he's been a painter his entire life. Citing inspiration from artists like Salvador Dali, Jean-Michel Basquiat, Keith Haring, Andy Warhol, and others, Swizz creates, shows, and sells work. In an interview with Life+Times, he discussed his plans to open a gallery for promoting young, promising artists, who he's met on his travels. He says, "I feel like I found the new [Andy] Warhol in Japan, the new [Takashi] Murakami in Hong Kong—not to compare their work so much but as far as [their] thinking outside of the box. I found a couple of sick artists in Africa, in Mexico too."
Pharrell With Garance Dore & Scott Schuman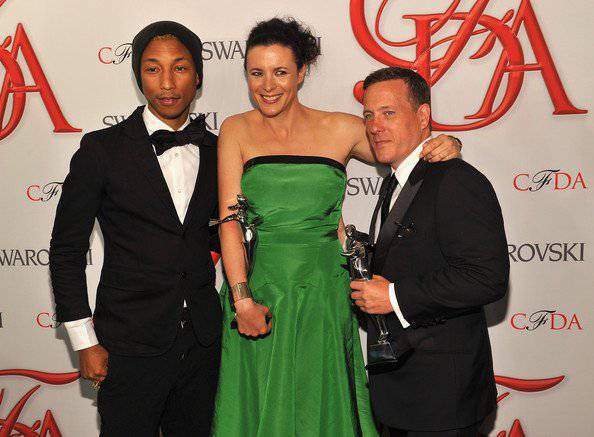 Why you should know about them: Garance Dore and Scott Schuman (The Sartorialist) are photographers, bloggers, and writers who have become separately successful documenting street style. Having been a couple for a few years now, they've done impressive collaborations with Tiffany & Co., Gap, Burberry, Club Monaco, Moschino, Kiehl's, and more. They are pictured with Pharrell at the 2012 CFDA Fashion Awards.
Pharrell & Tyson Toussant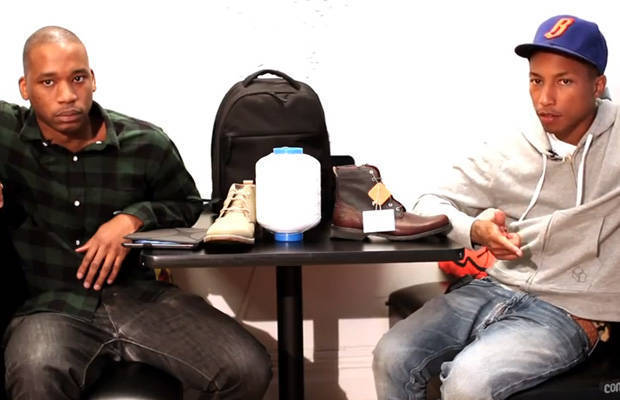 Why you should know about him: Tyson Toussant is the founder of sustainable textile company, Bionic Yarn, which makes high-performance eco-thread by recycling old plastic waste. He's proven that you can make jeans, bags, and much more with his product. Pharrell has been a fan of Toussant's work since 2009, appearing in numerous videos with Tyson to promote Bionic Yarn as a brand ambassador. In a video interview the two of them did with Complex, Pharrell says, "If you build smart and shop smart, you're living smart. It's Bionic."
Pharrell & Issa Rae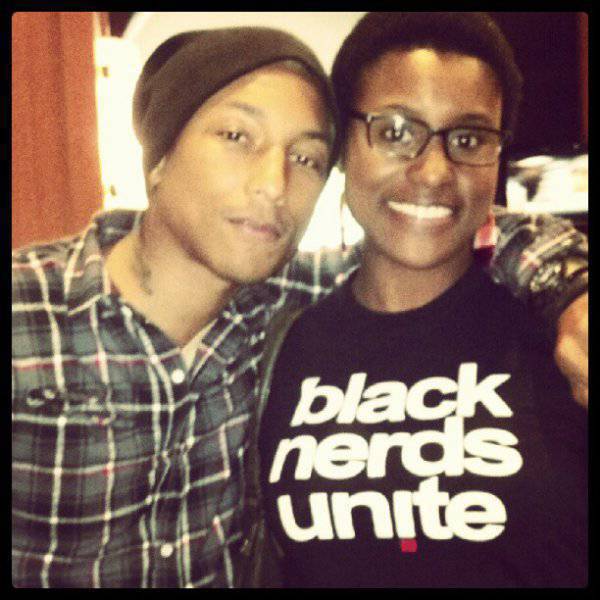 Why you should know about her: Issa Rae is a YouTube superstar, who created the online series "The Misadventures of Awkward Black Girl." She's hilarious and groundbreaking, acting in scenes where her self-deprecation becomes educational and light-hearted. Her life frustrations are relatable, which is one of many reasons Pharrell asked her to make her show a part of his project, IAmOther.com.
Pharrell & Mark McNairy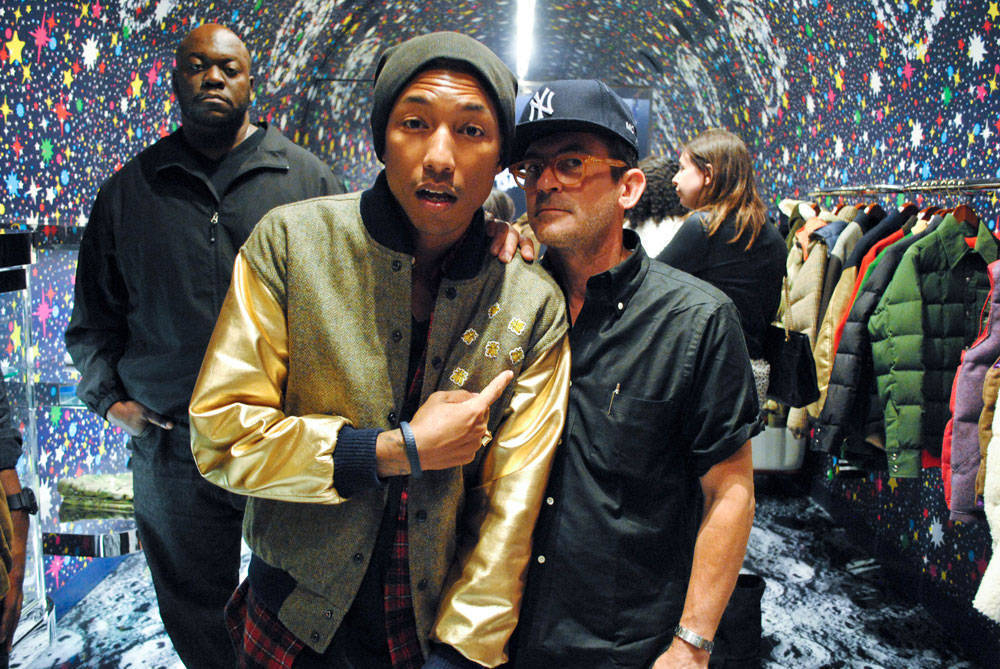 Why you should know about him: Mark McNairy is a fashion designer who was formerly the creative director of J. Press, but now has his own collection that includes English and American inspired footwear, Mark McNairy New Amsterdam. Pharrell and Mark McNairy collaborated on the new Beeline by Billionaire Boys Club collection, which includes apparel, footwear, and accessories.
Pharrell & Camille Miceli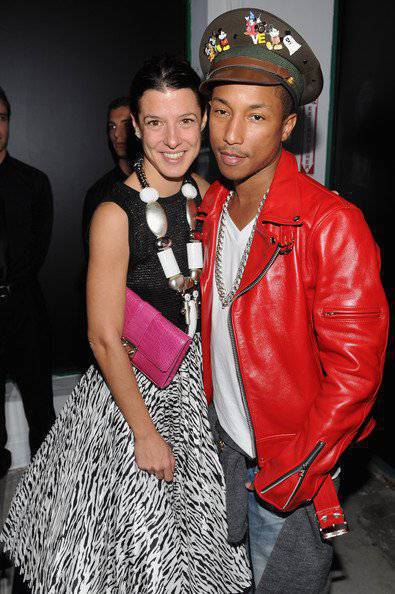 Why you should know about her: If you've ever liked a piece of Dior jewelry, you have Camille Miceli to thank. Camille Miceli is Christian Dior's Creative Director of Accessories, but previously served as head of communications at Louis Vuitton for ten years and was a major muse to Marc Jacobs. She's often front row at dozens of fashion shows and has been regularly photographed with Pharrell at various events. In 2008, Pharrell and Camille collaborated on a jewelry collection for Louis Vuitton titled "Blason."