Christian Rich x Billboard Interview, Talks Working On 'Burgundy'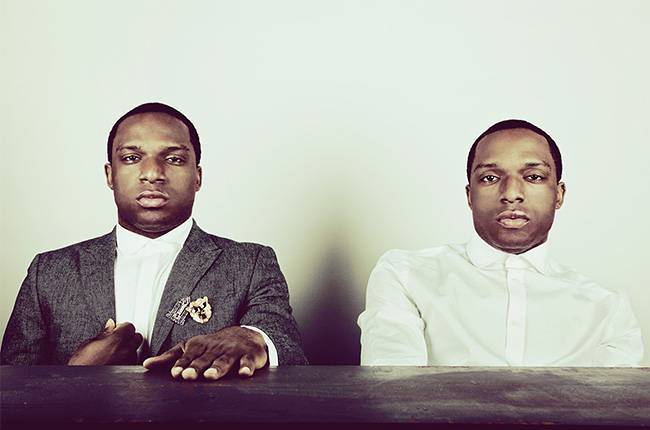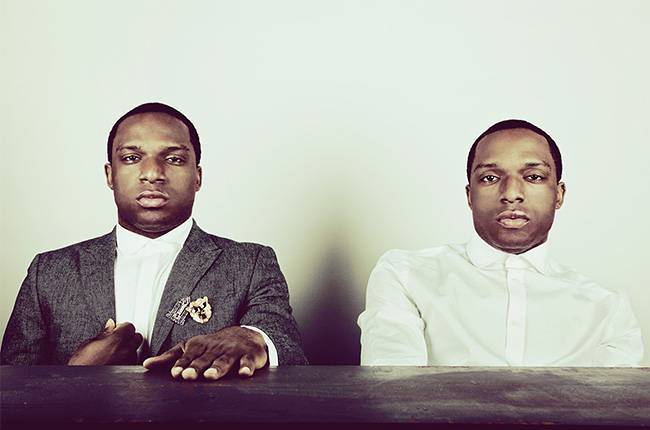 By Brad Wete. Christian Rich, the production duo behind Odd Future rapper Earl Sweatshirt's "Chum" single, is a bit more diverse than the average set of beatmakers. Through their nearly 10 years crafting sounds for acts like Diddy and working alongside hitmaking peers like The Neptunes, they've taken their lumps, but are poised to have a big 2013. Twin brothers Taiwo "Christian" Hassan and Kehinde "Rich" Hassan hope to place records on albums from Chris Brown, Lupe Fiasco, and it's been revealed recently that they've locked in an appearance on a J. Cole's forthcoming "Born Sinner" album. Kehinde called in from Los Angeles recently to talk about their upcoming projects, what Chris Brown's "X" is shaping up to be and some house DJ gigs they've got on deck.
How'd you connect with Earl Sweatshirt?
Kehinde Hassan: We met up with Sony's A&R people for Earl Sweatshirt. Earl heard of us before and they wanted to hear some beats, and then they heard some beats and he was going nuts in the studio like, "Wow, okay listen, you guys got to do this project with me." So, we started out with just like three sessions. Three sessions turned into like four or five months. So, we came in and the first three sessions we did, I kind of had a feeling like, "Man, I should have one of these Neptune guys with us."
So I called Chad Hugo and I was like,"Yo, I got to do three days with Earl Sweatshirt. Why don't you come and do these records with us?" He was like, "Cool." So, he flew in and we knocked out three days with him and the first record we did was "Chum." We did "Chum" together. We did "Chum" with Earl and Chad came in and did the outro with us, which wasn't originally an outro. It was just us doing a jam session and just playing different instruments. We played some chords. Chad played some chords. We were just messing around.
I won't say too much about the album because we did a lot of stuff on there, not even just production, but I don't want to give away all his secrets. One thing I can say is that I know I saw the opportunity for Pharrell Williams to work on there, and I was like "Well, listen, I'll get Chad and Pharrell together. And you should do a couple records with them. Literally, when the call happened I was in Berlin. We flew back in the day of the session and it was one of the most incredible moments because that's how, there's a song out circulating called "Burgundy" That's how that song came about.
We were in the studio and Pharrell played a beat, I just looked at Earl and was like "Yo, that's it." And I looked at P' and said, "Yeah, that's the record right there." From there, we just did other stuff and I kind of want to wait until the album comes out to kind of give people the gist of it. It's definitely that kind of album where it's like just all these surprise elements with crazy stories behind them and just musical brilliance from Earl.

What else does Christian Rich have in store?
We have a new trap single with a DJ Grandtheft. He did "Sweet Nothing" for Calvin Harris, the remix. He's got a new record with Spinner records, based out of Amsterdam. They're a big house label. We have a record called "Deep" coming out with them in a few months. That record is going to be serviced next week, but you're going to hear it around with the DJs next week. It will be out circulating in a few months. But it's also on the BBC Radio, so you can go online and Google it to find it. We're also doing Electric Forest, which is in Rothbury, Michigan. We have a couple sets in that festival and we're doing a trap party before that. We have French house EP coming out in June. French house is a way of saying "'80s R&B." It's like disco and R&B. We literally made a French ouse album. We just had some songs and we started messing around with it. We have some pretty sick vocalists on there. We didn't sing anything. We just produced it. We're going to premiere a few of them on our DJ sets at these festivals and a few will be put out on Sound Cloud for people to hear. Then they're coming out with an official release in the next few months.
How do you like those scenes? You seem to be pretty diverse.
We grew up in Chicago, so we grew up on house music. You had no choice. I knew who Stardust was just growing in Chicago. He ended up being one of the guys in Daft Punk. We grew up with that kind of musicality. At the same time, our parents got the old, dusty '80s and '70s records. We had a station dedicated to that called V103. So, you'll be flipping through house music and the next thing you know, you're listening to Nile Rodgers or Steve Harrington. You're trying to figure out who these guys are playing these chords.
On top of that, we're Nigerian. We grew up in Nigeria. So, when we came back to America, I didn't know what hip-hop was. With us, it's quality. Whether it's hip-hop or EDM or R&B. It's all about quality. It has to be great music. I don't care if I put one record a year. As long as it's one of the best records of the year, it's fine. It doesn't matter what the genre is. If it's polka and it's good, I'm going to rock with it. That's what our agenda is with that.
What about on the pop side of things?
We just did like three records with Chris Brown. I don't know if they're going to make the album. We did three pretty good records. I had a lot of producers calling like, "Yo, he was playing your records. What's going on? Am I on the album?" I'm like, "I don't know. I don't know if I'm on the album."
How's the Chris Brown "X" album coming along, from what you've heard?
From what I've heard, the sound is pretty dope. It's one specific direction, but that direction is very unexpected, but expected for that kind of artist. The sound is melodic obviously. I don't know if you've listened to his other albums, but it seems like he's moving from tempo to tempo. ["X"] has one kind and sticks with a tempo. I don't know if they changed the track listing, from what I heard, it was all smooth. They had these very R&B sounds. When you hear his first single "Fine China," you're like, "Yo, he's trying to bring R&B back." It's smoothed out and charming. If you meet Chris, that's how he is in person. He's a really cool dude. He's a very cool guy. I think his new music reflects that. You'll hear it and you'll forget anything you know about Chris. It sounds like you're sound is about to be very familiar with people. I think the next month is going to be interesting. I'm not mad at that. With our career, we kind of just rode the waves until the right wave came. For those who know, great. For those who don't, fine. You'll get to know us. We're humble about it. No reason to be cocky or inconsiderate about it. Let's see what happens in the next couple of weeks.