Pharrell Is 'On Complete Fire'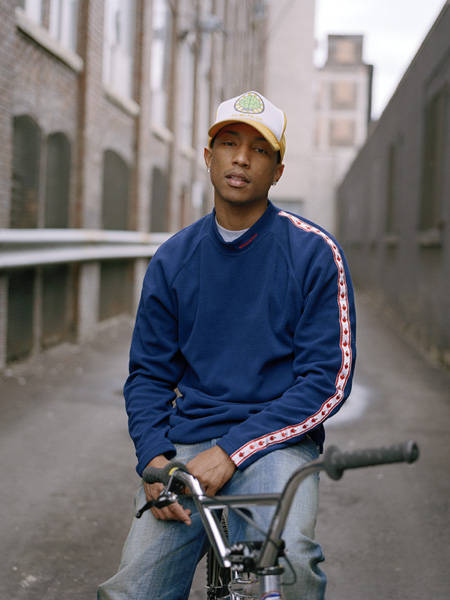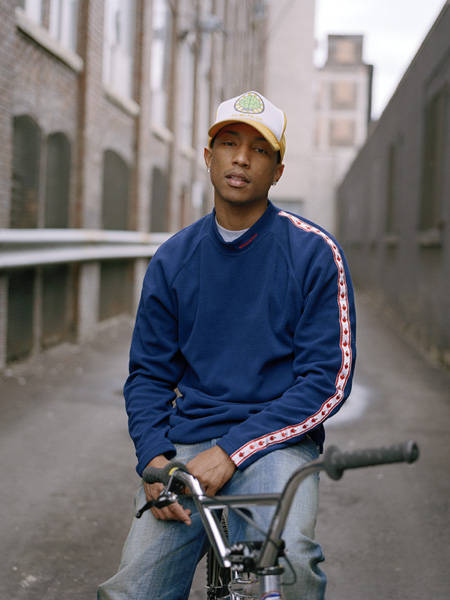 'He's clearly having a moment,' says Vibe editor-in-chief Jermaine Hall about Skateboard P's spree of hits. By Gil Kaufman with additional reporting by Rob Markman and Nadeska Alexis. Let's face it: Pharrell Williams is everywhere this summer. It's not like the always in-demand producer/singer/arranger/Renaissance Man went away — working on songs and albums by everyone from Game to Adam Lambert, Usher and Kendrick Lamar over the past two years — but the past few months have seen him popping up all over the charts on a variety of high-profile projects, not to mention a stellar turn on Sunday night's BET Awards. His first big move was back in March, when music fans first got a taste of his now-ubiquitous falsetto vocals on Daft Punk's summer smash "Get Lucky."
"I thought it would do good, I didn't know it would be this; I didn't know it would be breaking records across the board, I had no idea," Williams told MTV News of the song that crashed the top 10 in nearly 30 countries and broke streaming records on Spotify. "I just thought it would do well, because it felt great and it felt different, and you guys know I live for those types of things, to do things that are different." That alone would be enough to remind people of what a hook-monster Skateboard P is. But then he doubled down with the other beach banger of 2013: Robin Thicke's "Blurred Lines." That made Williams the first act since the Black Eyed Peas in 2009 to have the #1 and #2 singles on the Billboard Hot 100 singles chart.
"He's clearly having a moment and he's on complete fire right now," said Vibe editor in chief Jermaine Hall. "The way his mind works is that he needs to be inspired to come up with these hits and for a time he wasn't finding the inspiration that he needed. "But as he started working with Daft Punk that was [clearly] super inspirational. Just him being around the sessions for that and Watch The Throne [also] started to get his juices working. That's why you're seeing all these hits with Daft Punk … he's on Tyler [The Creator's upcoming] album, Frank Ocean's [upcoming] album; that huge [Robin] Thicke hit."
Not bad, right? But he's also got two songs on Kelly Rowland's recent release, Talk A Good Game (and he produced this year's Destiny's Child comeback single "Nuclear"); he sings the hook on the new 2 Chainz single "Feds Watching"; is featured on Azealia Banks' just-dropped "ATM Jam"; and has five songs on the "Despicable Me 2" soundtrack. P's also alongside Nicki Minaj on Nelly's "Get Like Me,", working with Busta Rhymes on the new single "Twerk It" and, based on the TV spots, seemingly sprinkled some of his magic dust on tracks from Jay-Z's Magna Carta Holy Grail. One of the reasons Skateboard P is so in-demand is his ability to read a room and bring just the right energy to a track.
"He had a room full of all his folks and they were all in the zone," Pharrell recalled of the Chainz "Feds" session. "I [was] absorbing the air and the vibe, the tone, the pacing because everybody there was pretty much on a similar page. Immediately, I started working on what that [vibe] felt like to me and that's where the loop of the beat [came from]. … It's that '80s ska, reggae, glass-of-wine type of feel. I just put the drums up under it and it just happened that way." And whether it's hip-hop or pop, Pharrell's chameleon-like abilities allow him to slide into any situation. "Coming from Nashville, she just sort of appreciates things in a different way and it comes through in her performance and her aspiration," he said of his work over the past year with Miley Cyrus. "That's my lil' sis. She knows what she wants to do and at the tender age that she is now, she's just getting started."
Vibe's Hall said a lot of the younger artists Pharrell's working with now, from Tyler to Miley, grew up listening to P's early-2000's production work with Neptunes partner Chad Hugo and they're clearly paying homage to someone they idolized coming up. "Pharrell is the biggest fan of when I speak the Jamaican dialect, the patois," Rhymes said of the pair's history mining the island groove on songs like 2009's "Kill Dem" from Back On My B.S.. "He always harasses me about, 'Yo, I want to do a whole album with you spitting in Jamaican' … but Pharrell was harassing me to go in on that on this particular day," Busta added of "Twerk It."
While Busta likes to dole out his Jamaican roots in small doses, he said Pharrell's enthusiasm about giving "Twerk" that certain feel won him over. And there's plenty more where that came from, including songs on Mac Miller's latest, Watching Movies With The Sound Off, and upcoming tracks with Mike Posner, Earl Sweatshirt, Mayer Hawthorne, Chris Brown and Beyoncé. XXL Magazine Editor In Chief Vanessa Satten said Pharrell has always been open to working on different kinds of music, which, combined with his pan-ethnic look, sly smile and exquisite fashion sense has allowed him to stay relevant over a longer period than other producer/singers. "He's grown with hip-hop and is never stale, so you can never get tired of him," she said. "He's crossed over into different genres, but it's also about doing the right songs and making the right decisions."
Rather than burning his fans out with a predictable sound, look and party-circuit ubiquity, Satten said Pharrell knows when to hang back and when to go hard on hip-hop or pop and, crucially, when to not be heard at all. Unlike other producers who fall in love with the limelight, Satten said Williams also keeps his private life relatively private. "You're not at his house for parties and he's not a character that is constantly putting himself in your face," she said. "He doesn't show that he needs our approval and he gives you just enough [of himself] but not too much." Most importantly, after establishing a definitive sound with Hugo, Hall said Pharrell has switched it up over the years. "That's what great producers do," he said. "They're able to step back and redefine their sound."