Maxine Ashley x Page 31 Interview, Maxine Ashley – The Way (Ariana Grande Cover)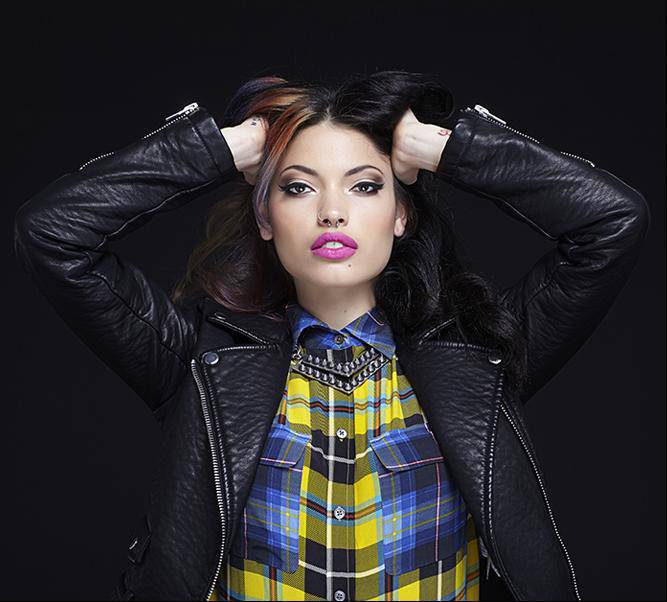 Page 31 recently conducted a multi-look photo shoot and interview with singer Maxine Ashley in support of her debut EP, Mood Swings. Maxine sports various looks, introduces the concept of her EP which is available for download today and talks being in the studio with Pharrell and Justin Timberlake. In addition Maxine covers Ariana Grande's The Way for Page 31 Karaoke. Interview conducted by Page 31 Editor-In-Chief Gregory Calvaire. Video directed/shot/edited by Josh Thomas and John Ricca. Photographs by Daniel J. Vasquez. Page 31 jingle scored by Mike Jackson of AJ MJ ENT, courtesy of Same Diff'.
Maxine Ashley – The Way (Ariana Grande Cover)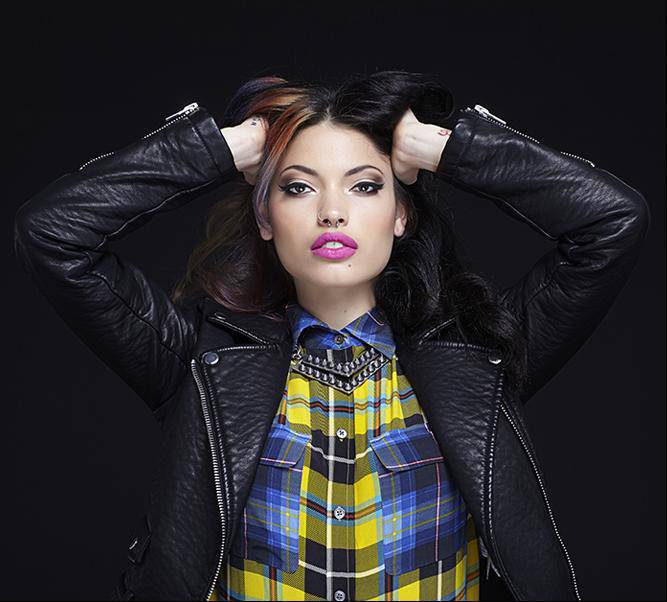 Any wanderer walking by the 3rd floor, 26th street studio could have easily believed some type of informal sporting event was being held behind the stone grey double doors excluding the outside world from it's content. What began as a peaceful, intimate photo shoot soon became a show of some sort, with women loudly praising each pose, lip pout and facial expression presented before the camera lens.
The model for the day was Bronx native, singer/songwriter Maxine Ashley and she could do no wrong as far as the ladies in the room were concerned. The men on site got a good chuckle out of the reactions; they compared the cheers to the emotions they compose in front of their TVs on Sunday afternoons. It wasn't until the male editors and photographer had to review the four hundred and six unflawed proofs taken that they truly embraced how impressive the outcome of the daylong photo shoot was.
Motorcycle Jacket – Zara
Plaid Shirt- Equipment FEMME
Necklace-H&M
Styled by Carolyn Castro
Hair and make-up by Giselle Negron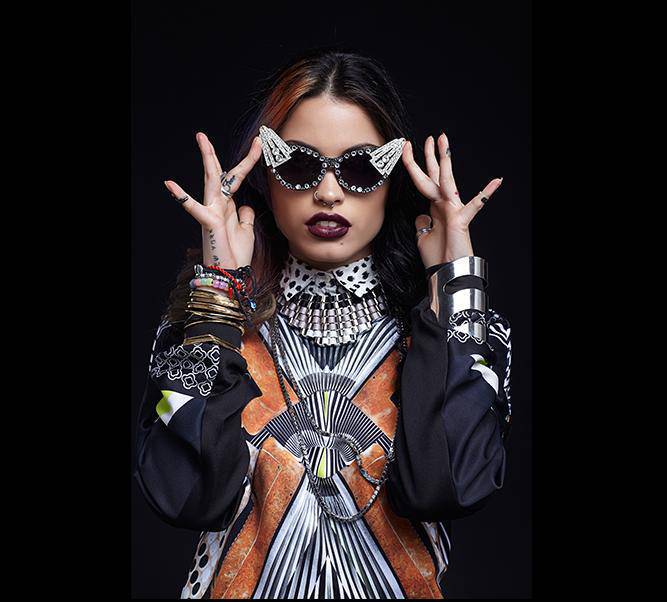 Maxine Ashley's vocal versatility and unique hairstyle punctuated with an asymmetrical pink dye allowed her to jump through computer screens all across the world. The most influential of her 9 million plus YouTube viewers would end up being Grammy Award Winning music producer Pharell Williams. Two years after being discovered by Williams, Ashley fondly speaks of their relationship, saying, "when I'm writing something. He doesn't tell me what to do. He wants to know what's in my head and bring out the best in me…he's very much like a big brother."
On Perpetual Nights, one of the standout tracks on her Mood Swings EP, the chemistry between Ashley and Williams culminates in a soulful jazz ballad. What stands out most is the maturity of the record, which dominates the entire project. Ashley explains, "when I was making this EP I was in a place, where I was chill and mellow. I'm going to be making all types of different music. It's not only going to be this. This is just one part of me."
Glasses – A-Morir Eyewear
Gold Bracelets and Rings – Fay Andrada
Ear Cuff – H&M
Collared Shirt – H&M
Sweater – Clover Canyon
Styled by Carolyn Castro
Make-Up by Lakeisha Dale
Hair by Giselle Negron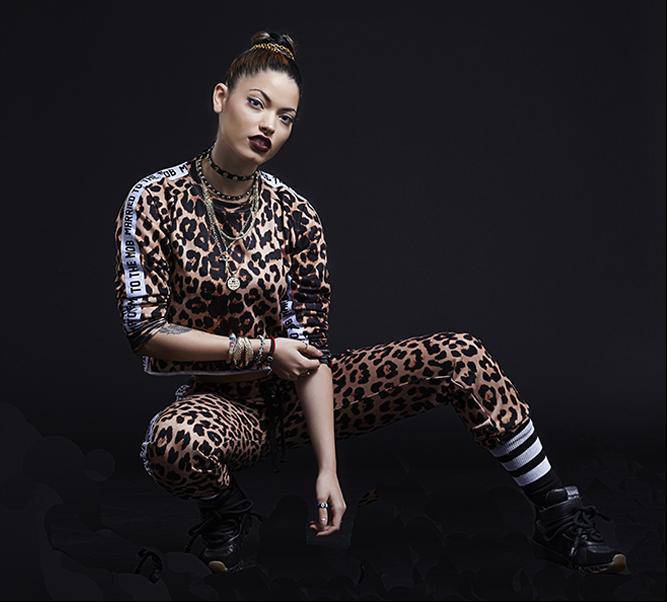 Perhaps the seamless continuity of Maxine Ashley's debut release can be best attributed to her newfound recording process: "Right now the sessions that I'm doing are a lot different than what I used to do. Before I used to go to studios and record with who ever and just get into the vibe and listen to beats and make from scratch. This time, I literally wake up in the morning and walk to the studio."
While Ashley had to wait years to release her own original work as she went through the growing pains of learning the music industry, she seems to be the benefactor of the long wait. In today's music scenes artists regularly rush into the spotlight with one hit single, and a series of unanswered questions. Maxine seems to have things pretty figured out. When she talks about her future the look in her eyes seems to indicate she sees it unfolding as she speaks.
Leopard Print Sweat Suit- Married to the Mob
Sneaker – Camper's "Bernard Willhelm" Collection
Socks- Forever 21
Jewelry – Maxine's
Gold Chained Headband – Ilia by Tatiana Ilia
Styled by Carolyn Castro
Make-Up by Lakeisha Dale
Hair by Giselle Negron

Towards the later stages of the photo shoot, Maxine emerged from the dressing room with the only look of discomfort she bared throughout the day. "Are you sure you need another look?" she inquired to photographer Daniel J. Vasquez. Maxine Ashley has been heralded for her international street wear style, but to this point we've never seen her grace a photo spread in a dress. After a few look-overs in the mirror, Maxine concedes, "let's give it a try."
A dozen photos into the look, stylist Carolyn Castro added a pair of aviator glasses accentuated with an attached veil and added a golden jacket to her frame as if it were a cape. This was Maxine's most disguised look of the day, but it seemed to bring her comfort with the ensemble. On what was to be the final shot of the day, the singer instinctually shrugged one arm of the hanging jacket off of her collarbone causing it to dangle from her opposite shoulder, exposing the underlying dress for the world to see.
Dress- Reiss
Fishnet Shirt – Maxine's
Jacket – Equipment FEMME
Gold Bracelets – Fay Andrada
Glasses – A-Morir Eyewear
Necklaces- Express
Styled by Carolyn Castro
Hair and Make-Up Giselle Negron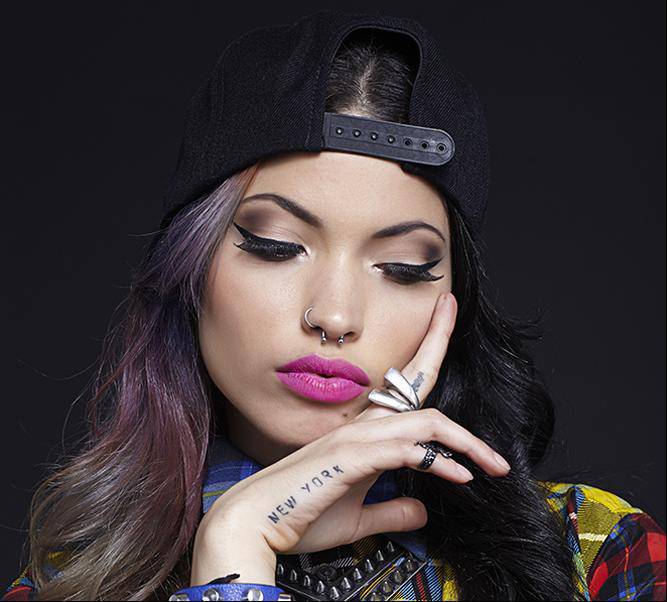 Maxine Ashley's 9 song Mood Swings EP is just a teaser at what looks to be a promising career filled with dynamic projects. Maxine's sound is far more polished than her age or experience in the industry gives off, so the room for growth is scary to imagine. As far as keeping up with her progression, Ashley says it best her self: "The only way to keep up with an artist's development is by supporting and following…and buying my EP, October 1st. And what I meant by buy, I meant, like free. You don't have to buy it, just download it!"
Plaid Shirt- Equipment FEMME
Rings – Fay Andrada
Hat – The SOBRO Effect
Necklace-H&M
Styled by Carolyn Castro
Hair and Make-Up Giselle Negron
Photos shot by Daniel J. Vasquez