Pharrell Williams & Gwen Stefani Preview "Essential" Coaching Strategies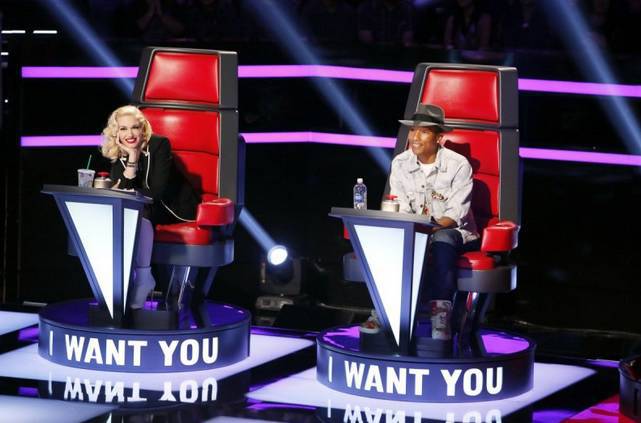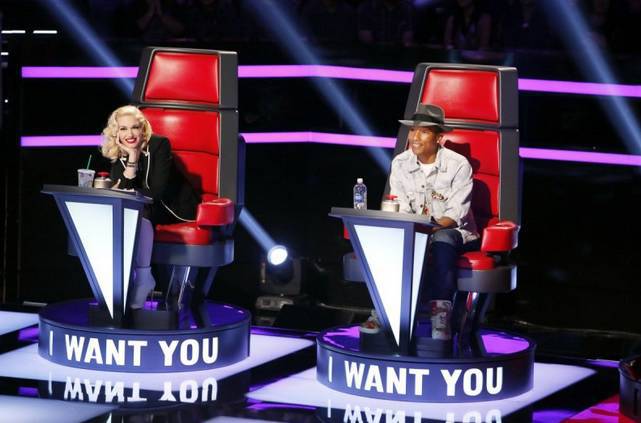 "I didn't know I was going to be sitting inside of a black and red spaceship for the next three months" "You look like James Bond meets Moses," said Adam Levine to a bearded, suited Mark Burnett at the beginning of a press conference for The Voice, held at Universal Studios' Stage 12 in Los Angeles on Aug. 15, with Levine's fellow veteran coach Blake Shelton, and Season 7 rookies Gwen Stefani and Pharrell Williams. Stefani told reporters of taking on the gig this season, "It was so spontaneous, and I think that's what's been the best part about it.
I didn't know I was going to be sitting inside of a black and red spaceship for the next three months." As far as being the only female coach among three rowdy men, the No Doubt frontwoman noted her respect for her cohorts, especially Levine. "I love being with these guys. Adam has raised the bar for me. He has gone places that my band hasn't gone." Levine added, "She's talking about how perverted and disgusting I am!" Stefani enrolled husband and Bush lead Gavin Rossdale as her guest mentor. "We have only collaborated on babies before!" she laughed.
"I was nervous because he's so smart and so musical, and you play different roles for different people in your life. I'm his wife, so it was weird, but it was awesome." She added that it was rewarding to look back on their respective careers and advise her team together. Williams shared high praise for The Voice, commending Shelton's "masterful" coaching strategy ("Never heard that s—t before!" Shelton humorously responded), Levine's role as a team motivator, joker and wordsmith, and Stefani altogether, as he dubbed "the queen of awesome."
"Watching [them go] back and forth all day long … I'd do the show for that alone," Williams said of Shelton and Levine's banter and bromance. "You have no idea of the fun on the other side of the screen. There's no way to put that into words — seriously." What's his own coaching style? One less premeditated and more instinctive — in other words, exactly what you'd expect from Pharrell Williams, and nothing less. "There are a lot of variables when someone is performing, and half of that has to do with them," he acknowledged.
"Some of it is the song selection; some of it has to do with how many days you've been doing it. You try your best to sift throughout all of those factors to get to those essential points that can actually be helpful." And although he didn't set out to be competitive on the show, "if you're going to fit into this puzzle," he admitted, "you just naturally are, … for the sake of helping the people you're working with." When asked what new attributes the seventh season will bring, Burnett commented, "Things are working really, really well. The most important thing is don't try and fix what's not broke. … We've got four superstars who are the top of their own game. There's no reason to be looking for ways to make it different."