Pharrell Williams x Wall Street Journal Interview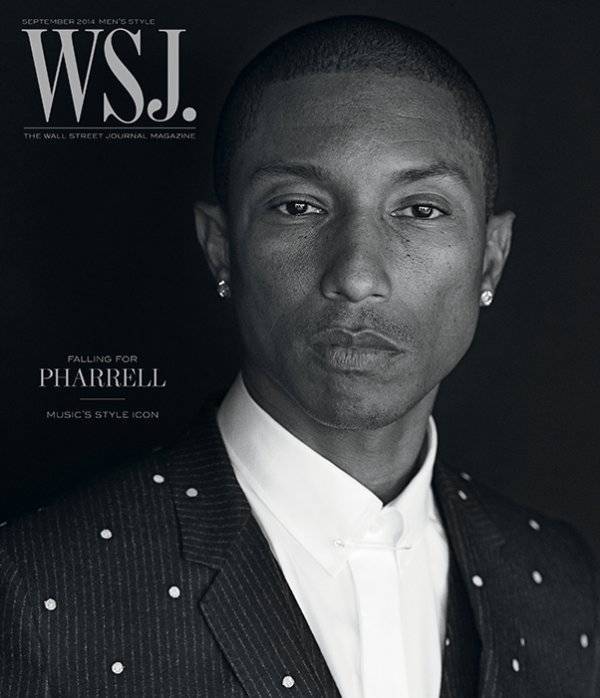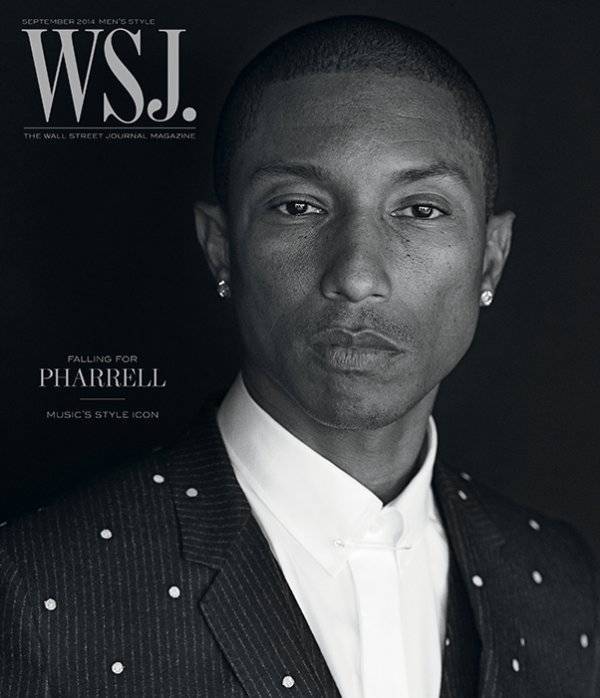 As dusk begins to paint a warm summer day in pinks and oranges, Pharrell Williams arrives at a studio in L.A.'s San Fernando Valley whose atmosphere seems entirely consistent with the mystical calm of a man who has lately seemed to float into public appearances on a lotus flower. In a courtyard behind a pair of tall, ivy-framed wooden doors, a mossy fountain babbles and blue jacaranda blossoms pool on the flagstones.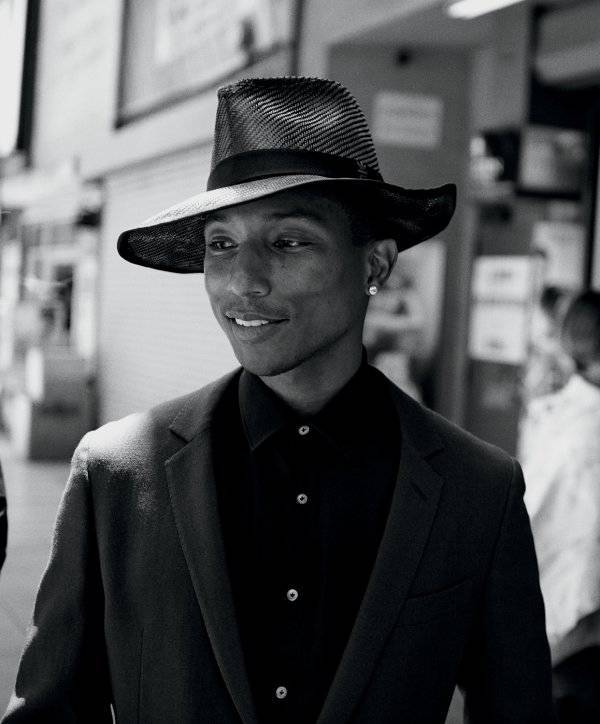 Just inside the studio itself, beneath a plaque certifying the multiplatinum status of Rihanna's Good Girl Gone Bad, a celadon Buddha presides over a couple of music technicians watching a football game and eating M&Ms. One of them uses his knees to squeeze a pillow embroidered with the words "You Have Free Will." Down the hall, perfectly insulated, Snoop Dogg toys with rhythms for a new track.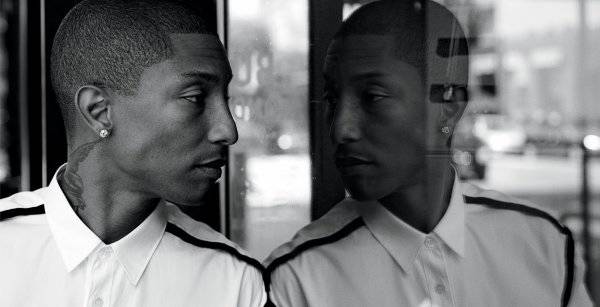 Pharrell arrives late. A crew from NBA 2K, the hugely popular basketball video game, has already assembled on a freshly built set, where Pharrell's avatar will be generated by 68 cameras aimed simultaneously at his head. As if prepping for an MRI, he is asked to remove all metal objects from his person, including several Chanel necklaces whose costume jewels he has replaced with large pearls and jade beads, as well as a set of gold tooth caps he commissioned from a Brooklyn jeweler named Gabby.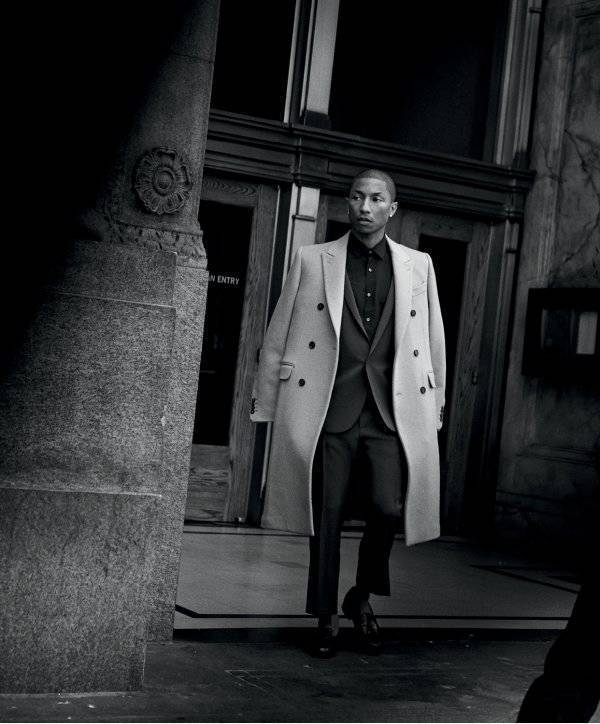 (All members of Pharrell's retinue wear these discreet grills on the sides of their mouths. "It makes us feel like a tribe," explains his wife, Helen Lasichanh, who also wears a camouflage jacket and shorts embellished with little yellow ducks, by the designer Mark McNairy, and oversize houndstooth stockings.) Pharrell sits down, and the director guides him through a sequence of facial expressions: Pucker your mouth as if saying Wednesday; wrinkle your nose like a rabbit; squint as though you're in an old western; glare as if you're ready for a fight; grin, gape, scrunch, snarl, smirk.

Finally, he asks Pharrell for sorrow, and the musician responds by lowering his eyelids and letting his jaw slacken. There are no hyperbolized frowns or lavish sobs. "Now, that is the best sorrow I've seen in a long time," the director declares. "Most people can't do sorrow like that." A wry smile suggests that the irony is not lost on Pharrell, the 41-year-old singer, songwriter, producer, fashion designer, art collector, philanthropist and, starting this month, coach on NBC's The Voice, who ascended to superstardom this year on a campaign of universal happiness. Indeed, 2014 has been a sort of sustained coronation.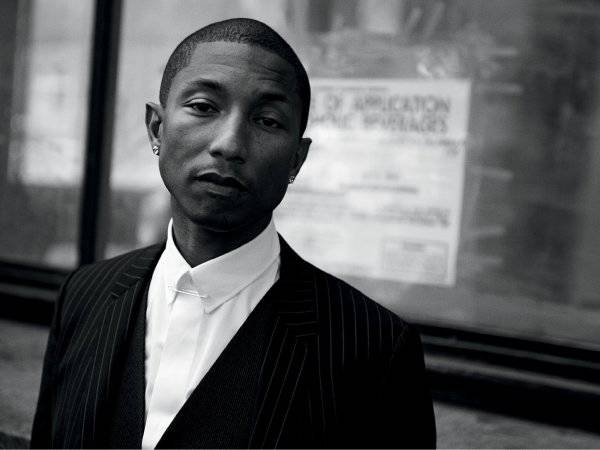 It began at the Grammy Awards in January, where Pharrell won in four categories, including producer of the year, and where he donned a giant, dimpled hat that became the season's most contemplated item of haberdashery. It reached its peak when the song "Happy"—penned for the Despicable Me 2 Soundtrack and repurposed as the first single off his solo album G I R L—topped the charts in 25 countries. In the United States, the single sold more copies in the first half of the year than any song has ever sold in the first half of any year in digital history.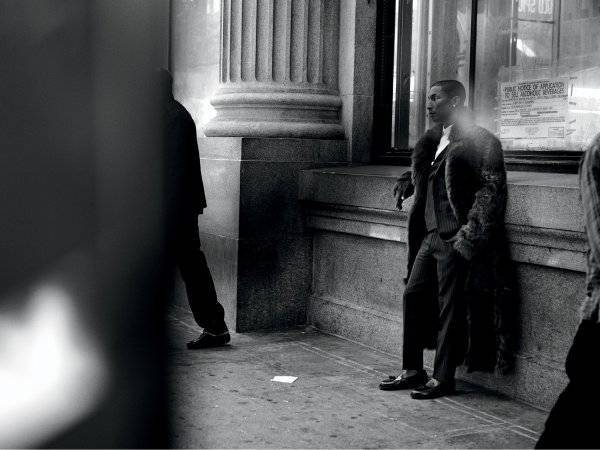 To coincide with the release of "Happy," Pharrell launched a website called 24hoursofhappy.com, which billed itself as "the world's first 24-hour music video." Shot on Steadicam in Los Angeles, it captures one person after another dancing with abandon to the song, whose four minutes are looped 360 times to cover every moment of the day. The video, a collage of jubilant but also touchingly intimate testimonies to the leveling power of music, unleashed a worldwide phenomenon: Thousands of cover videos appeared across the globe, each one uploaded to YouTube under the name of the city in which it was made.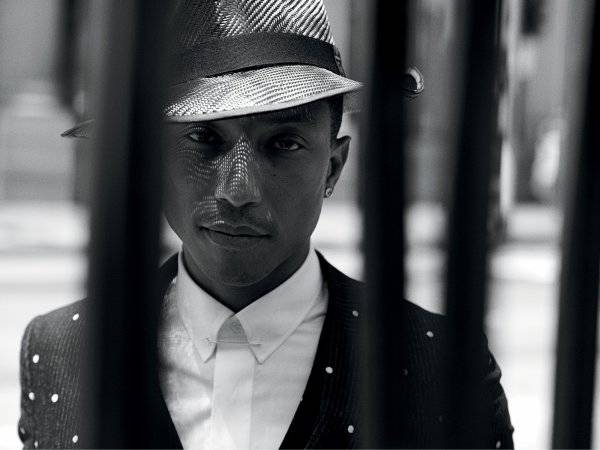 In May of this year, six young Iranian "Happy" dancers were jailed for their video, which Tehran's chief of police deemed an affront to traditional codes of behavior. Hassan Rouhani, Iran's president, stepped in via Twitter. "#Happiness is our people's right," he tweeted. "We shouldn't be too hard on behavior caused by joy." When Oprah Winfrey interviewed Pharrell and invited him to view a series of the tribute videos, from Serbia, Detroit, Malawi, The Philippines and elsewhere, he sat on his stool across from her and wept.
"That was heavy," Pharrell says of the Oprah moment. We are seated in the studio's courtyard, and Pharrell wears a yellow leather jacket from the line he designed for Adidas (the first few pieces appear in stores this fall), as well as a one-off carbon-fiber fedora that Adidas deemed too expensive to produce. His jeans, barely suspended by a gray patent-leather Chanel belt, reveal a pair of boxers by A Bathing Ape, the Japanese line he favors, and his Ugg boots come from a limited-edition Comme Des Garçons collaboration.
(Pharrell calls these his "trust-fund hippie shoes.") "I think I was just feeling really humbled," he continues. "People hoisted my music to a place it had never been before. It's like, life is a mosaic, and my song is one little piece. All those other pieces are all those people's reactions to it." Pharrell's conversation occasionally veers into runic New Age–speak, though it embarrasses him to have this pointed out. His comments have the tidy, affirmative style of a life coach: "Go inward, so that you can go onward and then upward," he says.
At other times they sound like echoes of an ayahuasca trip: "The movie of life is a kaleidoscopic time lapse of co-creation." It's tempting to regard all this as a deft obfuscation, a clever way to keep his personal life out of view. And yet Pharrell glimmers with something like a sense of enlightenment. "It took me a minute to find my purpose," he says. "I knew something was missing, and then I realized, OK, you're able to make music; now you have to inject purpose. I want to make music with something extra to it—a holistic property. I want to make it feel good. I'm not the only one doing this.
Kendrick Lamar's music feels amazing. Adele's music feels amazing. Alicia [Keys]' new album feels amazing. The distinction between sounding amazing and feeling amazing—that's the thing. People, I think, are looking for a feeling." With its references to Roy Ayers and Curtis Mayfield, "Happy" tunes in to the moment when '70s soul-funk basked in gentle rhythms, twinkling sonic effects and pronouncements of peace and love, when a record player could serve as a refuge from the dangerous American cities of the day.
If Pharrell has found the perfect pop-music expression for this era, it's partly because he is swimming against dark counter-currents. He is a kind of anti–Kanye West, a man who doesn't spend the bulk of his time—to borrow the title of Pharrell's debut single as a solo artist in 2003—frontin'. Pharrell concedes that fatherhood—he and Helen have a five-year-old son, Rocket—may have softened the sharp edges. But he believes that he has been the beneficiary of a larger movement. "I just think the world felt cold for a second," he explains, "and we were making music that was callous.
The Internet is responsible for all this connectedness, but bad news travels faster than good. People were inundated with tragedy and travesty, and then it was like, what are we so mad about?" Music dominates Pharrell's memories of Virginia Beach, Virginia, where he grew up. His mother, Carolyn, a schoolteacher, and his father, Pharaoh, a handyman, listened to a lot of Earth, Wind & Fire and the Spinners. His aunt, who lived nearby, favored the psychedelic soul of Parliament and the 5th Dimension. Later, when his family moved to the suburbs, he heard Steely Dan and The Doobie Brothers.
"Music was ubiquitous," he recalls. "It was so thick, you could cut it in the air. The songs with the crazy chord changes, which I would always associate with certain colors, were the ones that would keep my attention." Pharrell bought records for 10 cents at local thrift stores, unaware that he was on a strict diet of classics. He used to take a whisk from the kitchen, line up the pillows on the sofa and pretend he was a drummer. When he was 12, his grandmother bought him a snare drum and suggested he take lessons.
He developed quickly as a musician, and in his school's marching band he met a talented Filipino–American saxophone player named Chad Hugo. Both he and Hugo were tapped to participate in a summer program for gifted musicians, where they played in a jazz band together. "From there," Pharrell says, "we started experimenting with trying to make our own tracks, using these cheap Casio keyboards and tape recorders, whatever we could get our hands on. It was always gratifying to hear it back. Still, to this day, when you make something and it feels good, it's an endorphin release." Pharrell and Chad called themselves The Neptunes.
He remembers hearing A Tribe Called Quest's "Bonita Applebum," off the band's 1990 debut album, People's Instinctive Travels and the Paths Of Rhythm, around that time. "That song changed me," Pharrell explains. "It was like the whole song was the sweet spot of a song, which I didn't know at the time was called a bridge. It's the dreamiest, trancy-est record ever. It's hip-hop, it's jazz, it's meditative, it's like a Jeff Koons sculpture in the sense that it's alchemical. It turns nothing into something."
It happened that Teddy Riley, the hip-hop producer who pioneered the style known as New Jack Swing, had a studio next door to Princess Anne High School, where Pharrell was a student. Riley discovered The Neptunes at a high school talent show and signed them upon graduation. They soon established themselves as a production duo, first for hip-hop acts like Noreaga and Busta Rhymes, and then, as their reputation grew, for pop stars such as Britney Spears, whose "I'm A Slave 4 U" became their first worldwide hit, in 2001.
Others followed, and by the summer of 2003, according to one survey, more than 40 percent of all songs played on American radio were Neptunes productions. The term backpacker, which Pharrell has often used to describe himself, initially referred to the 1980s graffiti artists who carried their rattle cans, markers, spray tips and underground hip-hop cassette tapes in large backpacks. The term then came to describe, often derogatorily, someone who listened exclusively to the nerd-rap subgenre of hip-hop; this person was likely to be a white suburban kid who bristled at the gangsta rap of Dr. Dre and the Notorious B.I.G.
Pharrell confesses that when The Neptunes started making millions, he disavowed his backpacker origins in favor of the Cristal-swilling style of the most successful rappers of the time—though with his own wonkish spin: an 18-karat-gold Blackberry and a diamond-encrusted Rubik's Cube, for example. He suspects that the failure of his first solo album, in 2006, may have been the result of fans' recognition that all the bluster was inauthentic. "I think when I put out my first solo album, the music was just eclipsed by all the braggadocio," he says.
"That was me feeling like I had to be like Jay or Puff. I didn't realize that that was their story—the story of the struggle to will your way out of where you're from, to cash in on that, first for yourself, then for other people. But I didn't see that. All I saw was the planes, the cars, the girls—the ornaments but not the tree they were hanging on. I was making music with and for Jay-Z and Puff, but I was a weirdo in that world. We had A Tribe Called Quest, we had The Fugees, but it seemed like those other guys were running things."
Though Pharrell the producer has often said that he is happy to be "the guy next to the guy"—the man behind the curtain of an Oz more splendid than himself—by the time he wore his famous hat to The Grammy Awards, it was clear that hip-hop had a new sheriff. He finds it awkward, he says, to discuss the hat and the jewelry and fashion generally, despite the obvious seriousness he brings to the enterprise. "It embarrasses me a bit to be a figure in fashion," he says. "I think everyone is interested in what they put on, even if you dress conservatively.
Whatever you're trying to mask, the mask itself says something about your personality." So what does the hat say about him? "Give Vivienne Westwood the accolade," he protests. "I bought it in London years ago. I just liked it. I'm as surprised as anybody else that it became a thing." But with the hat's Seussian proportions, Pharrell seemed to be playing with an idea that has fascinated him for a long time—that of the man with the enthusiasms of a boy, a hip-hop Peter Pan whizzing through a world of men preoccupied with the codes of adult sophistication. This spring he curated an art exhibit in Toronto called This Is Not A Toy, the subject of which was toys for grown-ups.
He loaned several canvases from his own collection of works by KAWS, a New Jersey–born graffiti artist, painter and toy designer, including large paintings of The Smurfs and SpongeBob SquarePants that hang in his exuberant Miami apartment. (Other furnishings: a fiberglass monkey riding a horse and a life-size facsimile of Agent Smith from The Matrix.) Pharrell recently put the apartment on the market; his family has spent most of the past two years in hotel rooms, and he wants to find a place with a yard for Rocket. But the hat proves what the art has long argued—that there is room in hip-hop for lightness.
Gwen Stefani, who also joins The Voice this season as a coach, did not realize the extent of Pharrell's fame until her "Happy"-obsessed eight-year-old son, Kingston, told her that he wanted to be in his next video. The artists first met years ago, when Stefani's band, No Doubt, hired Pharrell to collaborate on the song "Hella Good." "He does something so rare, which is hip-hop with an injection of rock," she explains. "But it's not aggressive. It all seems driven from this positive place. He just doesn't go negative. We have a sort of unspoken connection in that we both love Japan and Japanese style and culture and fashion. And I think we also have this nerd connection."
A few weeks later, on Stage 12 in the Universal Studios lot, Pharrell assumes the red-vinyl coach's seat previously occupied by CeeLo Green (the artist who, coincidentally, took an original crack at "Happy" before studio execs encouraged Pharrell to record it himself). The Voice is in the middle of season seven's blind auditions, in which the four coaches— Adam Levine, Blake Shelton, Gwen Stefani and Pharrell—are to choose teams, their backs turned away from the contestants as they perform. The set suggests the interior of a spaceship: Rings of colored lights wrap around the discoid space, and the walls glitter with stars.
Pharrell hears a voice he likes, slams his buzzer and swivels round. He reacts immediately to the young man's style. "You have tattoos," Pharrell says, "but you also have glasses." A familiar type, in other words: a nerd with an edge. At a time when critics have augured the demise of televised singing contests, and when judges' (or coaches') panels offer a lifeline to necrotic music careers, landing a star of Pharrell's caliber seems like a coup for NBC. "You want to know why I'm doing this," he says, as if to preempt any skepticism. "Producing is what I do every day, talking to people about what they want in their track, giving them advice about what sounds good juxtaposed with their voice and their style.
That's what I'll be doing on the show, but it's a huge platform, and it's about paying it forward. The universe has been good to me, so it's like, 'What can I share with you guys?' I'm hoping that some person in Iowa can take some of my advice, internalize it and go and be bigger than all of us put together." For the moment, there are few juggernauts quite like Pharrell himself. Beyond the music, television and video games is a media empire that includes a pair of clothing lines—Billionaire Boys Club and Icecream, its sister brand. The Adidas collaboration is one of many.
Pharrell owns a company called Bionic Yarn that turns plastics into textiles, and he is curating a line of clothing made from the fiber for the denim brand G-Star Raw. This month, Comme Des Garçons will release a fragrance composed by Pharrell called GIRL, a name that conveniently ties in with his latest album. Rei Kawakubo, Comme Des Garçon's founder and designer, is one of Pharrell's idols, and she inhabits a pantheon that includes Koons, Walt Disney, Coco Chanel, Takashi Murakami and Stevie Wonder—artists united by a rigorous utopianism, if little else. "These are people," Pharrell explains, "who had epiphanies and then did something with them. As I see it, you can live two ways. You can live life the way you always imagined it would play out, or you can try to make the thing you dream of making. If you choose the second, get ready for an amazing ride. That's the ride I'm on."