Pharrell Williams x Telegraph Interview: The Smell Of Success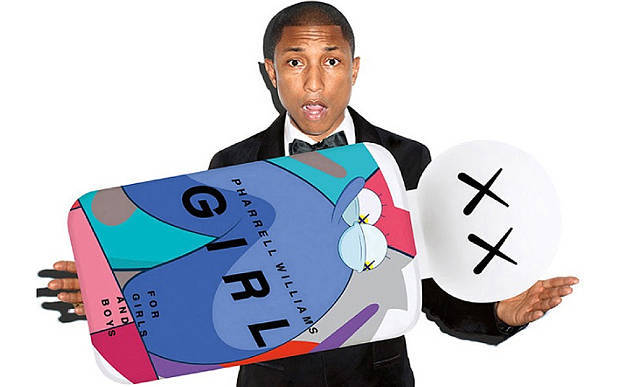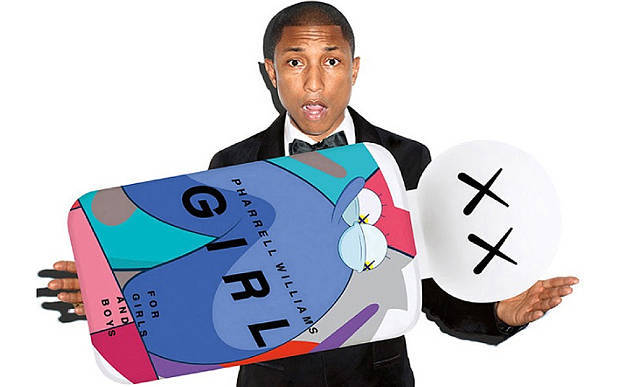 By David Nicholls. The global superstar tells David Nicholls about his collaboration with Comme Des Garcons, happiness. When Pharrell Williams and I met at the headquarters of Dover Street Market back in May, six young Iranians had just been arrested after they posted a homemade music video on YouTube of them dancing to his song Happy.
'I'm saddened by it,' he said. 'I would hope that the government would see that people should have the freedom to express their happiness as long as it's harmless. They should have the freedom to express their happines regardless to whether we agree or whether it makes sense to our own personal lifestyle, opinions or tastes. We must remember that there's room under the sun for everyone. And it doesn't shine on a particular mentality. The sun shines on all.'
That's not what Williams had come to London to discuss, however. And nor was it to promote one of his musical endeavours. Rather, the songwriter/rapper/music producer, responsible for monster tunes including Blurred Lines and Happy, was bracing himself to join the ranks of Justin Bieber and One Direction by launching his first fragrance.
Before you roll your eyes, there is some credibility to the development of Girl, a unisex scent named after Williams' current album. If one is judged by the company one keeps, then he has chosen his wisely. Girl is a collaboration with Comme Des Garçons, the Japanese fashion label founded by Rei Kawakubo in 1969, whose fragrances generate some £10 million of revenue per year.
Williams explained that he had long been a fan of Comme Des Garçons, well before the opportunity to collaborate came up. 'Comme is the favourite brand of all my favourite designers,' he said. 'It's the top of the top, the best of the best.' He refered to Christian Astuguevieille, the creative director of Comme Des Garçons Parfums who came up with the formula, as 'nothing short of an alchemist'.
Williams first discovered Comme Des Garcon's fragrances four or five years ago when he hugged a friend (Sarah Andelman, founder and creative director of Colette in Paris), who was wearing Wonderwood. 'Wonderwood set me in a place that I was so blown away,' he recalled. 'I thought 'wow this smells so much like wood, it's amazing.'
He bought it for his wife and found himself starting to wear it himself. 'That's what started this whole thing with me wearing girls' things here and there,' he explained. When we meet he is wearing customised pieces from Chanel's Bombay-Paris jewellery collection.
Pharrell says he wanted wood to be one of Girl's main ingredients. As with all of Comme Des Garcon's fragrances, Girl is a fairly complex scent: it has top notes of lavender and white pepper, which is given extra weight and depth with sandalwood and patchouli. The cartoonish artwork on the bottle is by the New York artist KAWS. The proceess took just over a year from initial discussions to being fully realised.
Williams is no stranger to working outside the recording studio. In 2005 he co-founded the luxe streetwear label Billionaire Boys Club (available from asos.com and flannels.com) and three years later he designed jewellery for Louis Vuitton. Then came furniture, with a chair for the influential Emmanuel Perrotin Gallery in Paris. Williams is a partner in Bionic Yarn, which makes sustainable yarns and fabrics that have been used in Williams' collaborations with G-Star Raw and Adidas Originals. When we met he was wearing a hat from the Adidas collaboration which was made from carbon fibre.
'They're not going to make it though,' he said. 'It's too expensive to produce.' The Adidas Originals range drops this autumn. There is no doubt that he is a bankable clothes horse for brands that want to benefit from his golden touch. But Williams – a mainstay of best-dressed lists produced by GQ, Esquire and Vanity Fair – really seems to love fashion. 'After I started collecting Commes, they were really nice enough to allow me to come to the shows and come to the front row and see their amazing world of details and rules being thrown out the window. It was pure appeasement of the imagination – that vortex that you go into when you go to their fashion shows.'
His mixture of modesty and enthusiasm for these projects comes across as hearteningly sincere. With his eyes wide and a beaming smile, he recalled, 'When I met Rei we sat down and she said, "Let's do something. What do you want to do?" And I was so shocked that she'd ever want to do anything with me.'