Pharrell Reveals Why He Chose Lionel Richie To Mentor His Voice Team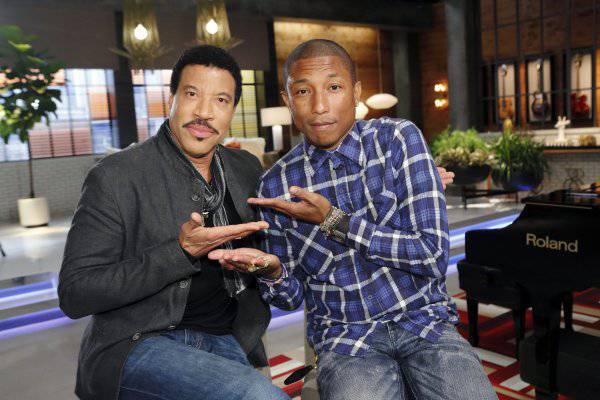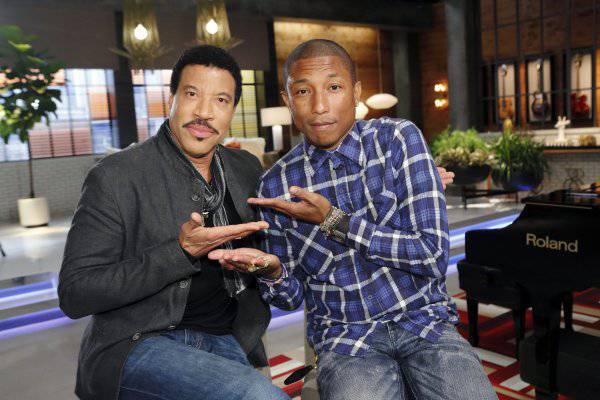 By Taylor Weatherby. Reports about The Voice's season-eight mentors surfaced in January, but NBC only revealed the mentors Monday—and Lionel Richie will help Team Pharrell. EW talked with Williams and learned exactly why he thought Richie was the perfect person to help his team members thrive.
"Who has had a career as long as his and as diverse in genres as him? No one," said Williams. "It'd be hard to find someone that's done it like that. The way he feels things and the way he's led by his visual reaction to things is the reason why his career has been so long. His path has been such an interesting journey and he's taken us along with him musically.
He's different—he's the guy who co-wrote "We Are The World." This is a guy that's had country hits, this is a guy that's had pop hits, soul hits, R&B hits, gospel hits—and it's really good gospel songs. He's a rare guy, and we're so blessed to have him on the show. He's so masterful as a teacher. Everyone learned something; the people on the set were talking about him. I walked away learning stuff."
The Williams-Richie pairing could be deadly for the other coaches. But Williams told EW that he's not a part of the show for the competition, nor will he be using one of his 10 Grammys to persuade contestants. Below, read what else he had to say about the upcoming season and his role as a judge.
EW: What's your main goal or goals going into your second season as a coach?
PHARRELL WILLIAMS: It's the same as it always is; to continue to share advice and suggestions that I have been given that's gotten me to where I am. I just want to pay it forward. It's fun doing it because you meet people that you probably would have never met before. This show brings a lot of people together in more ways than what people see on television.
Do you have any strategies that you're wanting to implement this season?
I can't really go into this with a strategy because I think when you do that, you're not leaving room for natural moments. I just remain open, and although I didn't win the last season, I didn't join it because I wanted to win, I wanted to be able to work with different people and give them all I could in terms of advice and suggestions to help them move forward in their lives, not just their stint on the show.
What do you think you have to offer that the other coaches don't?
I'm just not wired that way, to think about things like that. I do what I do, and they are amazing, amazing coaches. People who choose them have a really good time and they get great education. They leave being changed people, and that's what all of us aspire to do at the end of the day.
Now that Christina Aguilera is coming back, which coach do you think might be your biggest competition?
I don't look at it as a competition. I'm sure if you asked Adam [Levine] that same question, he's got some really solid answers. But I'm in it because there's nowhere else right now you can find this kind of great concentration of young, aspiring artists—when I say young, I mean young at heart—aspiring artists who know what they have to offer and just want a couple tips. You can't find that anywhere; musicians just don't go online and mentor or give guidance. This is where this happens, and on such a huge platform. It's just an awesome situation.
Would you say that the type of contestant this show brings is the best part of the show for you?
That's one of the good things. I think the other good part is, again, those artists being able to spend time with the coaches, and I think the exposure that they get—there's no comparison. That kind of growth and comparison… if you can find some, it'd be rare. This show gives a lot of volume to people into their careers. It's a win-win for everyone.