The Internet x LATimes.com Interview, "We Wouldn't Be Here Without N*E*R*D"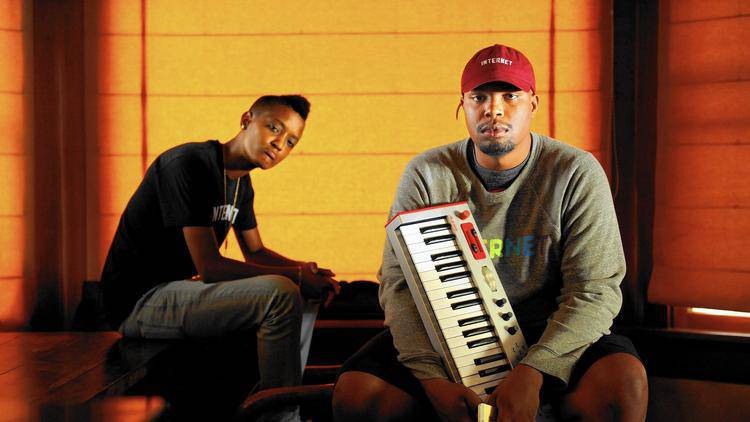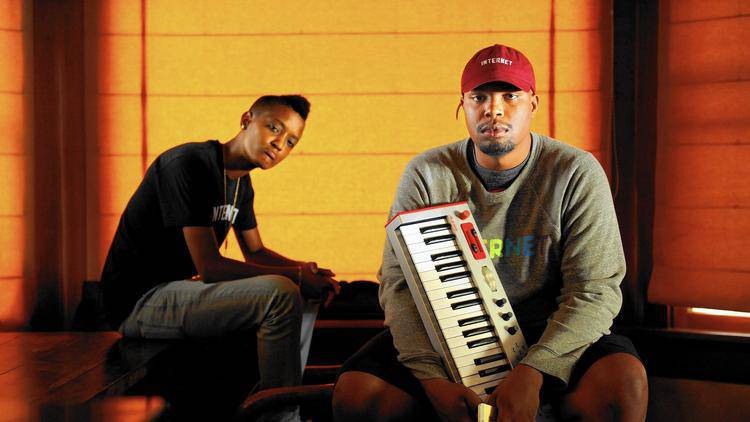 It's the persistent thump that grabs you on 'Ego Death,' the new album from L.A.'s the Internet. For Matt Martians, it started with the beats. A producer and multi-instrumentalist, Martians is half of the Internet, the adventurous R&B group that began as an offshoot of the cheerfully anarchic Los Angeles hip-hop collective Odd Future. Since then, Martians and his creative partner, Syd Tha Kyd, have soothed nerves jangled by Odd Future's rowdier members, including Earl Sweatshirt and Tyler, The Creator; they've also cultivated a small but devoted following of their own among connoisseurs of left-field soul music.
But with their new album, "Ego Death," the two wanted to connect more broadly. So where in the past the Internet happily floated "up in the clouds," as Syd described their dreamy, sometimes aimless early work, this time they built songs from the ground up, creating harder-edged rhythms to grab even a casual listener — "the random dude that might hear it in a store," Martians said.
*http://www.latimes.com/entertainment/music/la-ca-ms-the-internet-20150705-story.html#page=2
"The drums are the Trojan horse," he went on. "You catch 'em with the drums and then they're like, 'Whoa, what's going on up in here?'" Sure enough, it's that persistent thump that grabs you on "Ego Death," which came out Tuesday on Odd Future's label in partnership with Columbia Records. But inside are all kinds of off-kilter song structures and spacey instrumental textures as well as a lyrical point of view rarely heard in the straight-dominated world of so-called baby-making music: that of one woman singing to another woman.
The result is a winning paradox: a jump toward accessibility that also feels deeply personal. "Syd is really Syd on this album," said Tyler, The Creator, who appears on "Palace," a low-slung party song in which Syd promises a lover "everything you've ever wanted." The rapper also said he was glad to hear Martians flexing more production muscle in the record's sound. "I've been waiting for him to really incorporate those harder drums since Day 1."
Appropriately, the Internet first came together online, when Syd (whose full name is Sydney Bennett) reached out to Martians (born Matthew Martin) after hearing tracks he'd posted on MySpace. Soon, each became involved with Odd Future — Syd as a DJ, Martians as a beatmaker. Sensing a shared aesthetic, one of the group's managers encouraged the two to collaborate, and in 2011 they released their trippy debut album, "Purple Naked Ladies," titled after a variety of Ecstasy.
The music was half-formed but laced with intriguing ideas inspired by the brainy L.A. group Sa-Ra (whose Om'Mas Keith went on to work with another Odd Future alum, Frank Ocean) and N*E*R*D., the unpredictable rap-rock outfit Pharrell Williams fronted before "Happy" turned him into a pop superstar. "We wouldn't be here without N*E*R*D," Syd, 23, said as she sipped a can of Tecate on a recent afternoon at her Mid-City home. Seated around a table littered with ashtrays, she and Martians, 26, both wore shirts emblazoned with their band's name — byproducts, the producer said, of his aborted stint in design school.
"When I first heard them, I didn't understand it," Syd continued. "I'd never heard anything like it before." Martians said N*E*R*D — whose 2001 debut, "In Search Of…," layered jazzy keyboards and fuzzed-out guitars over funky, shape-shifting grooves — "showed that you could be a cool, nerdy black kid and make really weird music." "It opened up a whole new world," added Syd.
The Internet maintained that spirit of exploration but brought sturdier tunes to 2013's "Feel Good," which featured a cameo by rapper Mac Miller (who recruited the band to back him on the road that year) and spun off the underground hit "Dontcha." Yet even as others in the Odd Future camp broke through to the mainstream, the Internet remained an insider's favorite.
"I think our mentality on our first two albums was: Let's just do whatever we want," said Martians, a voluble conversationalist compared to his more reserved bandmate. Part of what drove his and Syd's thinking, he added, was their eagerness to establish themselves outside Odd Future. Given that group's famously aggressive sound, going "super-whimsical" with discursive arrangements and shifting time signatures constituted a radical approach, Martians said.
"As you go on, though, you realize you need something for people to grasp onto." Teaming with the musicians who play in the Internet's live band — including guitarist Steve Lacy and drummer Christopher Smith — Martians started the songs on "Ego Death" by assembling steady, durable grooves that replicate listeners' natural body rhythms: the creeping bass figure in "Get Away," for example, or the rolling strut of "Go With It," with a verse by buzzed-about Chicago rapper Vic Mensa. (Other guests on "Ego Death" include Janelle Monáe and James Fauntleroy.)
"When you walk, you walk in a rhythm," said the producer. "You blink in a rhythm. So when you have beats that keep switching up, it's foreign to how we're naturally wired as humans." To match this more assured music, Syd wrote words she said she couldn't imagine singing on The Internet's earlier records. If those older songs were open to lyrical interpretation — "You could basically pick an idea out of a hat," Martians said — here she's detailing real-life relationships in language that rarely bothers with metaphor, as in "For The World" and its lyrics about "cigarettes and sex on your breath," and "Just Sayin," where she emphatically tells off an ex.
"Before, it would've seemed too straightforward," the singer said, and it's in part the plain-spoken quality of her lyrics that makes "Ego Death" feel so special: Syd isn't looking to shock anyone with these stories of same-sex romance; she's merely documenting her everyday life. "I'm finally actually saying it," she said. "This is how I feel." Mark Williams, the Internet's A&R representative at Columbia, called the group's newfound confidence a natural result of their experiences over the last four years.
"They've matured," he said, noting that Syd in particular "has come into her own." But the musical climate has also changed, he added. "When the first album came out, they were out on an island by themselves," Williams said. "Now, with the success of Frank and Jhené Aiko and Blood Orange" — arty young acts similarly striving to push R&B forward — "suddenly, this kind of music is in the ether. I think Syd and Matt are poised to be right there with them."
Though "Ego Death" represents a clear bid to expand The Internet's audience — and to let listeners in on what goes on behind Syd's quiet smile — both members admitted they had mixed feelings about fame as they'd seen their friend Tyler live it (most recently at April's Coachella festival, where the rapper got into a public spat with Kendall Jenner).
Not long ago, the group signed with the powerful talent agency ICM, one more element of Odd Future's multi-pronged attack on pop culture. So far, Syd said, she's turned down many of the high-profile acting gigs for which she's been invited to audition. "Right now, I'd rather be known for making a song that speaks to somebody," she insisted. Martians agrees, saying he's "totally uninterested" in being recognized on the street. He wants to hone his craft, not the spectacle that fuels so much American celebrity (including Tyler's). "We're the opposite of that," he said with a laugh. "The craziest thing anyone does in this band is smoke weed."