OTHERtone Episode 7 With Pharrell Williams, Scott Vener, Rob Walker & Q-Tip (2015)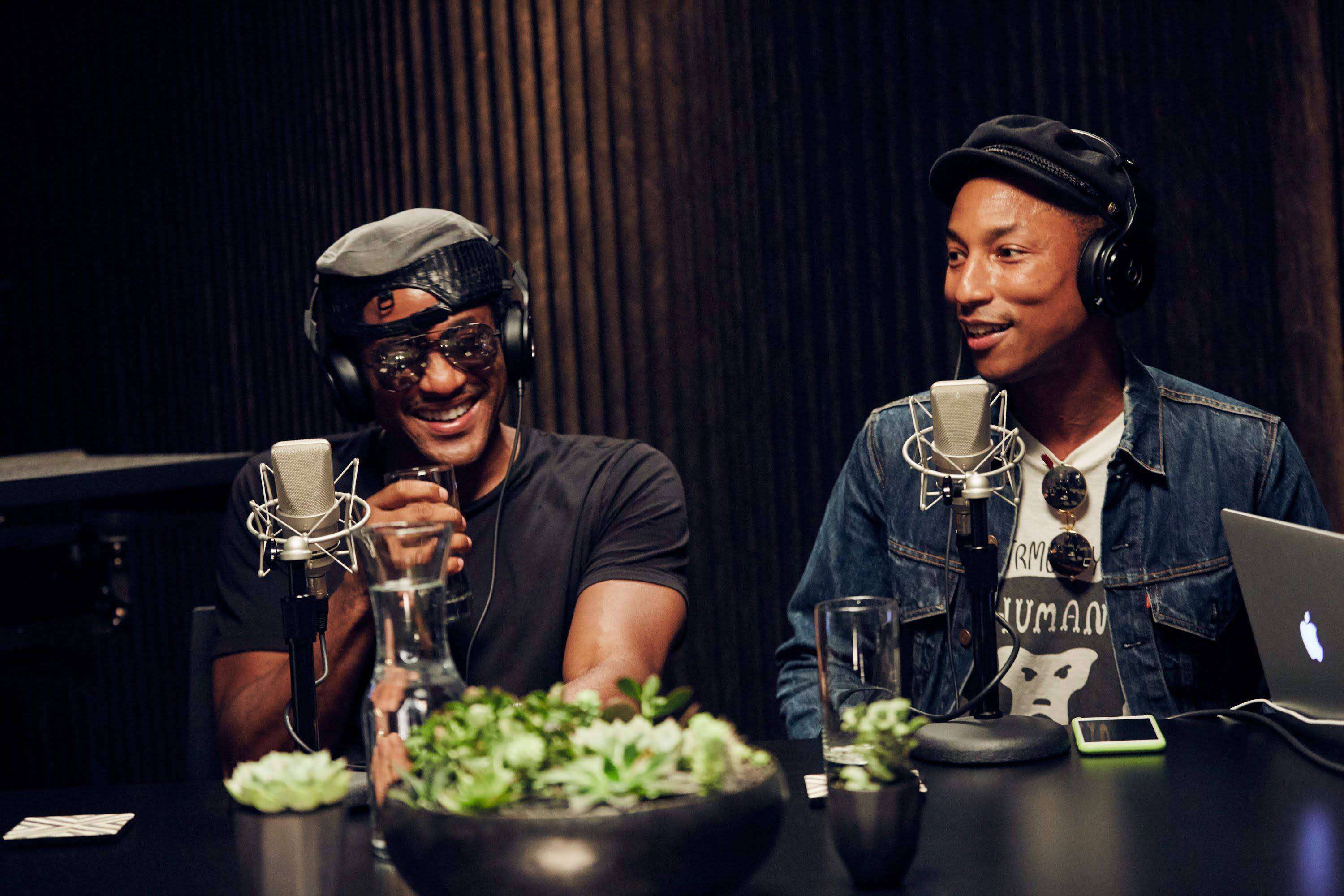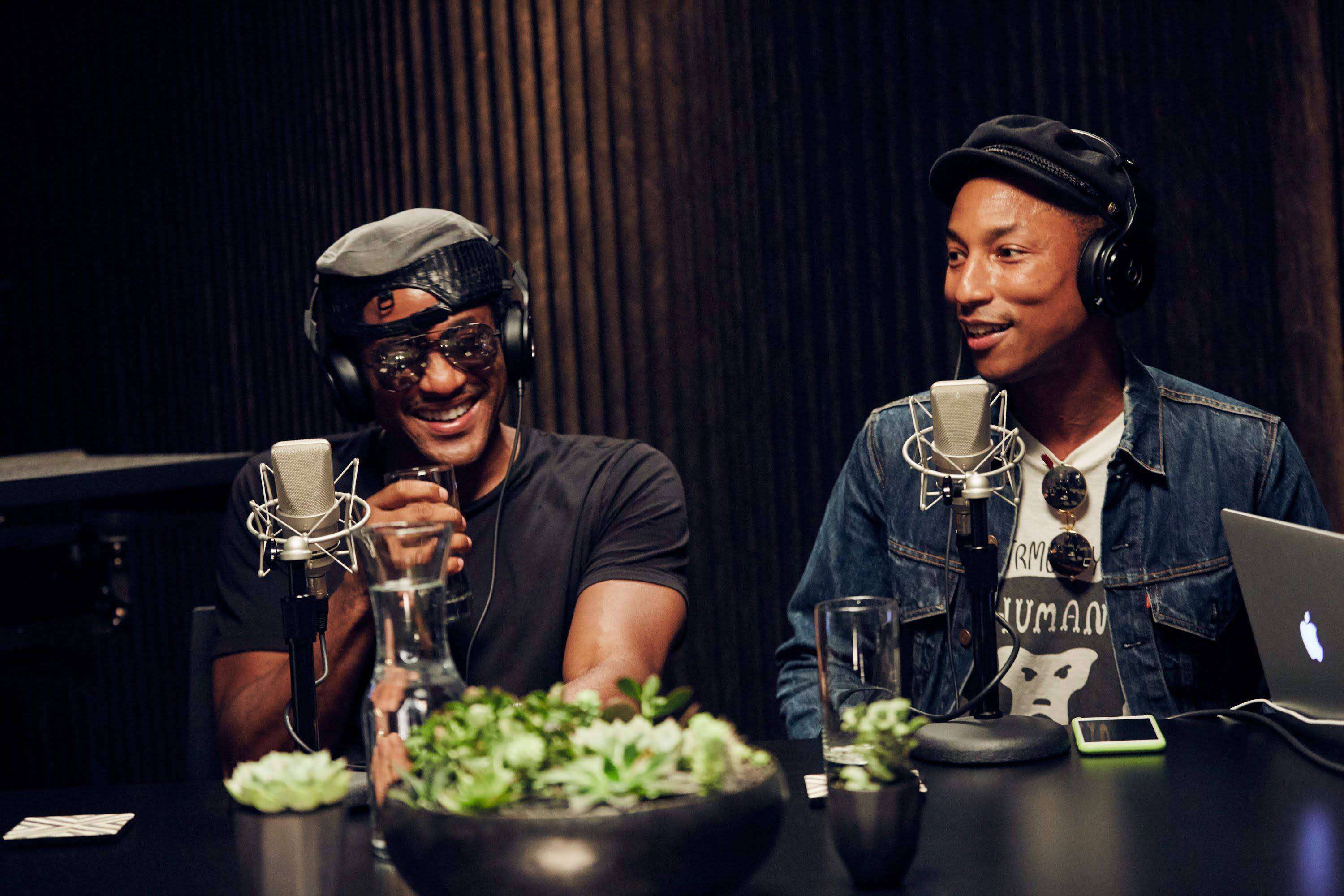 When selecting people to give a casual history lesson on hip-hop, Q-Tip is an easy if not downright inevitable choice. "The summer of '86 changed hip-hop forever," Q-Tip tells Pharrell and Scott Vener on this week's episode of OTHERtone on Beats
"This eventually was the music that affected Dre, it affected me." The trio also reflects on the thrills of doing "The WOP," including a demonstration from Q-Tip himself:

Vener, after dubbing the very special Q-Tip episode a "childhood dream come true" on Instagram, also revealed that Pharrell would be sharing a previously unreleased Neptunes track from 1997, but lets talk about that in a different post. Though Pharrell and Vener's Beats 1 Sunday takoevers have produced an overwhelming and totally undeniable amount of highly tweetable moments, including A$AP Rocky's mom interrupting one of their most experimental episodes yet, Q-Tip is certainly no stranger to the format. His own Beats 1 show, ingeniously known as Abstract Radio, has proven its own worth in the increasingly stacked Apple Music x Beats 1 lineup.

After the brief history lesson, Scott Vener cues up Eric B. and Rakim's debut single, "Eric B. Is President," which is built off an ankle-breaking sample of James Brown's "Funky President (People It's Bad)." At that point, Q-Tip gets on his feet and starts dancing. Marley Marl was behind the track and undoubtedly influenced those who followed him. See the clip above and just try not to dance along, check out the Episode below. Pharrell also revealed that there will be a Bonita Applebum Remix featuring him.
OTHERtone Episode 7 With Pharrell Williams, Scott Vener, Rob Walker & Q-Tip (2015)
01 – Nohelani Cypriano – Lihue
02 – A Tribe Called Quest – Vibes & Stuff
03 – A Tribe Called Quest – Verses From The Abstract
04 – Janet Jackson, Joni Mitchell & Q-Tip – Got 'Til It's Gone (Radio Edit)
05 – A Tribe Called Quest – Bonita Applebum (Includes 'Can I Kick It' Intro)
06 – A Tribe Called Quest – Jazz (We've Got)
07 – Busta Rhymes – Ill Vibe feat. Q-Tip
08 – Mobb Deep – Drink Away The Pain (Situations) feat. Q-Tip
09 – Q-Tip – Getting Up
10 – A Tribe Called Quest – Lyrics To Go
11 – A Tribe Called Quest – Electric Relaxation
12 – A Tribe Called Quest – Get A Hold
13 – A Tribe Called Quest – Oh My God
14 – A Tribe Called Quest – Crew
15 – Harry Nilsson – Spaceman
16 – Tammy Lucas – Turn Off The Lights
17 – Bill Withers – Harlem
18 – Jungle Brothers – Straight Out The Jungle
19 – Jungle Brothers – I'm Gonna Do You
20 – Jungle Brothers – J-Beez Comin' Through
21 – Jungle Brothers – The Promo
22 – John Carter – The Odd Couple (TV Series Theme)
23 – Johnny Griffin – What's Happening?
24 – Wish & Fonda Rae – Touch Me
25 – Cynthia – Change On Me
26 – James Mason – Sweet Power Your Embrace
27 – EPMD – It's My Thing
28 – Ultramagnetic MC's – Ego Trippin' (Original 12 Version)
29 – Eric B. & Rakim – Eric B. Is President
30 – Brand Nubian – All For One
31 – Clipse – Momma I'm So Sorry
32 – Clipse – Ride Around Shining
33 – Clipse – Trill