Pusha T x Clashmusic.com Interview, Talks New Album & Pharrell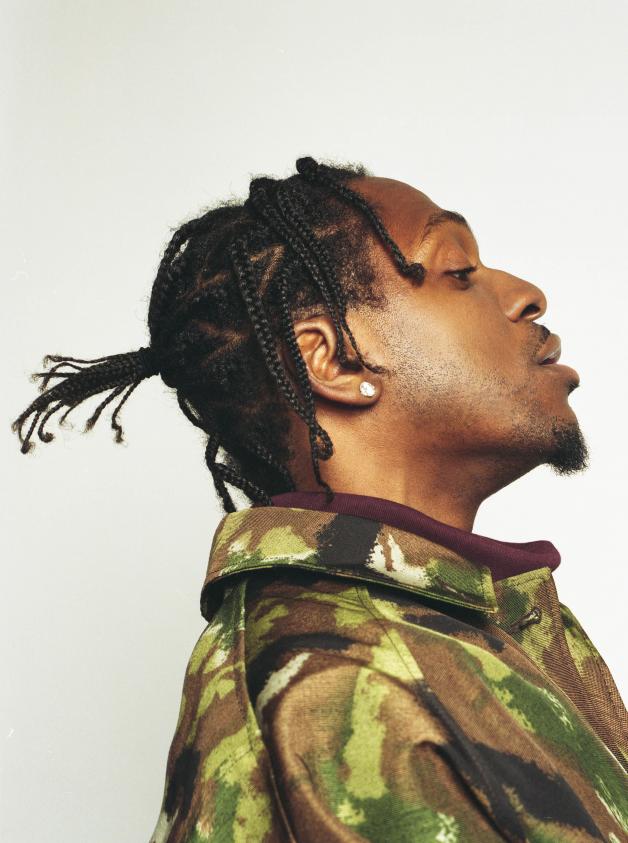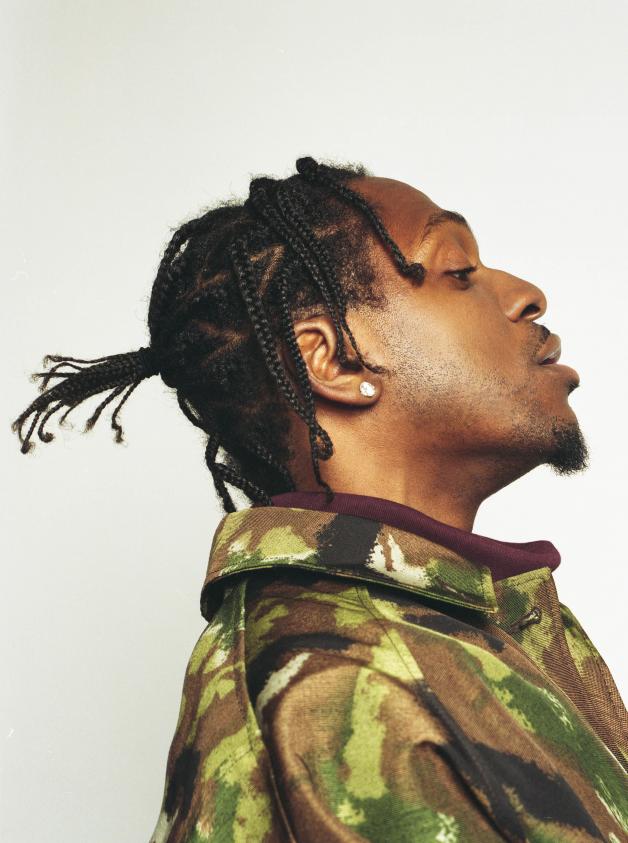 Photos by Anna Victoria Best. Following rescheduled phone calls and pencilled-in meetings from New York City to London to Amsterdam, we finally catch Pusha T when he's back home in Virginia Beach, the city where he was raised after his parents moved from the Bronx when he was young. A scroll through his Instagram feed throws up posts from Berlin, Copenhagen and Stockholm, where the recently appointed G.O.O.D Music president has been performing, having meetings and inspecting European streetwear stores, but right now it's 9AM and the early-rising rapper has just finished up at the gym.
"Success looks like longevity and being able to provide, being able to be a chameleon and change with the times. To be relevant in so many different times without compromising yourself. Success looks like Pusha T." It's a hefty statement, but one that can't really be denied. While Pusha, born Terence Thornton, has avoided the celebrity scandal that would be required to place him on the front of the gossip magazines, to music fans he's up there with the best of them.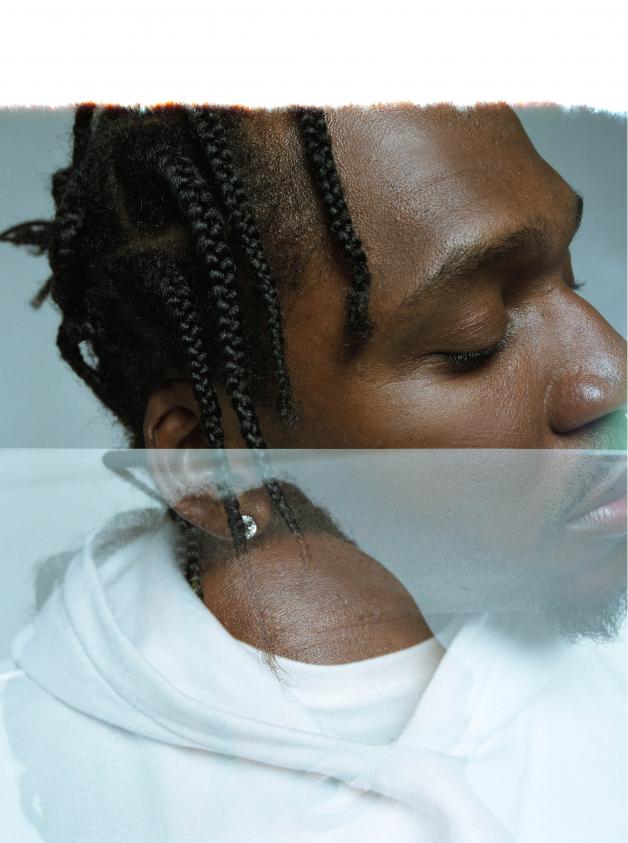 After breaking through in 2002 with the timeless syncopated table-beating rhythm of 'Grindin'' as one half of The Clipse with his brother Malice – and bringing street credibility to Justin Timberlake's debut single 'Like I Love You' in the same year – he went on to release two LPs produced entirely by The Neptunes at the height of their career. After their third album, 'Til The Casket Drops', The Clipse went on an indefinite hiatus, but Pusha would go on to enjoy the next leg of his mammoth career as a solo artist under Kanye West's G.O.O.D Music imprint. In a genre where you're lucky to get to album three without completely losing relevance, Pusha has consistently continued to win, maintaining his integrity and sounding as fresh as ever. By his own definition, there's no doubting his success.
With a traditional mid-Nineties come-up that involved physical demos, meetings with record labels and eventually a shelved debut album – 1999's Neptunes-produced 'Exclusive Audio Footage' – Pusha's experience breaking into the music industry is a far cry from the kids of today, who can record tracks in their bedrooms and transmit them straight to the palms of their fans. It's something he watches with fascination, verging on obsession, as he scrolls through social media feeds, forums, blogs and apps on a hunt for the next big thing. His foresight has been proven time and time again.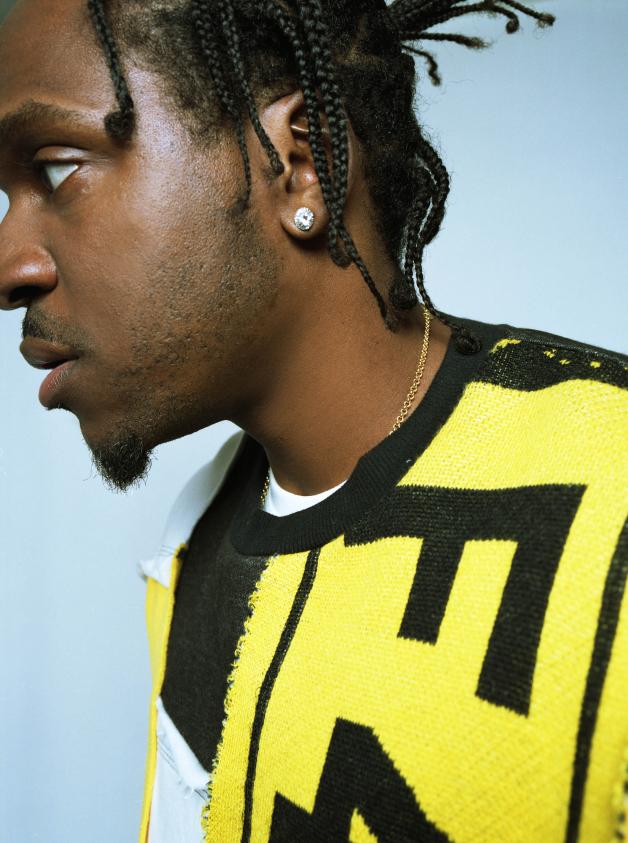 In 2012 he was slated by fans for enlisting Future for the hook of his Kanye West and No I.D.-produced single 'Pain', whereas in 2016 even Ariana Grande seeks after a Future hook. In the same year he played Chief Keef's 'I Don't Like' for Kanye West, which would result in a monster remix that would take the track (and Keef) from hood famous to international infamy. It makes sense therefore, that when Kanye West wanted to enlist a president to sit at the helm of his G.O.O.D Music label, someone who could find new artists that could enjoy a lasting career, as well as ensuring the existing signees continue to thrive, Pusha T was the only man for the job.
Pusha describes his day-to-day role as being a constant quest to uncover new talent. "It's an everyday search for new artists and producers. It's a think tank of ways to heighten the fan experience," he says. "That's pretty regular to me; that's something I do and have been doing for some time now. That's part of what I love about hip-hop: the constant creating, the constant search, the embracing of new ideas and ways to expand the genre. That's what we're about." Although it's something that comes naturally to him, the role has formalised his browsing and pursuit of new music.
It's given him a higher purpose within the culture that he loves and embodies. "I really feel like I'm making my mark. I'm part of a genre that is probably the youngest genre of music. It was questioned so rough at first and now it's here to stay. Hip-hop is the basis for so much." His priorities in the role right now include the release of a follow-up to Big Sean's 'Dark Sky Paradise', his own 'King Push' album and to continue developing chart-topping Brooklynite, Desiigner, who is the label's latest signee.

The New Yorker is the first to join the G.O.O.D Music family since Pusha took on the presidential role, and has already secured two placements on Kanye West's 'The Life Of Pablo' album, as well as scoring a US number one on Billboard with 'Panda', a track he made on a beat he bought for $200 from a producer in Rochdale by the name of Menace. Pusha heard the song on Soundcloud originally and knew the 19-year-old had a hit on his hands. "Desiigner, man…" he begins, initially lost for words. "It's been amazing. He's a self-contained artist; he's a creative and we love what he does. He has that young energy, the excitement level that you want to be around.
It's great just to see it materialise. I thought the record was instantaneous. I felt the energy was perfect; it was undeniable. And then it had so much talk about it – it had people debating and I was like, 'Oh, this is really something.' And it's definitely proved itself." Having fallen in love with hip-hop from listening to Golden Age greats such as Rakim and Big Daddy Kane, Pusha is one of a rare breed of fans who has a continued appreciation as the culture weaves its way through new regions and generations. In a recent OtherTone broadcast with Flying Lotus and Scott Vener on Beats 1, Pusha's longtime collaborator Pharrell Williams, also a bastion for sonic evolution, considers those that have been left behind by refusing to embrace change: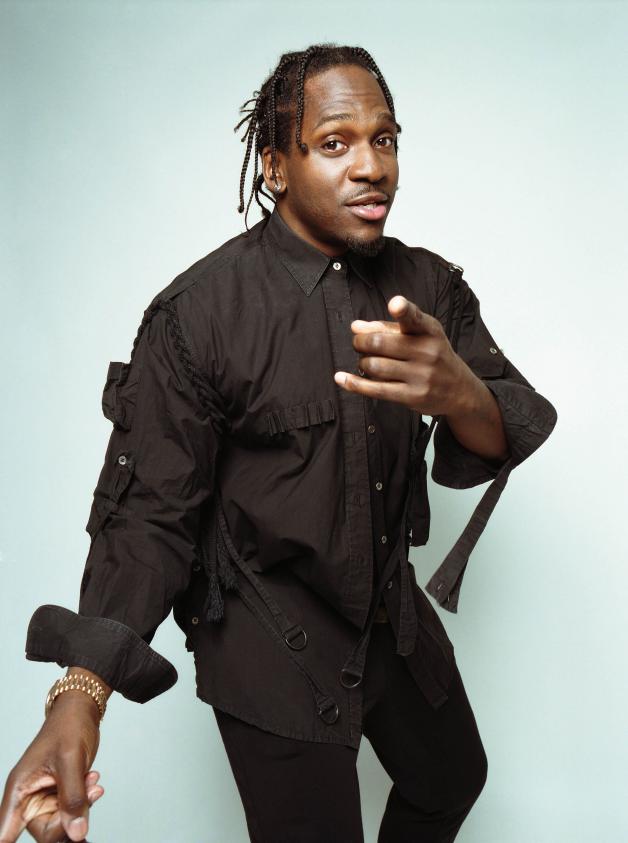 "Ask yourself, how do you feel? So many people just get caught up in the way the system used to be and what their expectations were. But that was a time where life was not dependent on the Internet and your cellphone; it's just a different world. So the rules have changed and I feel like there's a lot of people that don't know the world has changed." Pusha has often vocalised his disappointment that many of the greats didn't continue to grow and retain relevance, cutting their careers short and leaving many of them behind at the second or third album.
By being forward-thinking in his unorthodox beat selections and diverse collaborations (think Baauer, Skrillex, Major Lazer, Hudson Mohawke, Moxie Raia and River Tiber) while sticking to his trademark lyrical approach and well-enunciated delivery, rather than getting sucked into current trends, Pusha strikes a balance. He maintains his position as an elder statesman, demanding the respect of the younger artists under his ward, while maintaining an understanding and appreciation for the art that they make.
He believes that the key to adapting to these new systems and expectations that Pharrell touches on, is to consider the impact that the music continues to make. "It's just different. I feel like the quality is still the same," he says. "Those who don't feel like the quality is the same, or just as important as yesteryear, those are people who don't really go out and see the impact of it. I've been out; I've lived through all of these waves and really lived in that world. Not only did I buy the music, I rode around to the music, I went to the club, I went to the shows for all of these people, for all of these years.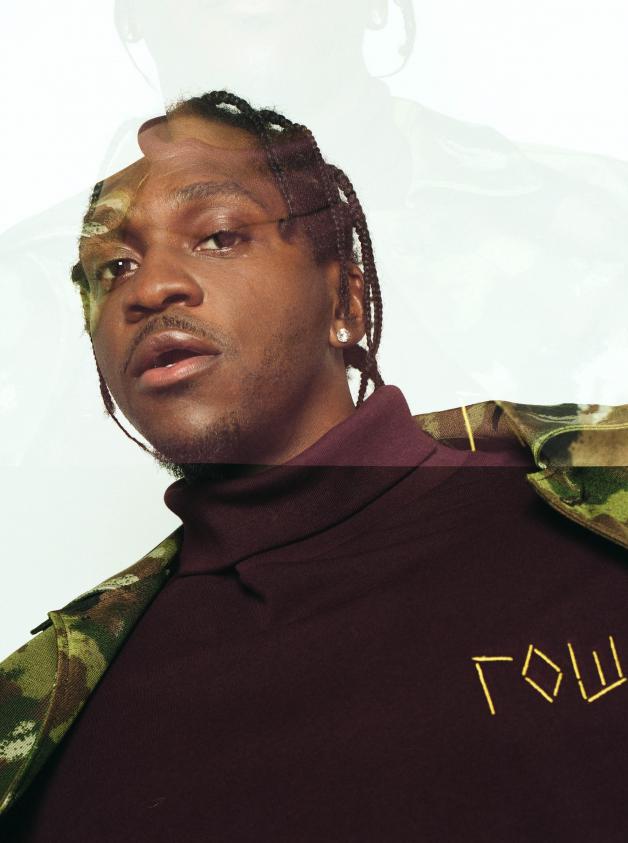 I've witnessed all of these changes and it's just a different time – certain things are more appealing to the different generations, and that's it." It's an approach that has become vital in his ability, at the age of 39, to be able to pick out tracks like 'Panda' or 'I Don't Like' in their infancy, knowing that they will appeal to a youthful target demographic of music consumers worldwide. On his own output he puts his two decades plus in the game to good use, drawing from the past, present and looking to the future. While he won't be specific about names just yet, there are artists he's working with on his forthcoming album that he believes we won't have heard from in over five years.
He also enlisted legendary Philadelphia rapper Beanie Sigel, who has spent the past few years caught up in legal issues, and was injured badly in a 2014 shooting, to contribute a verse to last year's 'Darkest Before Dawn' album. "I have faith in these artists and they come through for me," Pusha explains. "There's still art in these artists and I know what they bring to the table. Beanie Sigel might've given me the one of the most vivid verses of [the year] people understand and when they hear it they're like, 'Wow, this is great.'"
And although these guest appearances might inspire some younger fans to delve back into old discographies, Pusha believes that the unlimited accessibility they're used to, with 24-hour Internet access at their fingertips, promotes a more futuristic outlook rather than retrospective thinking. "People who don't know about [a Beanie Sigel] just haven't done the history, and that's what happens a lot in today's society," he says. "Everything is so accessible that you don't have to do the history on it because everybody is so forward-thinking. I feel like the youth of today are more futuristic than historic. They're thinking on something else that [could make them] the next forward-thinking artist."
Time back at home for Pusha is mostly focused around catching up with family, particularly his mother, Mildred – who he ensures lives a life as luxurious as his own if his song 'Crutches, Crosses, Caskets' is anything to go by. Other than that he'll check in on Playcloths, the clothing brand he and his brother founded in 2008, or his two Cream streetwear stores, which are warming up for their summer events. But, for the most part, those businesses run themselves, and being at home is about recharging his batteries. While these visits make running into fans likely, it's never chaotic and he finds it easy to move around.
"I've lived here all my life; everybody here, they're fans but they're family," he explains. "They understand. It's not chaotic; it's admiration and relatability. They feel like they can reach me because I have so much going on locally – businesses and places that I do have to touch the pavement to get to." Other than that, he intends to get in some studio time as he puts the finishing touches to his anticipated new solo album 'King Push', which follows December's 'Darkest Before Dawn: The Prelude'. Compared to its conceptually driven predecessor, which saw him mining for murkier underground sounds from an all-star production line-up that included Timbaland, Puff Daddy, Kanye West, J. Cole, Hudson Mohawke, Metro Boomin, Q-Tip, Baauer and Boi-1da, 'King Push' will have a broader spectrum.
"It has more colours," he offers. "It's a proclamation of me being at my best, drawing a line separating me and other artists. People will see the difference between what it is that I do and what everyone else does. I am the rapper of the day that actually says something, I am the rapper of today that actually gives you that cleverness line for line. I am entertaining bar for bar, and when people come to the show they see that. I am literally the purest rap show going, and if that's what you're into, be a fan of Pusha T, join the family."
While the album is still a work-in-progress at the time of our conversation, Pusha confirms that he'll be reuniting with Pharrell Williams and Kanye West for the record, and he's also been working on productions from Timbaland, Mike WiLL Made-It, DJ Dahi and Frank Dukes. While he's never really focused on leading in with a big radio single, it's something that he wants to try out this time around before he drops the LP late-summer.
"I have a monster single that I actually want to give the full runway of weeks at radio and everything else," he reveals. "I don't ever really play that type of game, and I have like super hard records, but I have one record that I feel could work at radio and I want to exercise that. I don't think I've put out a record specifically targeted at radio in a while. I've neglected that space."
Despite plans to put in some studio time while he's in Virginia, he won't be spending unnecessary amounts of time there like the studio rat approach that many rappers tend to take these days. "Living in that space is really what we don't do," he states, on sessions he keeps limited to himself, an engineer, management and close friends. "We like the studio to listen to beats, but for me the studio is just about executing. I'm just about getting everything done properly. I'm a pure, pure rapper."
In contrast to the method he takes with his solo material, Pusha describes his work contributing to Kanye West's albums as being very "in the moment." However, he notices a similarity between Kanye's approach to beats and his own approach to raps. "We rap to the skeleton of whatever he thinks is going to be hot, and the whole time he's basically telling me and everybody else in the room, 'When I make this snare harder, when I add these synths, when I add these samples…' There's a whole bunch of things he hears that I have absolutely no clue about. It's sort of like me; I'll ride around and think, 'Oh, I could have enunciated that.' So I'll go back and do that. He's hearing these things as we're laying the record down."
Typically, Pusha's lyrics will begin outside of the studio environment on paper, where he likes to see how they look scribbled down. He will then hit the studio to lay down his bars, and take the reference away with him on his phone so that he can live with it, in his car and his headphones, then will go back in to touch it up. "That's it," he proclaims. "There's no need to keep dragging it out. That's the thing about me: I know exactly what I wanna say. It's just whether I'm delivering it in a manner that articulates the feeling I want to put across." He already has four bars in mind that he intends to tighten up today, and then he'll have another record in the bag.
Even with the chameleon abilities, the endless pursuit of new ideas and the longevity that Pusha T has enjoyed in the game, one thing has never changed – from 'Exclusive Audio Footage' to 'King Push', his goal is always the same: "The goal never goes further than just to make the greatest music possible. I just give you the best rap albums that I can give you," he declares of his ideology. "I believe I hold the flag for being a consistent lyrical monster. I don't think anyone is really rapping at my level as far as lyricism and street hip-hop. To me this is a talking game, and this is a showing and proving game, it's not rocket science. I just want people to know and understand the artistry and respect the type of music that I make. I think everybody makes different types of music and it's cool, but I'm here to show you that what it is that I do, this is timeless. I want people to really understand that I am of the culture."