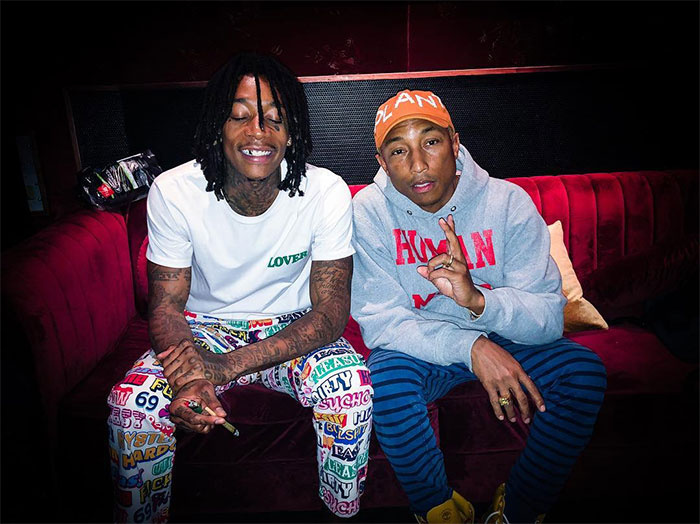 Here is a small video of Wiz and Pharrell working on some new material. It appears they're working on an infectious new track called "Look What You Did To Me." Soon, Skateboard P shows up to offer advice, when asked about his creative process. "I used to just be super impulsive and I didn't think things out," he explained. "[Now] I want them to have volume. Anything I do, I want it to have depth and purpose."

After explaining that he often works as a "mirror" for his artists, Pharrell praised Wiz for his own creative efforts, celebrating his rapping, acting, label ownership, and hitmaking abilities. "A lot of times, we hear songs that are awesome and you really root for the person, like, 'This person is great. Why can't they figure it out?' You can't figure out, for the life of you, why they can't make another record," said Williams.
"You're not one of those guys." The video also features Pharrell and Khalifa rocking side to side while music is played in the studio, likely teasing a future collaboration from the duo. In the past, Wiz and Skateboard collaborated on O.N.I.F.C.'s "Rise Above," which featured Tuki Carter and Amber Rose.
Wiz Khalifa – Rise Above feat. Pharrell, Tuki Carter & Amber Rose (12′)

Wiz Khalifa – Rise Above (DJ Freakiii Instrumental Remake) (12′)