Pharrell Williams x Clash Magazine Interview, Confirms New Solo Album In The Works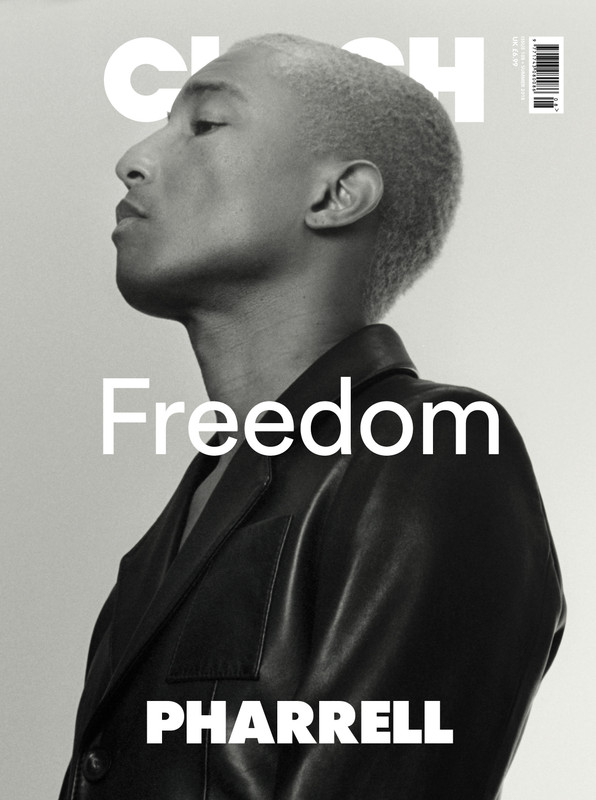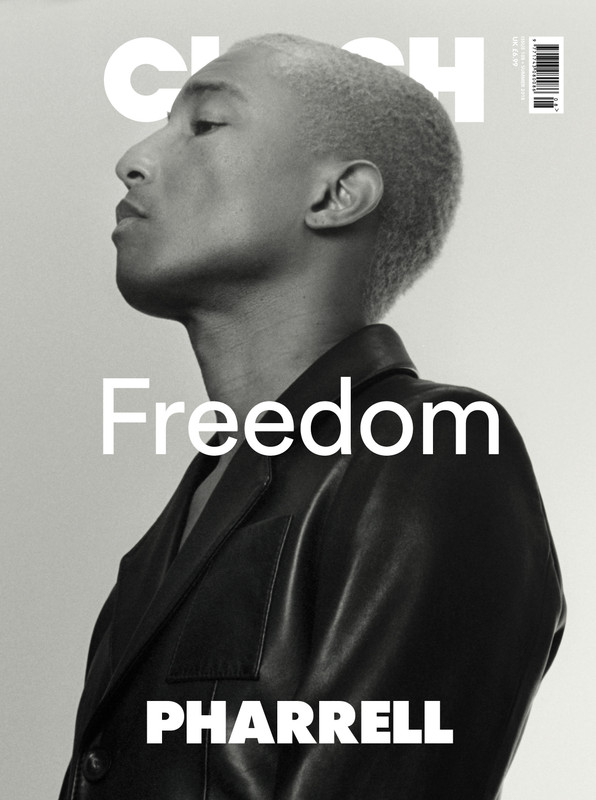 Thanks to Eve for providing me with a copy of the Magazine! Pharrell Williams is the fourth face of Clash Magazine Issue 108. The fourth and final cover star of Clash 108 is Pharrell, a man who's long been so resolutely original in all areas of his artistic endeavours that he's earned the privilege to manifest his own destiny, and does so in thrillingly successful ways. One of the most influential creative minds of our generation, Pharrell Williams has transcended his position as one-half of music's hottest production duo The Neptunes and one-third of the genre-defying band N*E*R*D to become an inspirational renaissance man whose golden touch is in demand throughout the realms of music, fashion, film, and beyond.
With a new Solo Collaboration album on the horizon, Pharrell shares his thoughts on creative practice and the curiosity that's kept him at the forefront of art for three decades. "Creativity for me is a means of expression," he tells Clash. "It's a gift from the all that is, all that was, and all that ever will be; the creator. We're co-creators. So the gift of creation is amazing, and something as simple as a conversation is your own creation – you use those words with your tone." Pharrell completes an iconic issue that also includes Billie Eilish, Anderon.Paak, Troye Sivan, The Spice Girls, Kris Wu, Buddy, Gaika, Bad Gyal, Yungen, Ravyn Lenae, Peter Buck, and much more.

Making his mark across everything from music and fashion, to film and furniture, his creative impulses can't be contained by labels or expectations. Pharrell continues to prove that the way forward is to follow our passions, embrace our differences and trust our feelings. In the foreword of his 2012 book, Places And Spaces I've Been, Pharrell discusses his obsession with TV as a child – he'd imagine a wizard controlling the sounds and colours oozing out of the cartoons, movies and music videos that flashed before his eyes.
His inquisitive mind led him first to music, where his synesthesia – a condition that links sight and sound – allowed him to have a go at playing wizard himself. Never leaving this sensation behind, he followed his own instincts rather than paying too much attention to what was happening around him. In music he's juggled a number of roles – as one half of production duo The Neptunes, one third of genre-defying band N*E*R*D and as a solo artist in his own right – and with each has continued to expand into new territory, from his roots in rap and R&B, to dominating pop radio again and again. At one point in 2003 The Neptunes were responsible for 43% of the music being played on US radio, and 20% in the UK, then in 2013 'Happy' hit the number one spot on three separate occasions and is the ninth best-selling song of all time in the UK.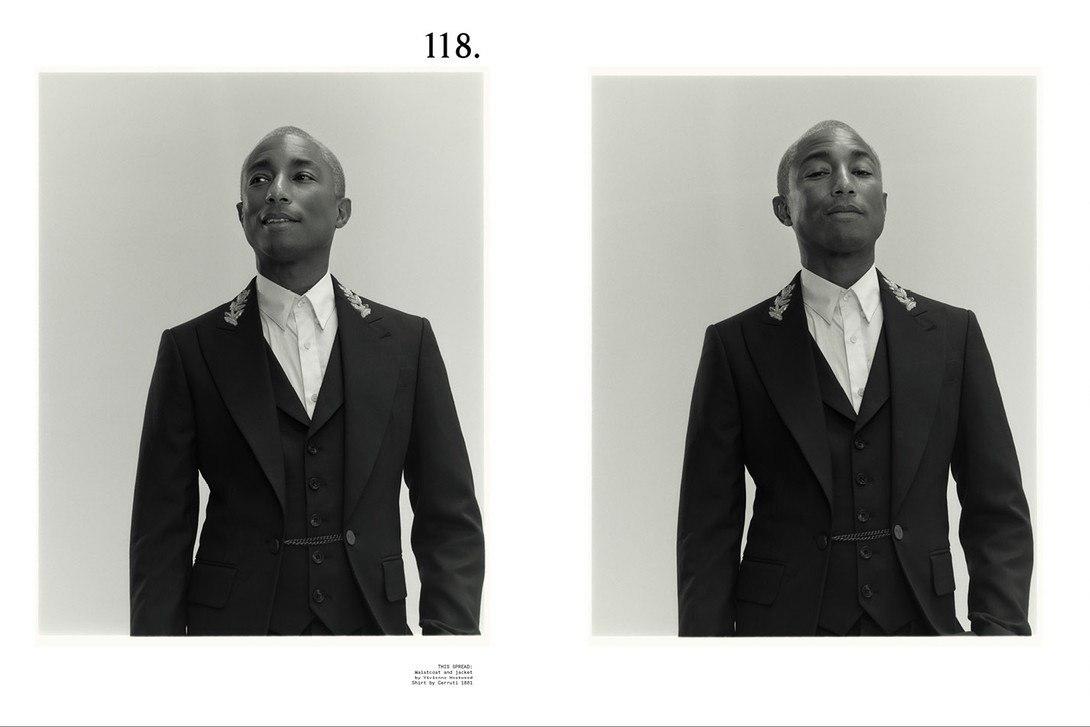 His creations have included, but are not limited to, chart-topping hit records, countless albums, films, diamond-encrusted artworks, sneakers, chairs and two clothing brands (Billionaire Boys Club and Ice Cream). For everything he does in life, he considers feeling above any other factor. This afternoon, as he prepares to dress in our final look, he apologizes for a lack of energy. It's not too surprising considering he's had back-to-back meetings since playing Manchester's Parklife Festival with N*E*R*D a couple of days prior – not to mention findin time to prepare for the release of a forthcoming production album, led by his Camila Cabello-assisted new single, 'Sangria Wine'.
A member of his team fishes around in her bag, pulls out a gleaming white Beats Pill, and presses play. The room is filled with what sounds like bold, blue, bubbling water in crisp high definition – A$AP Ferg rapping over the rhythmic pops. The feeling is back, Pharrell is back, and our final look is nailed. At 45 years-old, everyone in the world seems to be worrying about finding out about the skincare regime that keeps Pharrell looking so youthful. But perhaps we should instead be noting the curiosity that has followed him from being a child staring at a TV screen, than concerning ourselves with wrinkles.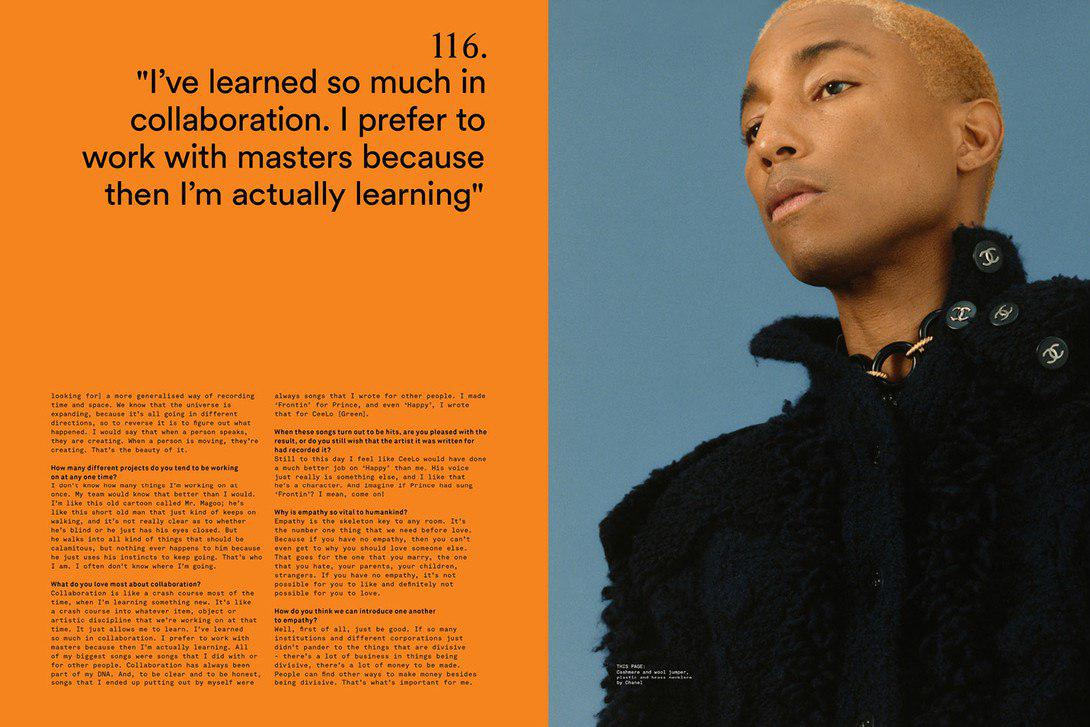 Yesterday was the 10th anniversary of N*E*R*D's 'Seeing Sounds', and a couple of weeks back it was the 15th anniversary of 'Frontin': are these things that you reflect upon and celebrate?
I don't usually, but the fans will show me. And then I'm like 'Wow, it's been ten years,' or 'Wow, it's been 15' You know? I'm always grateful about any kind of acknowledgement, but I think my current settings, my current modus operandi, is about moving forward, making sure anything I do just feels like it's timeless. So it's not just a good idea for that moment, but 'Man, how's it going to feel in 10 years?'
How would you define creativity?
Creativity to me is a means of expression. It's a gift from the all that is, all that was and all that ever will be; the creator. We're co-creators. So the gift of creation is amazing, and something as simple as a conversation is your own creation – you use those words with your tone.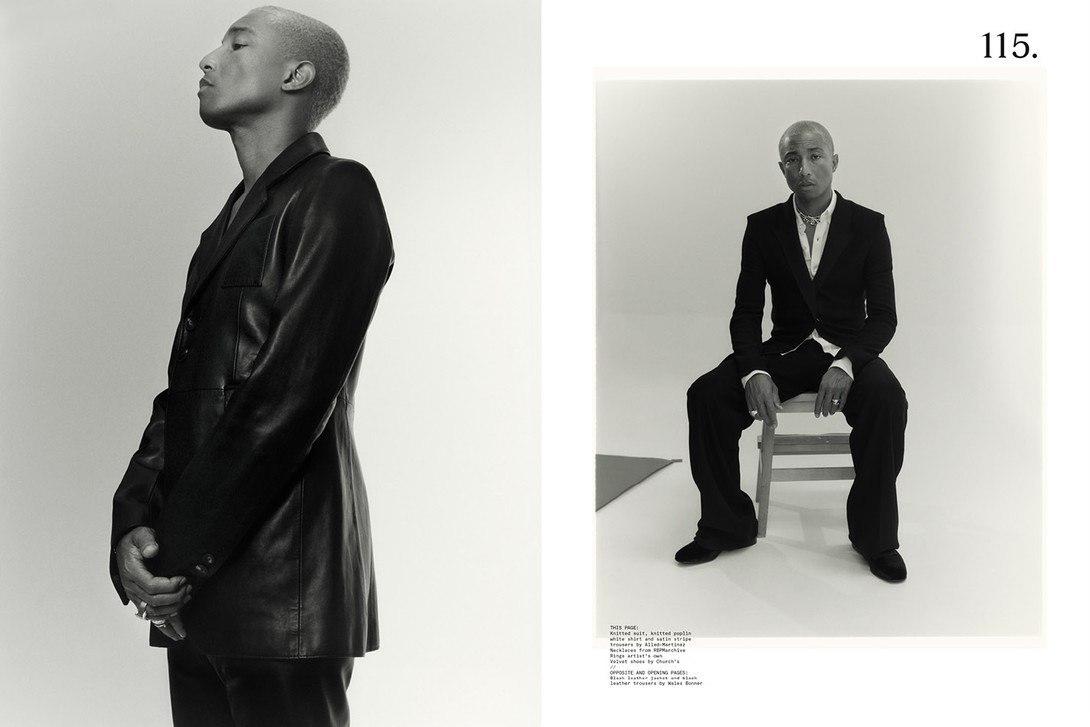 Do we all have that gift?
Everyine has it. We're all co-creators. When you're walking in a direction, you are adding creativity to what has just happened. If you believe that there is a skein of time, or if you believe that time can be measured by space and space can be measured by time, then that means that everything that we do is recorded in some way, shape or form. Right now there are infrared cameras and tools to read the energy of humans in a room, when no-one is in the room, and they can tell you where the person was standing just by looking at the heat. Because it's recorded in some way, shape or form So (scientists are looking for a more generalized way of recording time and space. We know that the universe is expanding, because it's all going in different directions, so to reverse it is to figure out what happened. I would say that when a person speaks, they are creating. When a person is moving, they're creating. That's the beauty of it.
How many different projects do you tend to be working on at any onetime?
I don't know how many things I'm working on at once. My team would know that better than I would. I'm like this old cartoon called Mr. Magoo; he's like this short old man that just kind of keeps on walking, and it's not really clear as to whether he's blind or he just has his eyes closed. But he walks into all kind of things that should be calamitous, but nothing ever happens to him because he just uses his instincts to keep going. That's who I am. I often don't know where I'm going.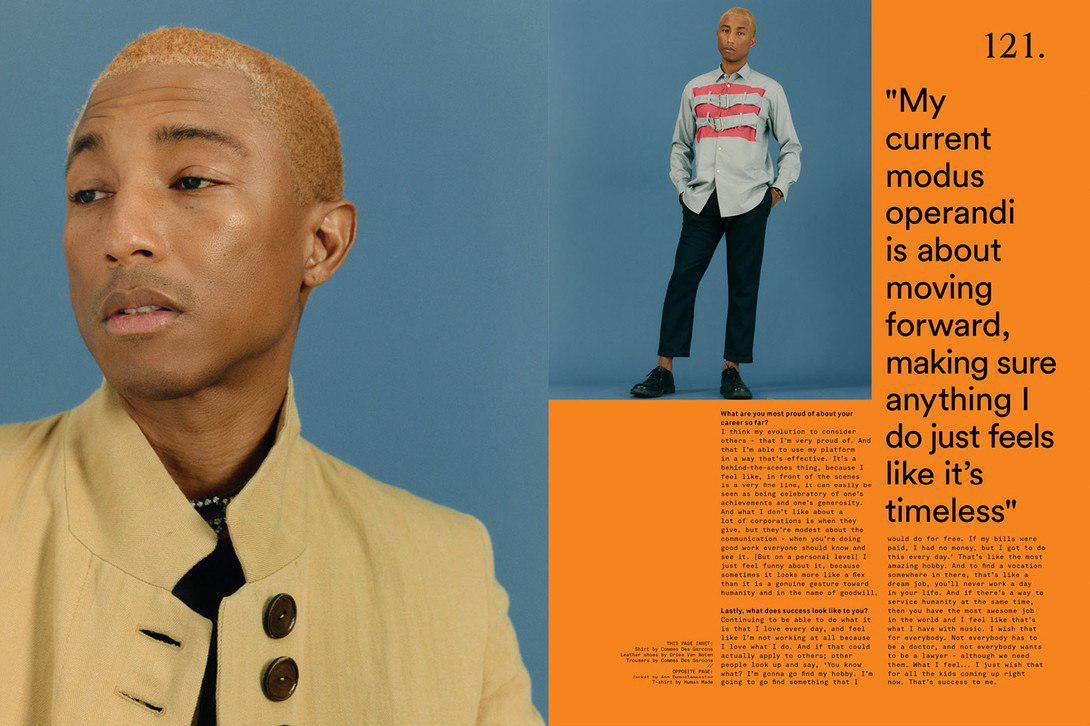 What do you love most about collaboration?
Collaboration is like a crash course most of the time, when I'm learning something new. It's like a crash course into whatever item, object or artistic discipline that we're working on at that time. It just allows me to learn, I've learned so much in collaboration. I prefer to work with masters because then I'm actually learning. All of my biggest songs were songs that I did with or for other people. Collaboration has always been part of my DNA. And, to be clear and to be honest, songs that I ended up getting out by myself were always songs that I wrote for other people. I made 'Frontin' for Prince, and even 'Happy', I wrote that for Cee-Lo [Green].
When these songs turn out to be hits, are you pleased with the result, or do you still wish the artist it was written for had recorded it?
Still to this day I feel like Cee-Lo would have done a much better job on 'Happy' then me. His voice just really is something else, and I like that he's a character. And imagine if Prince had sang 'Frontin', I mean, come on!
Why is emphaty so vital to humankind?
Emphaty is the skeleton key to any room. It's the number one thing that we need before love. Because if you have no emphaty, then you can't even get to why you should love someone else. That goes for the one that you marry, the one that you hate, your parents, your children, strangers. If you have no emphaty, it's not possible for you to Like abd definitely noy possible for you to love.
How do you think we can introduce one another to emphaty?
Well, first of all, just be good. If so many institutions and different corporations just didn't pander to the things that are divisive – there's a lot of business in things being divisive, there's a lot of money to be made. People can find other ways to make money besides being divisie. That's what's important for me.
What are you most proud of about your career so far?
I think my evolution to consider others – that I'm very proud of. And that I'm able to use my platform in a way that's effective. It's a behind-the-scenes thing, because I feel like, in front of the scenes is a very one line, it can easily be seen as being celebratory of one's achievements and one's generosity. And what I don't like about a lot of corporations is when they give, but they're modest about the communication – when you're doing good work everyone should know and see it. [But on a personal level] I just feel funny about it, because sometimes it looks more like a **** than it is a genuine gesture toward humanity and in the name of goodwill.
Lastly, what does success look like to you?
Continuing to be able to do what it is that I love every day, and feel like I'm not working at all because I love what I do. And If that could actually apply to others; other people look up and say, 'You know what? I'm gonna go find my hobby, I'm going to go find something that I would do for free. If my bills were paid, I had no money, but I got to do this every day.' That's like the most amazing hobby. And to find a ********** somewhere in there, that's like a dream job, you'll never work a day in your life. And if there's a way to service humanity at the same time, then you have the most awesome job in the world and I feel like that's what I have with music. I wish that for everybody. Not everybody has to be a doctor, and not everybody wants to be a lawyer – although we need them. What I fell… I just wish that for all the kids coming up right now. That's success to me.