Pharrell Williams x ArchitecturalDigest.com Interview, Talks Converting Songs Into Architecture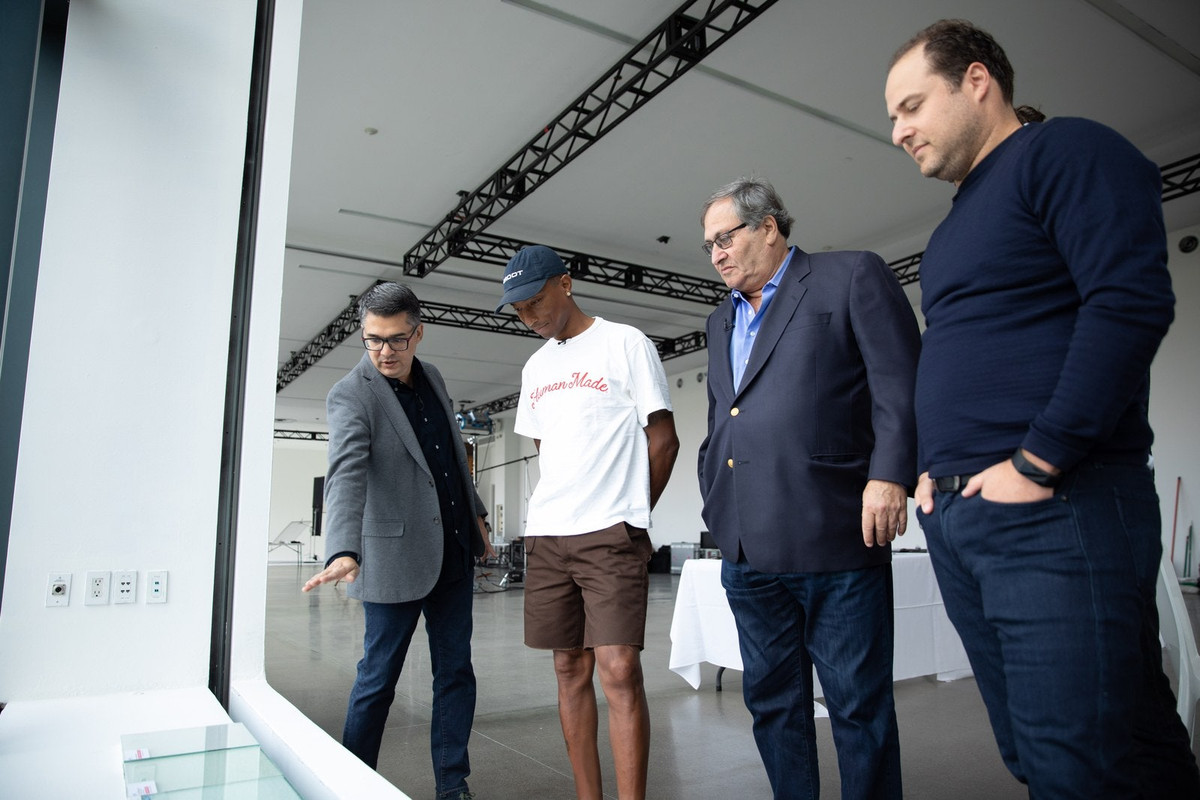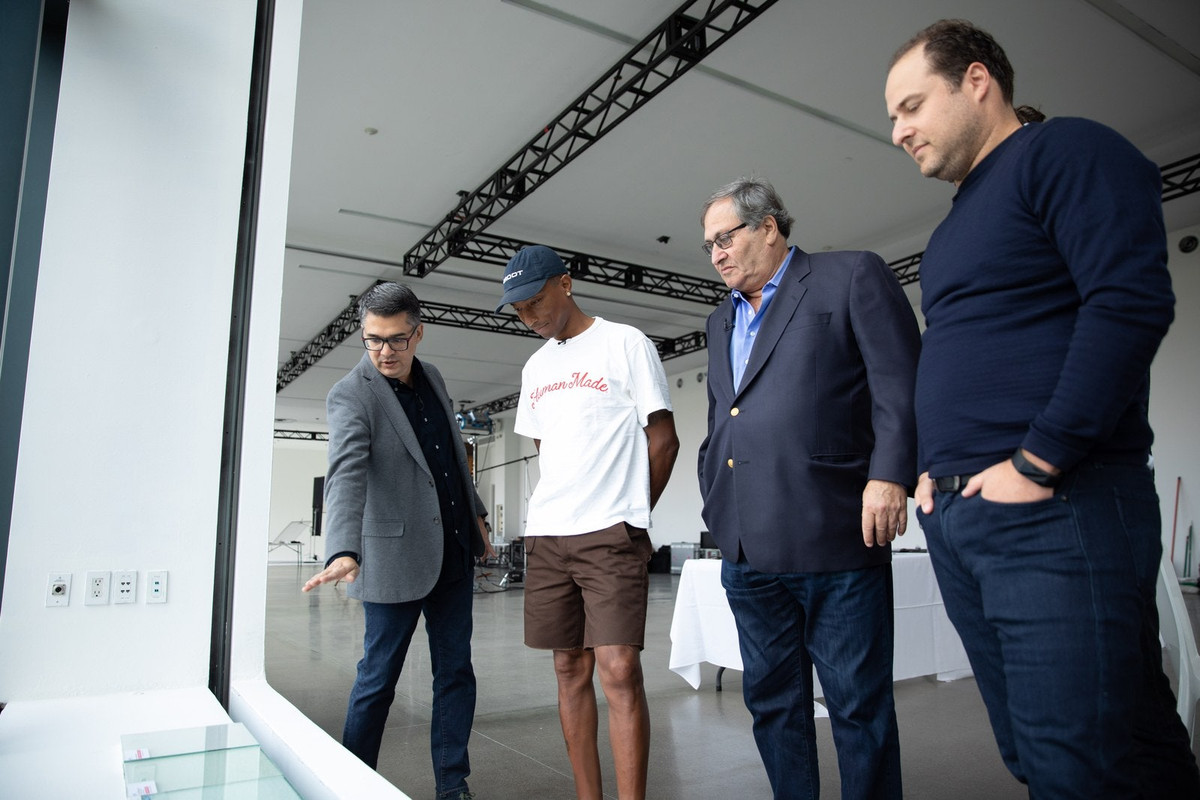 Pharrell Williams tells AD about collaborating on an upcoming residential development in Toronto. The multihyphenate Pharrell Williams is adding to his résumé. Already a celebrated musician, fashion designer, and entrepreneur, the 13-time Grammy winner's latest endeavor is a dip into the world of architecture. The performer worked alongside Reserve Properties and Westdale Properties, as well as architects from IBI Group and designers from U31, to add his restrained aesthetic to a residential building that will soon be erected in Toronto.
The finished complex will encompass a two-tower development named Untitled, as well as a third, purpose-built rental tower. (Construction will begin later this year, though units are already for sale.) Williams's involvement is a natural fit: Lead architect Mansoor Kazerouni of IBI Group was interested in incorporating the concept of a jugalbandi, a type of Indian music performance that features a duet with a pair of solo musicians. In Untitled, this will be manifested in the building's balconies, which will follow the wave pattern of one of Williams' songs, "Gust Of Wind," from his 2014 album GIRL. Architectural Digest sat down with Williams to discuss his favorite elements of the project, as well as some personal discoveries he made during the design process.
Architectural Digest: How did you feel when you were asked to collaborate on Untitled?
Pharrell Williams: I didn't know that this opportunity would turn into what it did. I guess, speaking from a place of gratitude, it's like, "Man, I'd be happy just to be able to weigh in with opinions, but to actually really make some fundamental suggestions that would affect the entire the project.…" Long story short, when I realized that the opportunity was for me to actually really be involved, on an integral side of things, I think that's when it all changed for me.
AD: Have you always been interested in architecture?
PW: Here's the thing: I've always admired architecture, but I didn't really know that my admiration for it also had another component of actually participating and contributing. I didn't know that I would get the developer itch.
AD: One of the unique features of Untitled are the balconies, whose parametric design follows the wave form of your song Gust of Wind. How did you choose that song as the inspiration?
PW: The bare bones of that song is the intention that someone could feel like a gust of wind in your life. But the idea that [the song] was centered around an element made it perfect for the building. The building itself, like everything else, it exists in the elements and it's got to weather the elements. So, to base the spirit of the project and the process around an element just felt natural. The wind moves. The wind carves itself around us and around nature and around, essentially, buildings. It just seemed like the right fit.
AD: How did the process evolve from the song choice?
PW: We went from taking a really cool concept that Mansoor had: looking at a song and waveform and having that inform the exterior aesthetic and feeling. That was our starting place. But then we started talking about going to the core of the intention and only keeping what we needed, only keeping the things that were absolutely thought-provoking and the aspects that absolutely mirrored or were perfectly metaphorical for what the wind can do for you and sticking to that. There were a lot of aspects that we stripped away to just get to the core of it.
AD: Why was it important to strip everything down?
PW: That is the difference between something looking cool for a year, or aging well 25 to 50 years from now. Those are the buildings that age well; the ones where the purest thought is what everyone focused and concentrated on. The ones where they made sure that there were no unnecessary embellishments as much as there was just really forward-thinking focus placed on the unique and original aspects of the concept.
AD: What were the elements that were important to you to include?
PW: So, the building itself, if you think about it, it's kind of like looking at a stack of drink coasters. And if you placed them out in the wind, it would probably twist some of them. And that is the feeling of what we wanted the wind to do. But then, at the same time, the other thing that is very fluid is water. We wanted a lot of water in the building. As soon as you drive up the roundabout, there's water. As soon as you walk in, there's water. It's something as simple as adding the mirror on top of the pool. So that one gets the sense of "as above, so below."
AD: You also thought a lot about the user-friendliness of the building.
PW: If I'm Jane Doe and I've been in traffic for an hour, walking into that building and hearing and seeing the water, it's going to calm you down. Or waking up in the morning, when you come down, your day is already in a super calm place. We thought about all those aspects, about how will the spaces be used.
AD: What was the most important lesson you learned about design during this process?
PW: Well, I think this project taught me a lot about myself. In this process I realized the things that age well are the things that are beautifully ambiguous. And I've come to realize that those are the things that I love the most. I've been doing music and apparel and footwear for so long, but they never really held the mirror up to me in the way that a building does. A building has to work five years from now, it has to work 10 years from now, you want it to be loved 25 to 50 years from now. It's started to make me think about certain things differently. Like, what's going to age well? Not just the "Oh, but you've never seen it like this before!" That's generally how I think about things. This [project] showed me that there's also a very subtle and super-grounded and core-oriented point of view that helps things to be ageless.
AD: What are you most proud of?
PW: I'm most proud of the third tower, which is the rental tower [with 200 affordable housing units]. The fact that my partners stood for doing something with a cause and a reason and not just aesthetic conversion. I'm really proud of that conversation that we had.
AD: Has this given you the bug for wanting to be involved in more architectural projects?
PW: Oh yeah, for sure. We have a bunch of stuff coming.