Thicke Celebrates Birthday With Jay-Z, Dad's Favourite Artist, Rollercoasta (Video)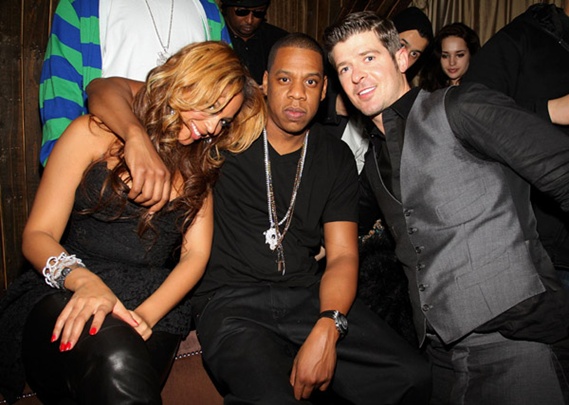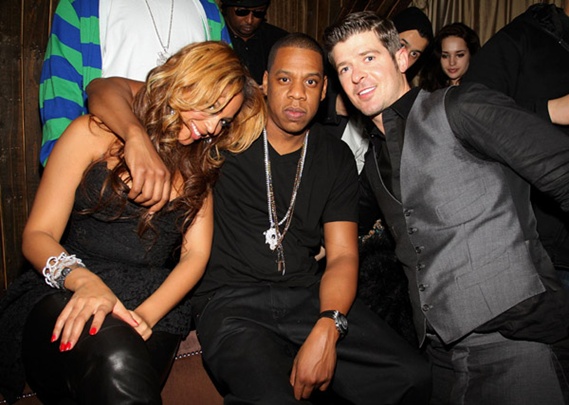 Beyoncé and Jay-Z were just two of the celebs to ring in Robin Thicke's 33rd birthday in New York Wednesday at 1Oak in NYC following his sold-out show with Alicia Keys at Madison Square Garden. The crooner was joined by his dad Alan Thicke and friends including Beyoncé , Jay Z, Reggie Bush, Russell Simmons, music executive Andre Harrell and 1OAK owners Richie Akiva and Scott Sartiano, who toasted the singer as partygoers danced the night away to beats by DJ Sinatra.
The father of R&B crooner Robin Thicke – actor Alan Thicke – says that he is his son's number one fan. He went on to claim that he didn't pass on his musical skills to the singer, but he offered something else. Alan Thicke told the talk show Today: "I couldn't teach him much about music, so I encouraged his hobbies. I'm a TV dad, I thought it was Sax Therapy and I thought this was duets with Kenny G, but no, everybody's naked in the video. He added: "Robin Thicke is a great artist. Ordinarily when you're getting your cuddle on, you wouldn't want to hear your son's voice. That's usually the enemy of love. But in this case, it is romantic. It's not like he's singing, "Go daddy go!" It's a mood setter."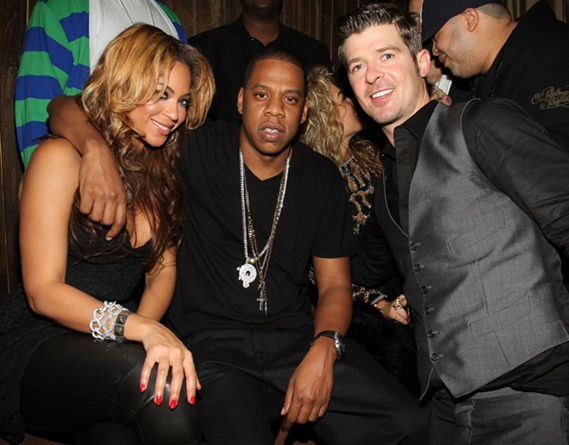 In Idolator's recent interview with Robin Thicke, the smooth crooner talked about working with freaky Grammy winner Estelle on his Sex Therapy: The Session album. "I was on tour with Estelle while I was opening up for John Legend years ago," he said. "And Estelle and I are very good friends and that was easy, she's amazing." Check out the video for their jam "Rollercoasta" below! That's a fun clip, but the days of fashion, strobe lights and Robin chasing hot tail around house parties is about to come to an end—at least for a little bit.
He and wife Paula Patton have a baby on the way. When we asked if Robin's dad Alan offered the singer any advice on being a father, he joked, "'Stop spending all my money!' Save some money was his advice."
Robin Thicke & Estelle – Rollercoasta (Video)
*idolator.com
*x17online.com
*singersroom.com
*.mtv.co.uk