The Neptunes On Juan Epstein & Cipha Rosenberg Show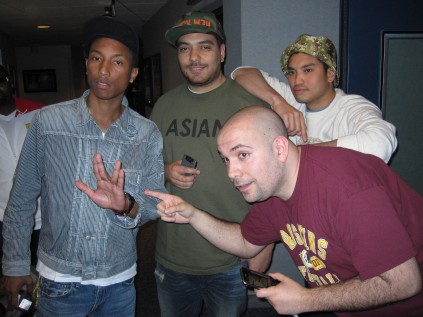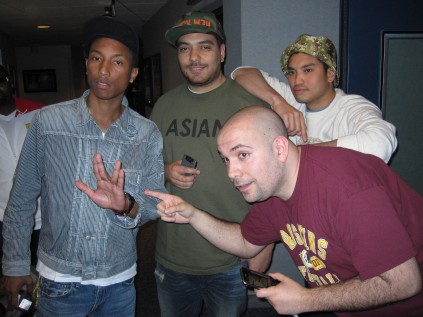 Pharrell, Chad & Shay have been at the Juan Epstein & Cipha Rosenberg Show or whatever is that show called where they been discussing for over 45 minutes a lot of funny and interesting things such as The Neptunes Classics to Drake's Studio Session, here are some things they've revealed. They told Chad Hugo that he is the "Talented Neptune" and if he showed Pharrell how to play keys and drums but he friendly denied everything and said "that's not true". He revealed that he didn't really played the Saxophon on BLACKstreet's 'The City Is Mine' "that was a keyboard" and that he got paid $128 for it.
Pharrell said that his favourite track from "In My Mind' "That Girl with Snoop Dogg is but that he hated the album "it shoulda been instead a Clones 2". They also talked about Guru's passing away "I'm really hurt, I knew him he was a good dude, we're on the same label, Virgin" they emmediatly switched to the old school Hip-Hop and Wu-Tang Clan then. Skateboard P has been asked If they ever did some records with the Wu-Tang Clan exept Ol' Dirty Bastard and Pharrell revealed that they were supposed to work with Method Man and that there will be a a possible Redman collabo soon "We ran into redman the other night" and they talked about the Drake tune that they did called "Dirty Looks" but rumour has it it won't be on the Drake's album, check the whole 45 minutes, thanks to SLRS.
The Neptunes On Juan Epstein & Cipha Rosenberg Show
http://usershare.net/y18p8igdt9ee
http://www.mediafire.com/?x5qmwnrnbny