Pharrell & Maxine At The Lanvin & Alber Elbaz 10 Years Anniversary Party In Paris (Update)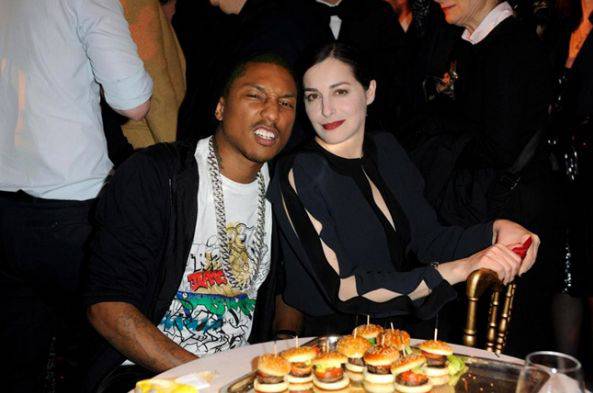 Maxine Ashley Singing 'Happy Birthday' To Alber Elbaz.


PARIS – FashionTV is in the front row for one of the most anticipated shows during Paris Fashion Week Fall/Winter 2012-2013. Designer Alber Elbaz is celebrating his 10th anniversary at Lanvin, completely with a giant layered cake and festive atmosphere. Vogue Japan Editor-At-Large Anna Dello Russo, wearing a veil and gold headpiece, of course, wishes Elbaz a happy 10th birthday and knows it will be a spectacular show. Also in the audience, French actresses Nathalie Baye, Amira Casar, Patricia Kaas, and Zoe Felix.

Also sending their kisses are fashion industry people like Linda Fargo from Bergdorf Goodman and Ken Downing from Neiman Marcus. "Of course he's crazy talented, but he's also got so much love inside of him," adds Fargo of why everyone loves Alber Elbaz. Other big names spotted in the crowd include Jessica Alba, Pharrell Williams, and Dita Von Teese. "It's one of my most coveted brands that I have," says Williams. "I'm a big Lanvin shopper. I love the history of it," adds Dita Von Teese. Appearances: Anna Dello Russo, Nathalie Baye, Zoe Felix, Ken Downing, Linda Fargo, Huo Siyan, Jessica Alba, Nikki Alba, Pharrell Williams, Maxine Ashley, Amira Casar, Patricia Kaas, Dita Von Teese and many more.
*youtube.com/lanvintube
*youtube.com/fashiontv
*style.it
*gossippando.it
*zimbio.com
*bbcicecream.com
*twicsy.com
*wwd.com
*nytimes.com
*wsj.com
*n-e-r-d.skyrock.com
*twitter.com/jessicaalba
*elle.be
*twicsy.com
Pharrell Williams, Alber Elbaz & Maxine Ashley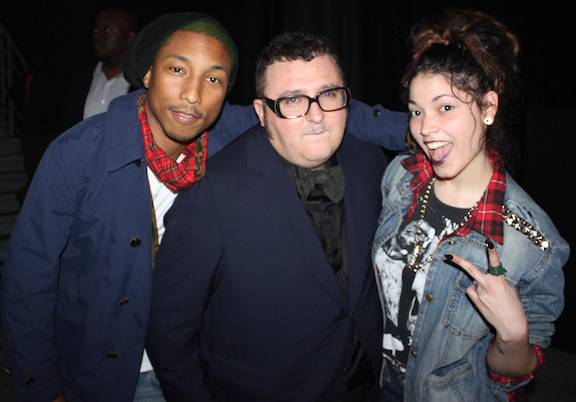 For everyone that wondered why Pharrell has his hair green, well weeks ago at the GQ party in Vegas, he revealed that "he dyed his hair green in honor of his new Mc Nairy Line". Thanks to nerd0016 for the find.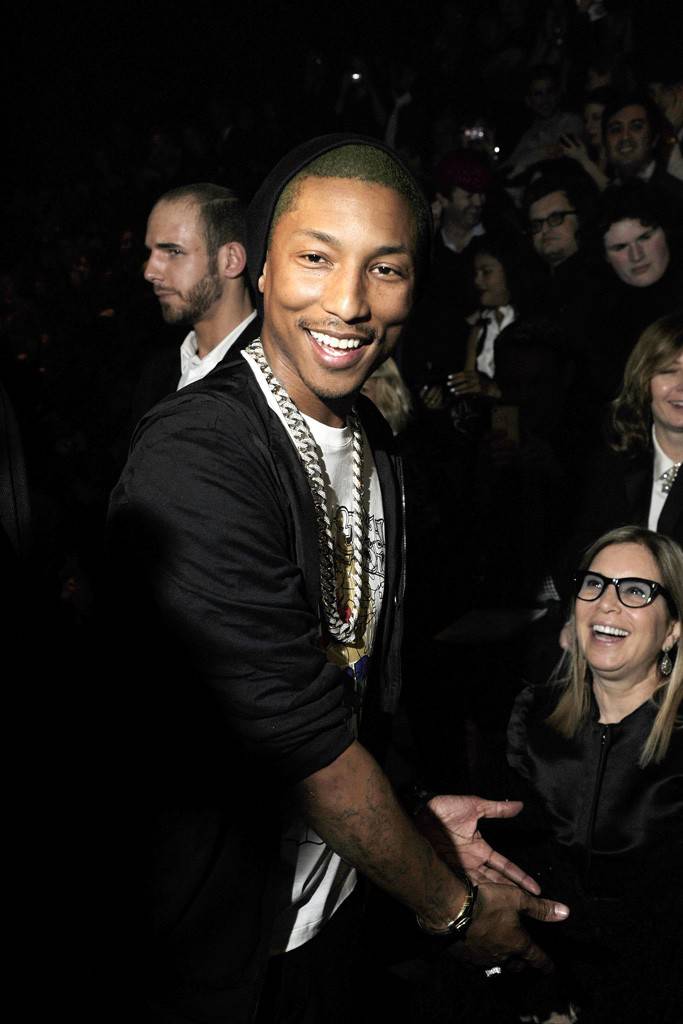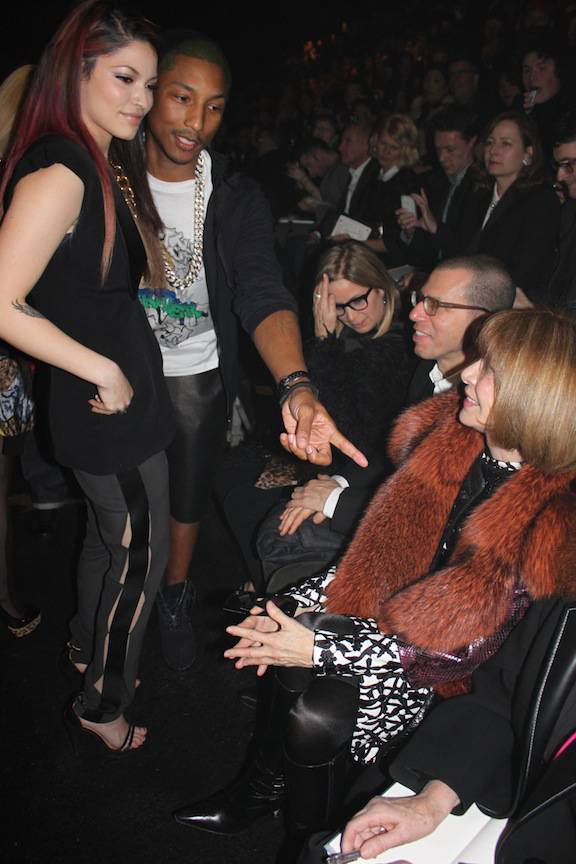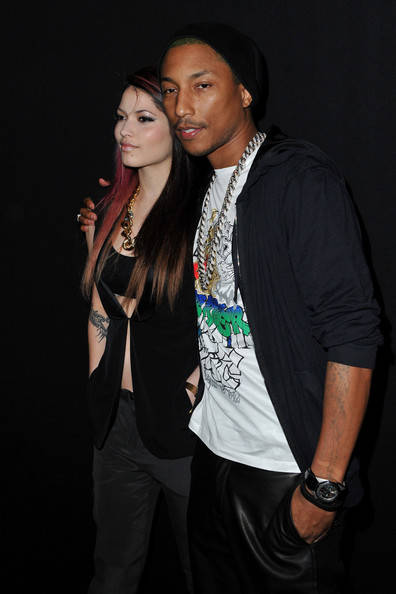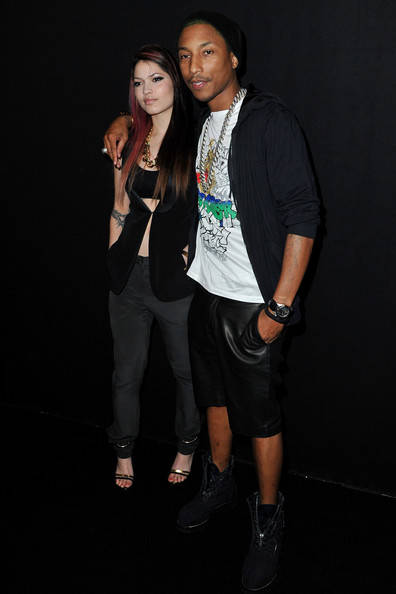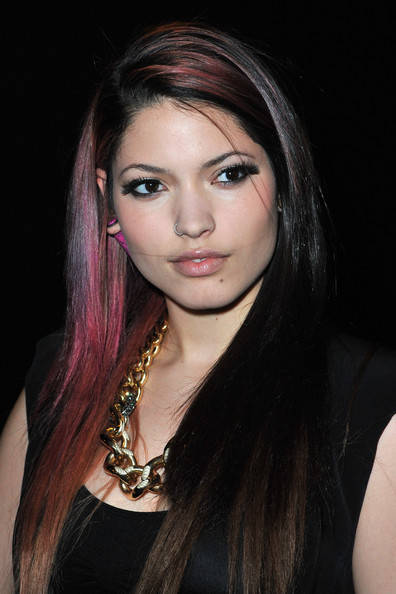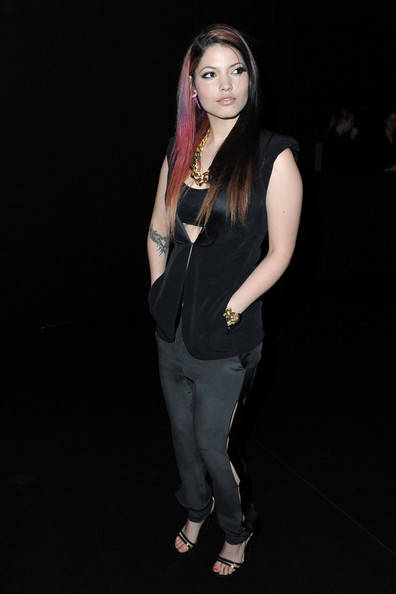 Dita Von Teese, Pharrell Williams, Alber Elbaz & Jessica Alba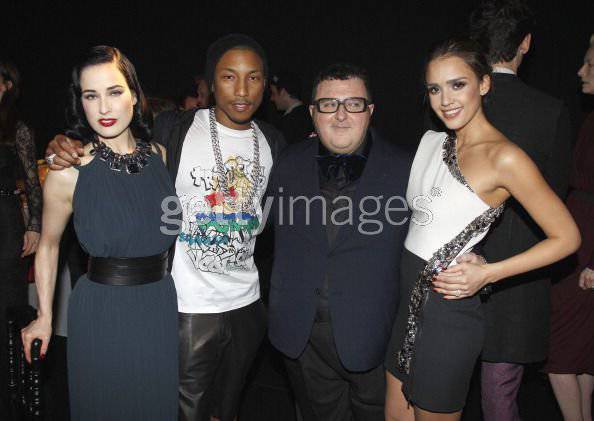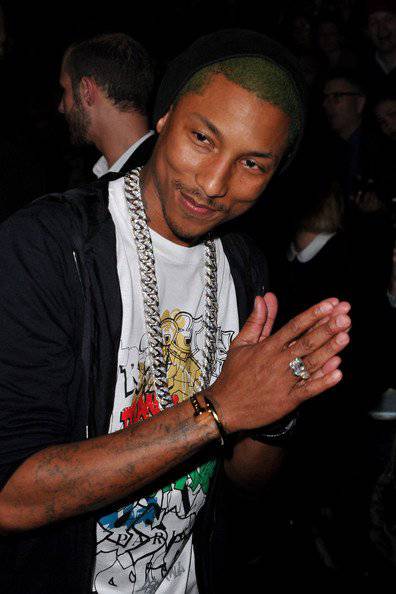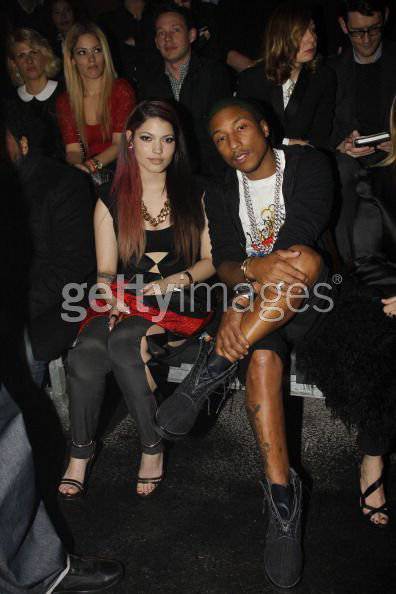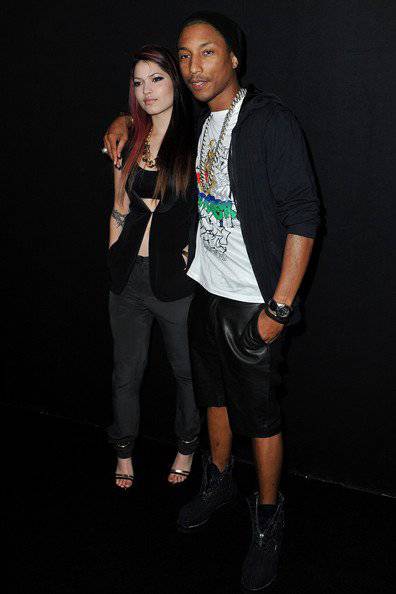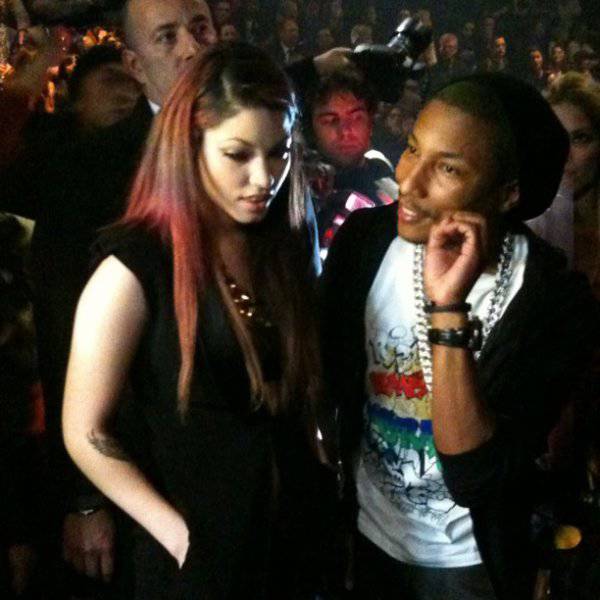 Alber Elbaz has had a glorious run at Lanvin for the past 10 years, so he threw an anniversary party on Friday night in a huge Left Bank warehouse near the Seine river. Pharrell Williams came, and made a big deal out of bowing to Anna Wintour. Dita Von Teese made the most of being surrounded by camera flashes (she can smell a party from across the globe, and she eats the paparazzi like tuna for lunch). Tilda Swinton sat demurely, holding hands with the bearded gentleman beside her – Space Odyssey dates a young Charles Dickens. The fun started even before the runway show, with hors d'oeuvres – foie gras lollipops anyone? – and champagne served to arriving guests on the floor of the warehouse. A good thing too because the natives got restless- the show started more than an hour and 15 minutes after the appointed time.
Pharrell & Jessica Alba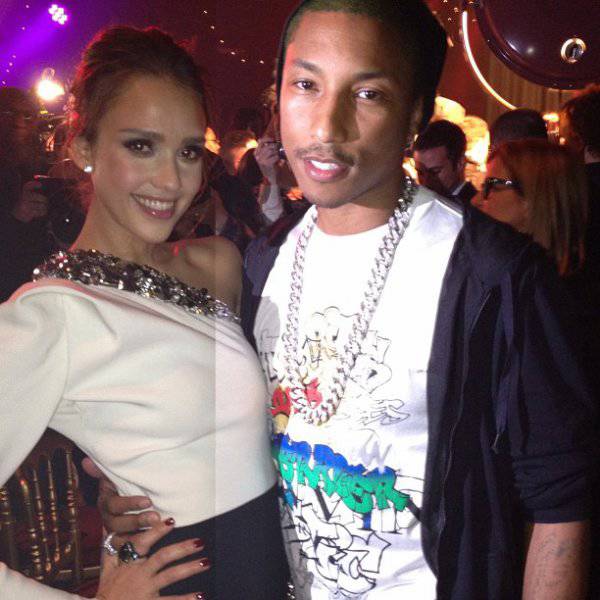 Que sera sera. Whatever will be, will be. The collection for Fall 2012 is all dresses and skirts, each look on the runway was more Lanvin than the last, proving that Elbaz can do anything he wants at all: frills down the back, chain mail, pert piping, metallic brocade. Magic. Then the lights went down and Elbaz appeared on stage. He promised not to outdo Pharrell, then belted out his own rendition of "Que Sera Sera." It sounded as good as Doris Day ever did. Uproarious applause. And then a race to the back of the warehouse for the rest of the party, which was THE place to be in Paris on Friday night. I actually saw models rushing in to the party still wiping off makeup from their last show.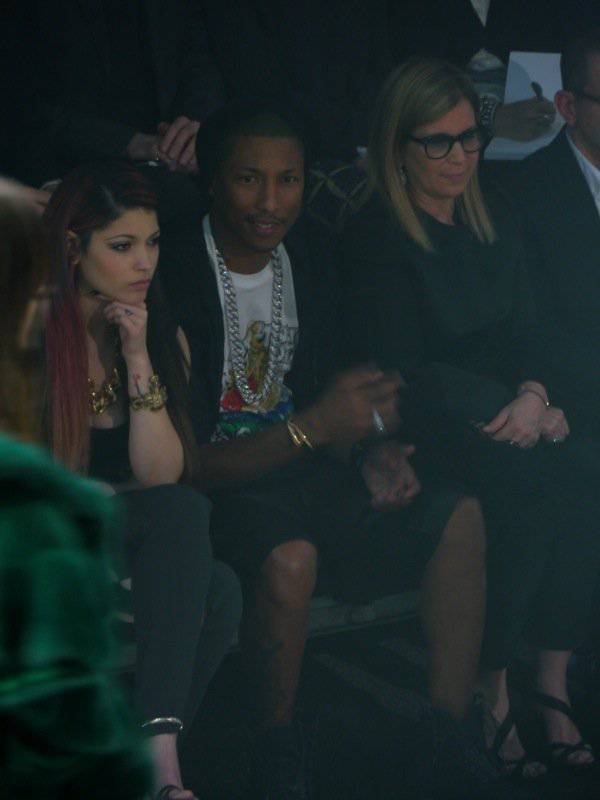 After most editors and buyers have taken their seats, and the cakes have been wheeled away, out come the celebrity guests. Pharrell Williams, wearing shorts, hiking boots, a graffiti-print T-shirt, a black hoodie and chains around his neck suitable for locking up a bike, comes out and says hello to his seatmates, including Anna Wintour and Jonathan and Ronnie Cooke Newhouse. His hair, what little bit is visible under a knit cap, is putting-green green. He gives the double-cheek kiss to Grace Coddington and Suzy Menkes. He gives a hug to Stefano Tonchi and Edward Enninful. He introduces his guest, the new singer Maxine Ashley. "This," he says to her, gesturing down the row, "is fashion."