Pharrell In The Bullett Magazine (2012)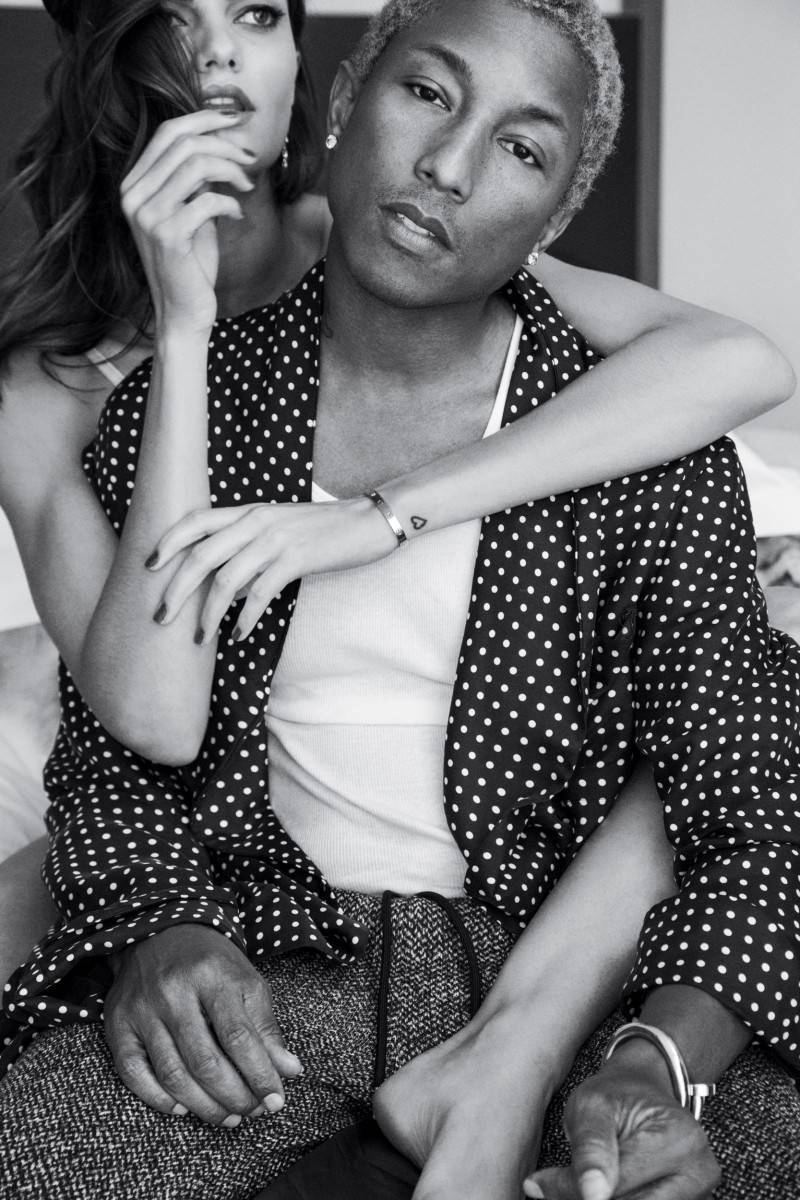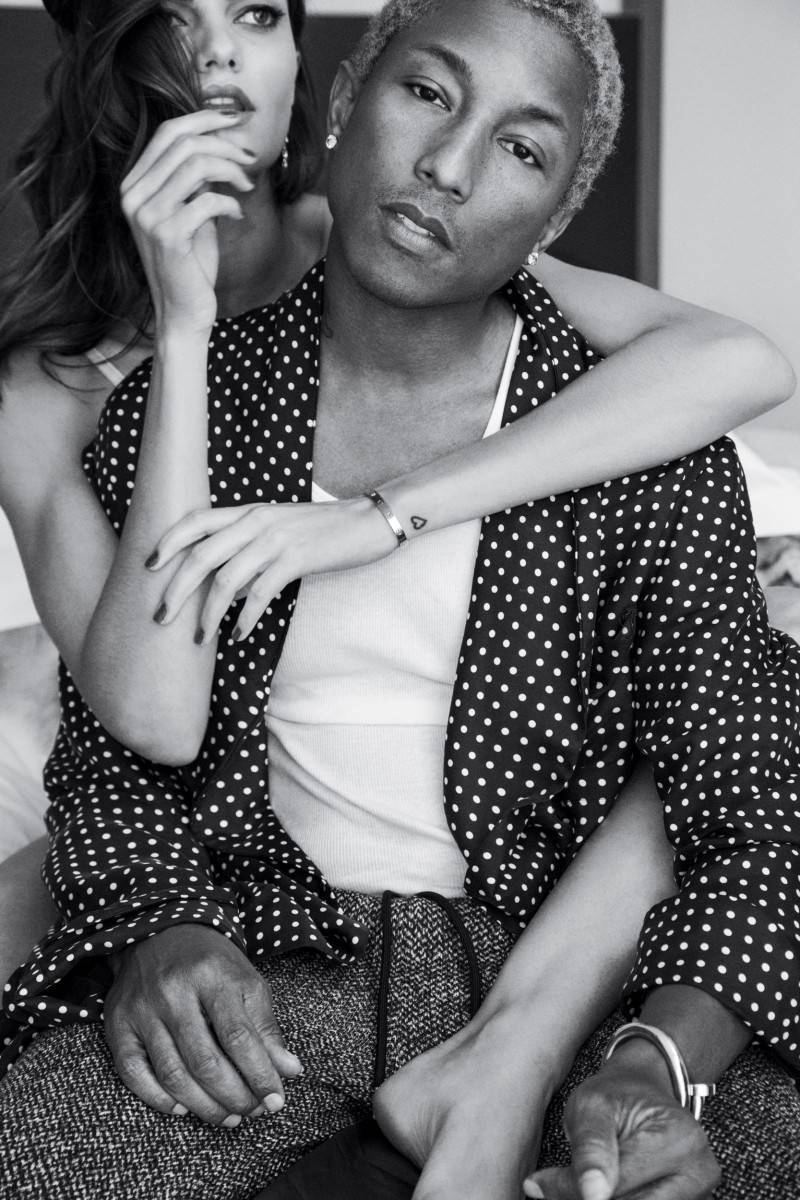 The Sexual Education of Pharrell Williams
By Jada Yuan, Photography by Tim Barber. Over a glass of his pink, creamy liqueur, musician, producer, artist, fashion designer, entrepreneur, and notorious playboy Pharrell Williams tells Jada Yuan why he quit the game to become a (mostly) good boy. Styling by Andreas Kokkino. The pale pink cream liqueur Pharrell Williams pours into a tumbler of ice isn't just for me, but for all womankind. He urges me to smell, to sniff, to sip, watching attentively for my reaction. The summer sun has begun to set over the patio of the Standard East Village hotel in New York City, where he manages to make even his sales pitch sound seductive: It's 99.9 percent lactose-free ("so if you're lactose-intolerant like me, then you're good"); it's thinner than other cream liqueurs ("it's less like a milkshake and more like Yoo-hoo, so instantly you're not thinking about, 'Oh, you know, five more hours this week on the treadmill'"); it's only 12.5 percent alcohol by volume ("the same alcohol by volume as white wine, so you can sip as much as you want and you're not rolling around the room").
The idea came to him after listening to the concerns of his female friends—most of his friends are female—and he cared, he really cared, that there wasn't yet a good, sweet drink out there for women of discerning taste. "This is not a club drink," he says. "It's for around the house with your girls. It's after dinner. It's definitely poolside." He stares deep into my eyes. Do I taste the strawberry? Does it taste good? It's called Qream. The Q, he says, is "because it's made for queens." Williams has just come from his BULLETT photo shoot, which required him—poor thing—to be entangled in bed sheets with a beautiful model he'd helped handpick. "I love my job," he says, grinning at the near-nude memories of a few minutes ago. "I'm so lucky. I'm trying to figure out when they're just going to go, 'Hey, what are you doing here? Get out!'" It won't likely be anytime soon. In October, Rizzoli will publish Pharrell: Places and Spaces I've Been, a beautiful, coffee table–ready celebration of the 39-year-old entrepreneur's influence as a rapper, producer, fashion designer, thinker, and dreamer (though, sadly, not as a ladies' beverage impresario).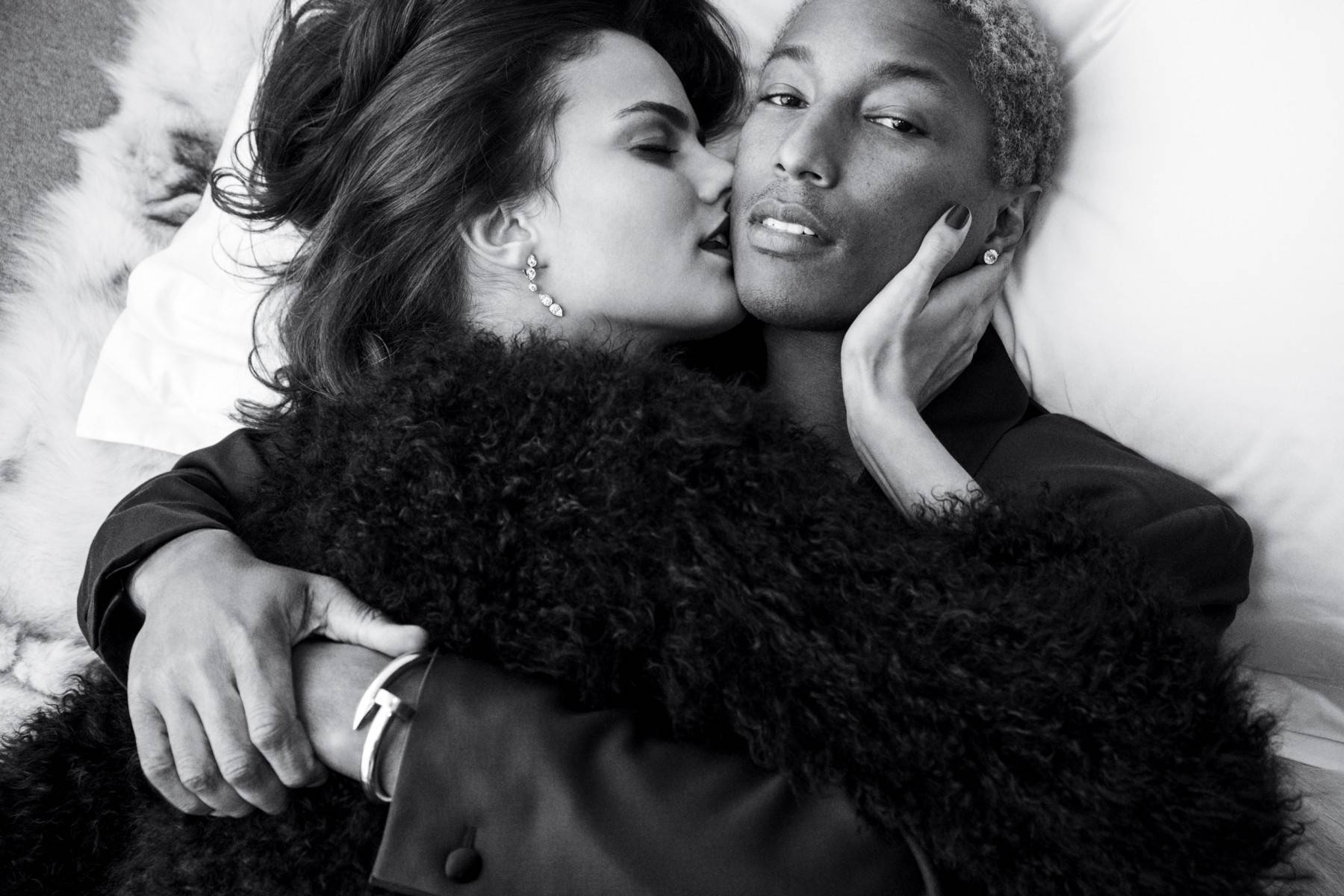 It's a book so reverential it's practically deifying. Williams begins with a conversation about Biggie Smalls with Jay-Z, whose own exhaustive, line-by-line analysis of his lyrics, mixed with his memoir, Decoded, set the standard for serious rappers' selfcanonization. From there he talks to Buzz Aldrin about physics and Drake (that is, astronomer Frank Drake, who developed an equation to estimate the number of alien civilizations that might be present in the Milky Way); to Anna Wintour about male style; to architect Zaha Hadid about the line of prefab houses he proposes they do together (he's also said he wants Frank Gehry and Hadid to design him a mansion partially submerged in the ocean); to Hans Zimmer about that time they composed the music for the 2011 Academy Awards; and to Kanye West about being misunderstood. Images abound from his 2009 Art Basel installation, for which he collaborated with Takashi Murakami to bedazzle Heinz ketchup bottles and Pepsi cans with fine gems at the height of the financial crisis, and the two clothing lines, beloved by alterna-cool (rather than gangsta) urban youth, he designs with A Bathing Ape founder, Nigo: Billionaire Boys Club and Ice Cream. Thanks to nerd0016.
*bullettmedia.com
*n-e-r-d.skyrock.com
Both lines brim over with an appreciation for cartoons, Japan, bright colors, spaceships, girlie pinups, a reluctance to grow up, and Williams' unstoppable sweet tooth. Picture a sweatshirt and matching hat covered in a print that looks like a syrup-drenched Belgian waffle. Like all heroic tales, Williams' begins with a heightened-reality story of origin: Latchkey kid in depressed Virginia Beach, beating the couch with grandma's "cakestirrers" to TV theme songs. Introduce real drums in seventh grade music class. Form a band with a couple of like minded cool nerds, Chad Hugo and Sheldon "Shae" Haley, to perform at high school talent shows with socks pulled up to the knees, wearing Helly Hansen raincoats and rain hats. Get spotted by a record label scout at one of those high school talent shows. Get signed. Get work, first as a Williams- Hugo producing duo, The Neptunes. Develop a distinctive, tripped-out electronic space-funk sound and produce megahits like Ol' Dirty Bastard's "Got Your Money," Jay-Z's "I Just Wanna Love U (Give It 2 Me)," Britney Spears' "I'm A Slave 4 U," and Nelly's "Hot in Herre."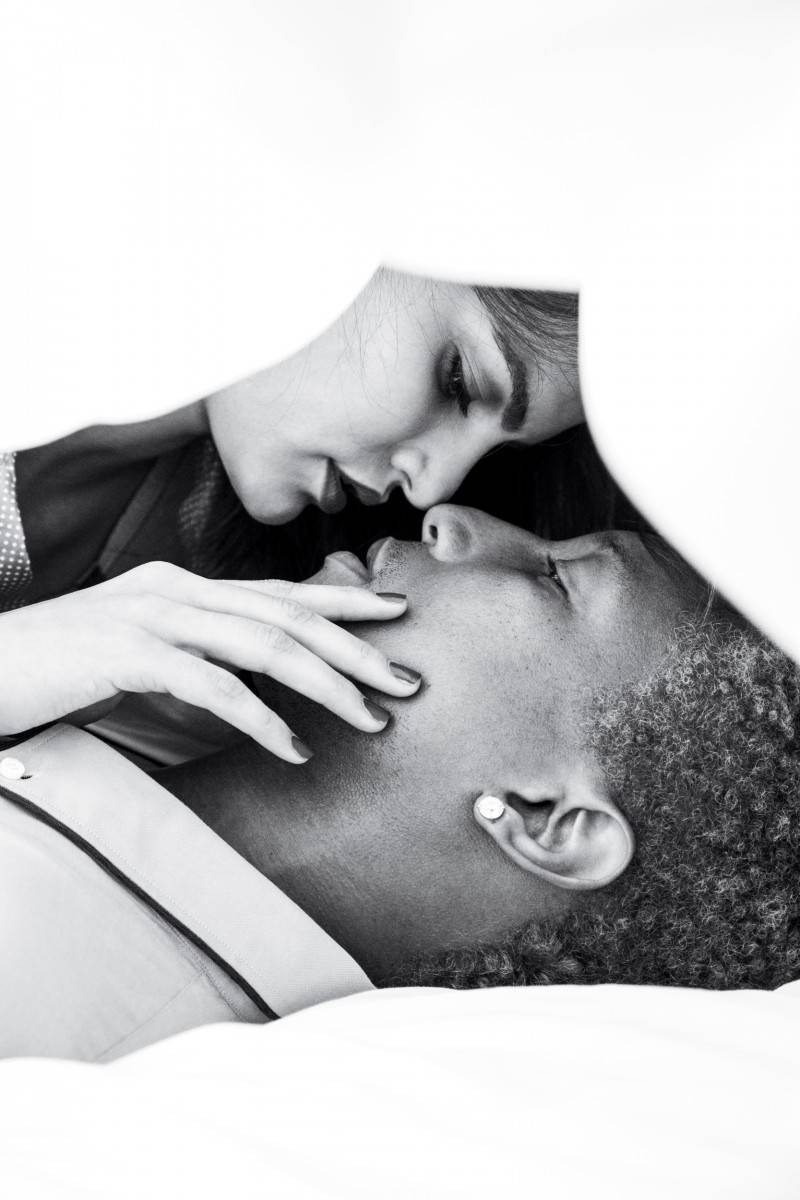 Get so hot that you produce nearly half the songs on the Billboard Hot 100 in August 2003. Reunite the band on the side. Change the name to N*E*R*D, as in No One Ever Really Dies, to honor friends who keep dying on you, as they tend to do when you've grown up talented and ambitious in a rough city from which only a few ever get out. Write your own hit song, called "She Wants To Move," with lyrics like, "Her ass is a spaceship I want to ride." Open for The Beastie Boys. Start designing clothes. Move into a penthouse 40 stories above Miami. Fill it with Ms. Pac-Man and Galaga arcade games; a home theater you only use to play Mario Kart; life-size statues and giant paintings of Agent Smith from The Matrix , SpongeBob SquarePants, The Smurfs, The Simpsons, Stewie from Family Guy , and The Michelin Man; legit pop art from Murakami, Keith Haring, Kenny Scharf, and KAWS; and a "Perspective" chair you designed from two pairs of mannequin legs (one male, one female) to symbolize love. Call yourself a "kidult." Do more N*E*R*D albums that don't do as well. Tell magazines you're too old "to be around loud music and drunk, young bitches all night." Still write songs with lyrics like, "Go on and touch it, girl / go on and touch it, girl."
As we sit opposite one another, sipping Qream, Williams never once mentions the book, and there's only one origin story that seems to matter to him. "What are we without women?" he muses. "All humans are here via women. Women are literally the vessels that birth us into existence." Dig deeper, and he can't talk about the fairer sex without slipping into double entendre. Why does he gravitate toward women? "I'm trying to find a politically correct way of saying I am what I eat," he says, smiling because he knows exactly what image that conjures. "But I mean that in a more general and respectful way: I'm all about girls, you know what I mean? If you cut me open, all of my admiration for women comes tumbling out." Specifically, he admires "that little elevator they have" to "deliver humans to our reality." Another image springs to mind. "It gets incredibly dirty as you move on," Williams says, chuckling. He has to stop himself from getting too graphic sometimes, "or it'll be like, 'Oh my god, did you hear what he just said? Womanizer!'"

So instead of being graphic, he wants to get personal and talk about my half-Chinese, half-British-Irish-German- Jewish origins. My parents, he says, "did such a great job." He would have guessed Icelandic or Siberian. He locks eyes with me again and wants to make sure I understand him. "You're not like an everyday girl. That's a gift." I tell him most people never notice I'm Hapa. He feels sorry for those people. "They're not detail-oriented," he says, indicating that he, of course, is detail-oriented, that he really sees me and has since the moment we sat down. I switch topics and focus on his boots: black Timberlands he's handpainted with white scrawl for a DIY, "'80s punk, CBGBs attitude." Among the phrases he's written on them are "Born Tranquilized," "Born Amused," and "Occupy Pussy."
Then, somehow, he's back to focusing on my outfit. Williams doesn't just see a dress and sunglasses; he sees people who designed each element, and the corporate stiffs who likely tried to shoot them down. He paints a picture: "One day, a single human being woke up and said, 'Purple glasses. Teal dress. That cutout on the shoulders, right there. We're gonna do this.'" He circles his finger near my skin as if he's about to touch it. "And 10 other people said, 'Hell no. It's a bad idea.' Somehow that idea slipped through the cracks." He takes one more deeply approving look. "And that one person was right." At some point during this exchange, I spill an entire glass of water on myself.
Williams isn't totally singleminded. He will, reluctantly, talk about the things he does in his life to make money. He recently launched a new branding company, I Am Other, which aims to endorse and develop outlier products and artists that Williams deems cool. According to the manifesto he wrote for the website, "others" are "curious, ambitious, energetic," individuals who "have the power to change the world." Collaborators include unknown musicians and beat makers Williams hopes to make known; Bionic Yarn, which is made from recycled plastic bottles; bike artisans Brooklyn Machine Works; and the Miami popart collective FriendsWithYou, who are responsible for the psychedelic paint job on the vintage Rolls-Royce in N*E*R*D's "Hot-n-Fun" video.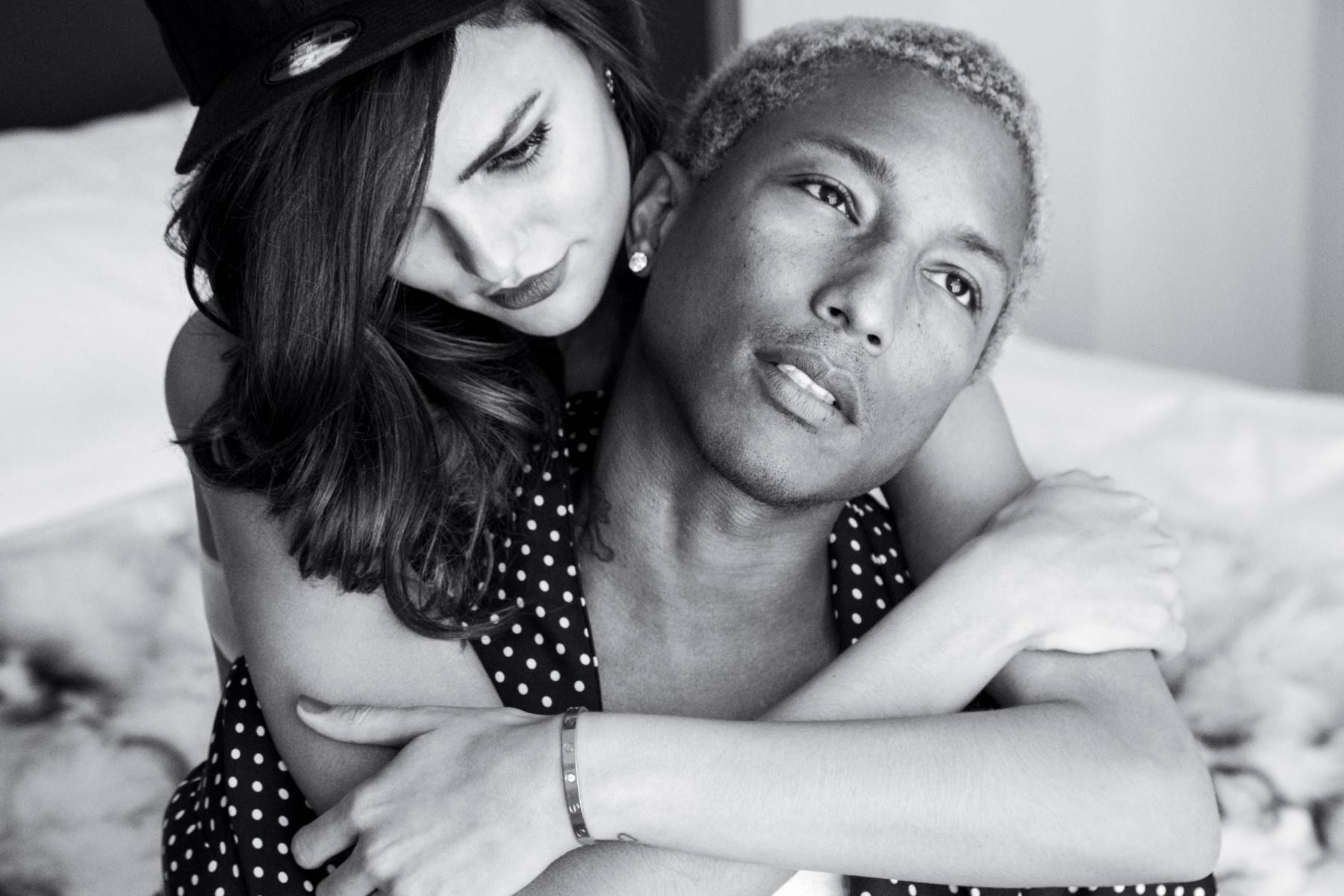 He's also programming director for the online video channel Karmaloop TV, which is dedicated to street culture. And he's spent major studio time helping Frank Ocean, Empire Of The Sun, Earl Sweatshirt, Robin Thicke, T.I., and even Miley Cyrus create sexy new sounds. "I'm Morpheus, and she's Neo," he says of the former Hannah Montana star. "I can't tell her what to do, I can only let her find it within herself." That wasn't too hard, since Cyrus is "an old soul" who went into the studio knowing exactly what she wanted. He keeps gushing: "Her voice is unreal. She's got that amazing low tone. It sings like it's from '79. I don't usually compliment my own stuff, but it's unlike anything she's ever done before. And I have a lot of respect for her—don't care what anyone says. 'Party in the U.S.A.' was a big record. She challenged the pop world with that song." Despite all of this, Williams (who was in talks to join Mariah Carey as one of the new judges on American Idol when this issue went to print) tells me that he is as dedicated to "girl-watching" as he is to being in "creative mode." He sees his occupation as full-time voyeur—observing, listening, learning—and part-time "perv."
Williams likes to tell the story of how he lost his virginity at 16 to an older woman. "I didn't lose it," he clarifies. "I gave it away. I know exactly where it is." He's had a lifelong fascination with older women, he says, "because I used to look at my teachers. There were several high school teachers I wanted to have my way with." He didn't actually get with them, but says, "I mean, that would have been awesome." He did, however, find other older women to suit his particular desires. "I had fun with those really good cougars, dude. They had that quiet purr that you just feel." He likens his time with these women to Ralph Macchio's training sequences in The Karate Kid. "That kid didn't feel like washing the car, but he had no idea that was going to protect him one day. A lot of it, I was like, So this is how you play chess? Okay, cool, let's go to bed. I didn't know they'd teach me how to treat women, but they did. They taught me how to talk to girls, how to speak to them, like a specific language."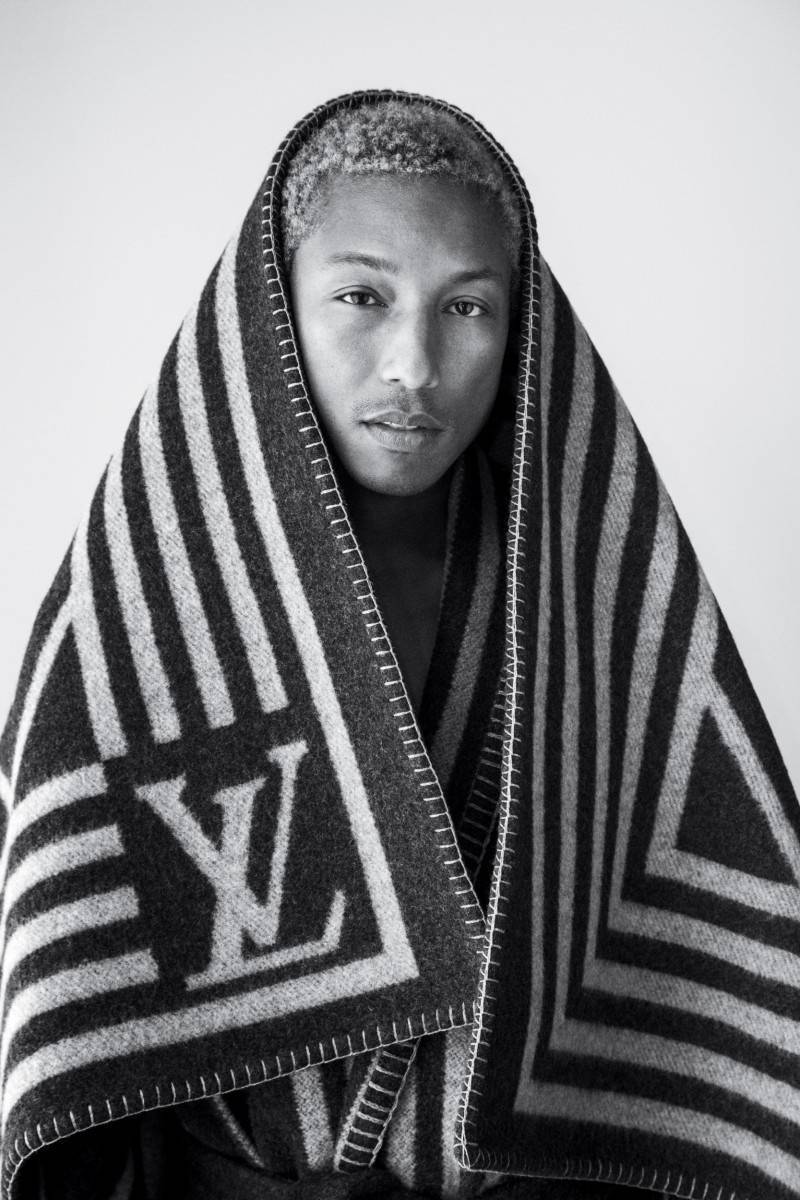 If he could give younger guys one bit of advice, it would be: "If you kiss her mind, her body will follow." Growing up, he says, "I made so many mistakes. I messed things up so badly, just by being young and growing up so fast. I've since learned a lot about pacing, not just with women, but also in life in general." This doesn't mean, however, that he thinks guys should hold off on sex. "I applaud those who have the willpower to do it. But I'm a different kind of kid." Instead of seeing sex as sacred, perhaps we should hold "time as the ultimate sacred thing." He wants to know if I have silly, arbitrary rules about how many dates to wait for sex (I don't), or if I've ever had "a one-off thing with someone and forgot the dude's name" (I have). "Mistakes are lessons," he says, with a warm, accepting smile. "I don't think there are too many things that you regret, outside of your own judgment." What women regret about having sex with a guy on the second date who never calls her again is not the time frame, but sleeping with someone who isn't worthy. Then again, you could wait two years to have sex, only to find out he's a cheat. "It's like buying a big, awful, distasteful home. You might have 30,000 square feet, but it's shit. You have terrible doorknobs. The windows are 20 years old. It's not how much, it's how great. Quality over quantity. Life is fleeting. You can always have sex again." I leave, head reeling, with a sudden urge to clean my apartment.
A few weeks following our euphemism-filled chat, news surfaces that Pharrell has become engaged to his girlfriend, Helen Lasichanh, model, designer, and mother to his 3-yearold son, Rocket. She wore a rock to The Dark Knight Rises premiere—the privacy-minded celebrity's version of a save-the-date—but the engagement could have happened anytime, the day before the premiere or a year before that. Neither the engagement nor the manner of its announcement should come as a surprise: Williams is so fiercely protective of his home life that when he slipped and mentioned he has one, he wondered aloud if he'd said too much. As we talked, various female passersby, particularly a lithe waitress, braless in a black bodysuit, distracted the once notorious playboy. But when he spoke about his family, he sounded settled, calm. He moved to Miami for "the water, the weather, and the women," he said. "Now it's just the weather and the water because I have a family. I'm a good man. I'm a good boy, you know." He can look, but, he said, "I just don't touch."