Pharrell Williams x Zaha Hadid Interview Taken From 'Places & Spaces'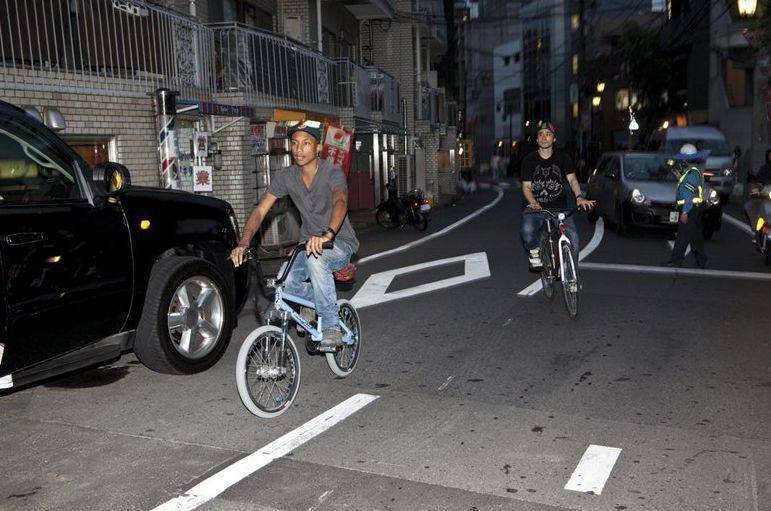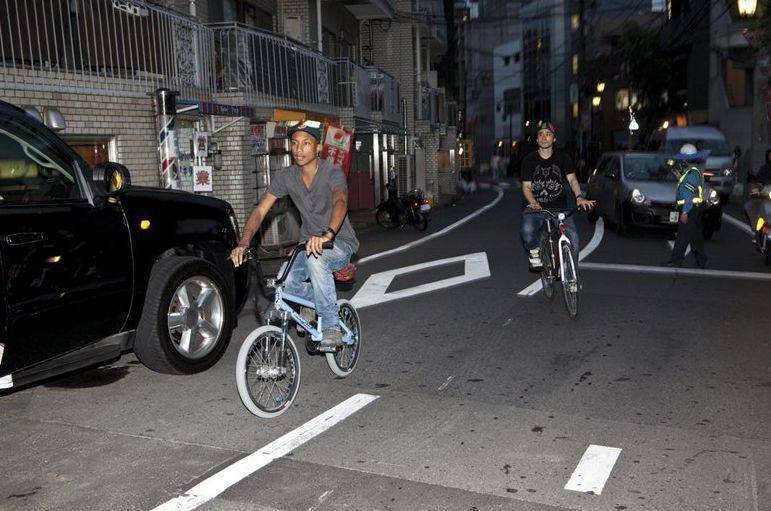 The Neptunes Frontman Shares His Places, Spaces and Collaborations With Leading Luminaries. Larger-than-life producer, rapper, fashion designer and entrepreneur Pharrell Williams' interest in everything from art and music to architecture and space travel is revealed in these pop images. Showcasing moments at home in Miami and Virginia, highlights from tours to Tokyo and Hong Kong, and collaborations with artists like Takashi Murakami and brands such as Louis Vuitton, these photographs are featured in Pharrell: Places and Spaces I've Been, a new book created by the modern polymath and published by Rizzoli. Recently spotted in the studio with Jay-Z and Frank Ocean, the 39-year-old's first foray into editing checks in with old friends like NIGO® and Chad and Shae from N*E*R*D, and spotlights Karl Lagerfeld modeling Billionaire Boys Club as well as shots of Pharrell posing with the likes of Karolina Kurkova and Catherine Deneuve in shoots for Vogue, Citizen K and GQ.
Pharrell & Catherine Deneuve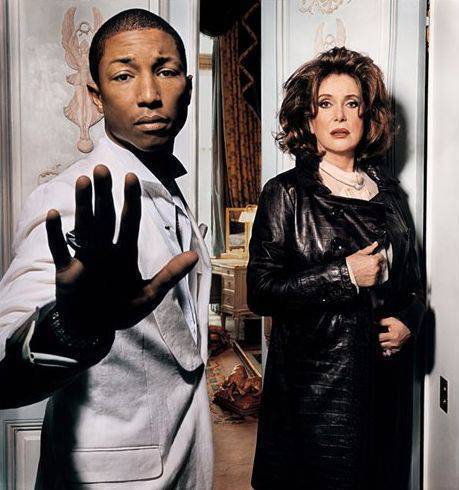 Other names like NASA and Terry Richardson pepper the credits of this illustrated autobiography that testifies to Pharrell's penchant for mixing things up. "I have never believed in boundaries," he explains. "If I was forced to work within them I would already be in a mad house. It's really not in my DNA." In this select excerpt, the man of the hour sits down with Pritzker prize-winning architect Zaha Hadid to talk radical design and future collaborations.
Pharrell Williams: Well you happen to be my favorite architect.
Zaha Hadid: Oh, thank you so much!
PW: And favorite designer, I love everything you do—
ZH: Well we should do something together, Pharrell.
PW: Oh please, I would love to, love to, love to, love to. Even down to the shoes that you designed for Melissa. Those were amazing. [Editor's note: Hadid's studio designed shoes for the Brazilian label in 2009.]
ZH: Yeah, no they're nice, well you know we work hard. We work very hard on our—let's say—repertoire. All these years, even when it was difficult, it sort of somehow paid off in a sense because you have a repertoire, you can tackle different problems and so I think that was very important.
PW: With my next project, after my next chair, I would love to do a prefab house, have you ever done a prefab?
ZH: No, but I've done temporary structures. So I think the prefab could be interesting.
PW: The average single-bedroom trailer or mobile home is somewhere between $40,000 to $70,000, and two bedrooms range to about $99,000. They say that we are bouncing back from the recession, but in a lot of areas, especially the housing sector—
ZH: It's not coming back…
PW: …at all. So I felt that if we would make something that was about $75,000 to $100,000 that we would could do something really fun and really next-level that could change the game, you know?
ZH: No, of course.
PW: So if you'll be into it I'd love to talk to you about doing prefab houses together.
ZH: That would be very exciting.
PW: First of all, I'm super excited. I'm not going to jump up and down and run out of breath. Then we won't finish the interview. But when we finish I will do that…Because I'm a big kid!
ZH: [Laughs]