Leah Labelle's American Idol Interview From 2004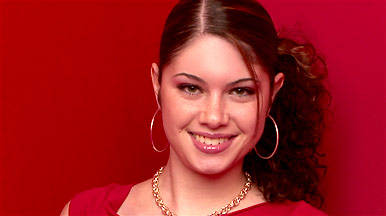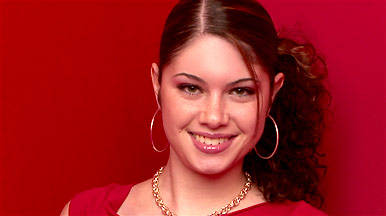 Check out this Leah Labelle Interview from American Idol back in 2004 when she was a contestant from the season 3, and look how cute Leah LaBelle looked, she was only 17 back then. She auditioned in New York City with her real surname Vladowski, at the age of 17 singing "I Believe In You & Me," a song popularized by Whitney Houston and received a golden ticket to Hollywood. However after making it to the semi-finals, she was not one of the two top vote getters in her semi-finals and did not make it.
Labelle was brought back for the wild card show and was selected by Paula Abdul to advance to the finals. After performing during the Top 12's Soul Week, she received the lowest amount of votes and was eliminated from the show and did not qualify for the American Idol US Tour. Her rendition of the soul classic "Betcha by Golly, Wow" by The Stylistics was included on the Season 3 American Idol finalist compilation album American Idol Season 3: Greatest Soul Classics. Thanks to scarletspider21.
When did you first start to sing?
I first started to sing when I started to talk. As soon as I could form words and sounds together, I was singing. Honestly. My mom has it on videotape! It's great.
Do you have any formal singing training?
Well, I just started to take voice lessons to help me learn how to breathe correctly when I sing. I started about a month ago (September 2003), and took about 15 or less, lessons total. So I don't really consider that formal singing training, because up until that point I had never had lessons before and I've been singing my whole life.
What other talents do you have?
I used to be able to play the piano. I know I probably still can, I just have to start to practice again and get back into the mode. I am actually planning on starting that up again. I also love to swim and used to be on swim team when I was younger, but I am so out of shape now. I also want to start dancing.
If you don't make it on AMERICAN IDOL, what will you do?
Well, I don't have to lose faith, but if I don't make it on AI then I will most likely get to making a demo and probably go out to New York and try to start my career. I will never give up on that. If nothing happens before I start college, then I am going to go to a music college most likely in New York, or in Boston and study music.
What are your personal goals in life?
My #1 goal is to become a successful singer and share my gift with the world. I want to be on stage and perform and win Grammys and help out my family in Bulgaria, because they are struggling and my mom and dad too. It's rough times right now and I want to be famous!!!
What album would your friends be surprised you own?
Probably DC Talk or Heather and Kirsten….Two old Christian groups. I'm sure almost nobody has heard of them.
What is the first CD you ever bought?
I really don't know.
What is in your CD player right now?
In the Car: Beyonce "Dangerously In Love" and at the House: Erykah Badu "Freakquency"…I believe that's what it is called. It's the newest album…GREAT CD!!
Who is your AMERICAN IDOL?
Lauryn Hill. She isn't really the American Idol type, but that's my inspiration as far as music goes. If I were going toward more of a pop idol I would have to say Beyonce, all though she isn't really pop either
What is your favorite type of music?
I love R&B, Gospel and most of all Soulful Sultry music. Like "Neo-Soul". That style of music.
What is your favorite song to sing?
I don't really have a favorite song to sing. There are so many songs that I love and it's hard to pick and choose.
Favorite male pop artist?
Justin Timberlake.
Favorite female pop artist?
Beyonce.
Favorite album of all time?
The Miseducation of Lauryn Hill or 112 Part III.
Who in the music world do you think your style is most like?
Lauryn Hill, or any of the more soulful, sultry artists.
Most embarrassing moment?
Honestly I don't even know. I don't really have one that sticks out in my mind.
If you couldn't sing, which talent would you most like to have?
Dancing.
What has been your proudest moment in life so far?
Just being alive. Honestly. Nothing could be accomplished if I wasn't alive, and I am grateful everyday for having the opportunity to live and love and now I am on American Idol and one step closer to my dream and life is great!!
What is your definition of an AMERICAN IDOL?
An American Idol is someone who is motivated, courageous, determined, and well rounded with a love and passion for music and life. Someone who knows what they want out of life and can be an inspiration and motivator for others.
Why do you want to be an AMERICAN IDOL?
I want to be an American Idol because I want to share my gift with the world and I want to be seen and heard my others. I want to accomplish the goal that I've had for my whole life and to have a job that I love! I also want to be famous of course!! And I want to be able to help out my family because we are going through hard hard times right now and it would be a blessing to financially be stable. Plus, I want my parents music that was left behind in Bulgaria to live on through me in the free country that they escaped to and be the AMERICAN IDOL!!! What an accomplishment and they would be able to feel that all they risked leaving all they knew in their home was well worth it!!
Who is your favorite judge and why?
I love Randy Jackson. He is just real cool and I feel a cool connection with him because he seems to like my Bulgaria story!! Yet, I love Simon's honesty and controversy. He really pushes me to be better and work harder. I also love Paula because she is such a genuine sweet and true person and she makes me smile.
Who is your least favorite judge and why?
I don't have one….HONESTLY. I'M NOT JUST SAYING THAT. Simon does make me mad at times, but he's Simon and I have to understand him.
What advice do you have for other hopefuls?
Just to never give up on your dreams. Work hard for what you want because it won't come to you without a fight. You have to be strong and courageous and know that you can do anything you put your mind to. If somebody puts you down or criticizes you just keep on believing in yourself and turn it in to something positive. It will only make you stronger and make you work that much harder to prove that you can do it! NEVER GIVE UP, and keep your head up!
What would people be surprised to learn about you?
Well, I average a 3.8 GPA in school, my Bulgarian background and family story is a major difference from others. Plus I developed vocal nodules about a year ago and it stressed me out sooo much. I kept praying and took a break from singing for a while and they disappeared!! There is much more to that story, but that's the jest of it. I have also been to Bulgaria, South Africa and Germany.