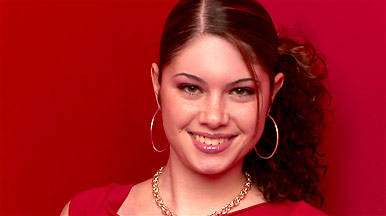 Check out this Leah Labelle Interview from American Idol back in 2004 when she was a contestant from the season 3, and look how cute Leah LaBelle looked, she was only 17 back then. She auditioned in New York City with her real surname Vladowski, at the age of 17 singing "I Believe In You & Me," a song popularized by Whitney Houston and received a golden ticket to Hollywood. However after making it to the semi-finals, she was not one of the two top vote getters in her semi-finals and did not make it.
Labelle was brought back for the wild card show and was selected by Paula Abdul to advance to the finals. After performing during the Top 12's Soul Week, she received the lowest amount of votes and was eliminated from the show and did not qualify for the American Idol US Tour. Her rendition of the soul classic "Betcha by Golly, Wow" by The Stylistics was included on the Season 3 American Idol finalist compilation album American Idol Season 3: Greatest Soul Classics. Thanks to scarletspider21.
When did you first start to sing?
I first started to sing when I started to talk. As soon as I could form words and sounds together, I was singing. Honestly. My mom has it on videotape! It's great.
Do you have any formal singing training?
Well, I just started to take voice lessons to help me learn how to breathe correctly when I sing. I started about a month ago (September 2003), and took about 15 or less, lessons total. So I don't really consider that formal singing training, because up until that point I had never had lessons before and I've been singing my whole life.