Teddy Riley: "Pharrell Is The Head Martian, Not From Planet Earth"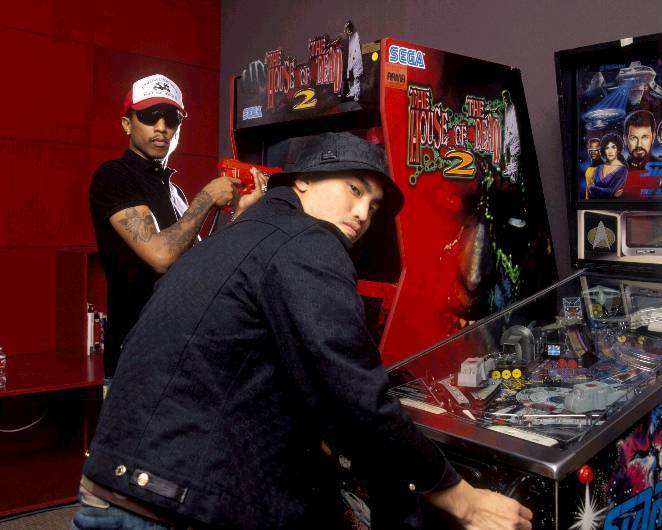 Teddy Riley has been interviewed Radio BBC1Xtra where he talked about his split from legendary music executive Gene Griffin, rebuilding his career and gives advice on how to stay successful, openly about working with Michael Jackson, Blackstreet, Timbaland, Rodney 'Darkchild' Jerkins and how he discovered The Neptunes (starts at 05:40). "I knew that they were special, "I knew that they would be doing something because this guys are Architecs, Pharrell, Chad, Mike Etheridge are Architecs, My first encounter with Pharrell was they were trying to get to the studio because they thought my studio was just a studio you went out, they didn't know that it was my studio and that it was private so they tried to get it and I didn't let them in because I thought they were just a bunch of school kids coming over you know cuz they had bookbags and everything and they were just out in the parkinglot spittin', then I said you know what I need to do a Talent Show.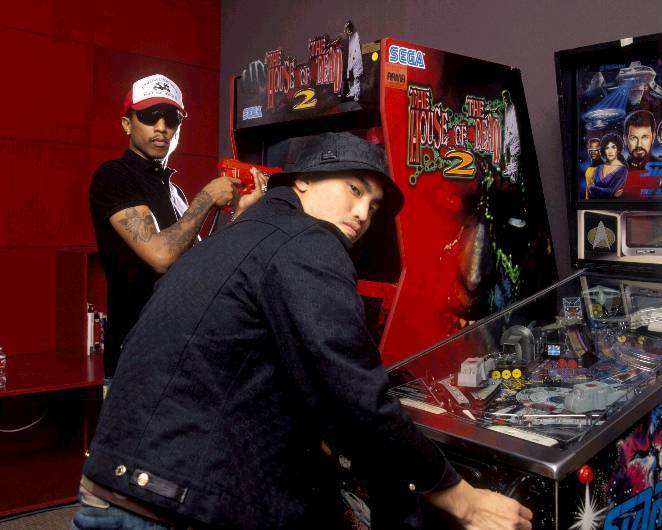 I did a talent show consecutively every year at their school which was across their way of my studio, didn't know that (Pharrell) was High School Cool Kid, NERD or whatever you wanna call them, but he used to be in school just rapping, and Chad would be doing his Saxophon playing In the Hall Way. I can only tell you I picked them out of a Talent Show because I just kept seeing this kids face until he entered the contest, all I seen was this kid's face, and that was Pharrell. I overulled the judges, cuz they wouldn't doing anything, they were just on the stage jammin', and doing what they did in the Hall Ways of the School and in the School Yard, and I said man, that's something that I would do, Not get up there and sing "I Will Always Love You" or a LutherVandross song and hit the big Apollo note.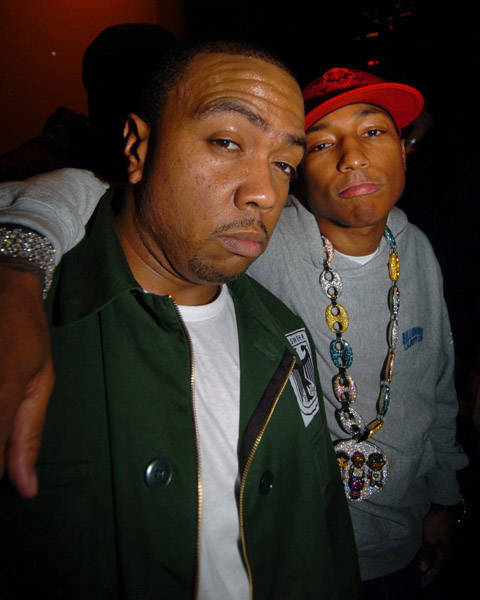 You know everybody holding that Apollo note *singing*, No… when Pharrell and them got up there and just started like "Yo, we ain't got nuthin' planned but we gonna do it somethin' like this, HIT IT CHAD !! *Does Beatboxing* and then Pharrell just started spittin' *starts gibberish rappin'* I said, Oh Yo this Yo… and then when they won I signed them right away I was like Yo I overruled the judges.. I was like "Yo, I pay Y'all… this is what it is… I gace them the card, them dudes the N*E*R*D's, them … He's been asked then who is better a better producer, The Neptunes or Timbaland. "Oh Now you ain't gonna put me in that, Nah… Oh damn, you trying to star a fight, I'm not going to say who is better, but I can describe the differences between The Neptunes and Timbaland.

They're Both of them important in music today. No… I ma tell you this and I ma keep it real, let me tell you why is Timbaland is very important he is a Architect, even though he had the different producers around him and all the things that the producers have done with him, he is the one that articulates what goes out. He touches up everything when Timbaland touches something it turns to gold. When he puts out music and it doesn't go anywhere it's because it's before his time, the same thing is with Pharrell and Chad. Their music was before their time and is still is, it's like me.
I did records like, people didn't like "Deep" until two years later people didn't like "Groove Me" until a year later, we thought it was a flop, people didn't like "Wizzy Wow" until later, cuz the music, our music Pharrell, Timbaland, Myself, and I even have more producers Rodney Jerkins. Music is before the time and we kinda think differently like we just awkward people, we're are not on earth, we really are not on earth, Pharrell is not on earth, definitely like, he is the to me he is the true like the Head Martian, if you say, Martian, I'm like a Igor, Pharrell is a Martian, and Timbaland is R2D2, you know what I'm saying, and then Rodney to me is like the Mythos, you know we're different, we think differently.", check out the whole parts below, thanks to thetimbalandpassion.blogspot.com and make sure to bookmark it for the latest Timbaland News !
Teddy Riley BBC1Xtra Interview – Part 1 (Going Solo)

Teddy Riley BBC1Xtra Interview – Part 2 (Michael Jackson)

*thetimbalandpassion.blogspot.com
BLACKstreet – Bootknockilization feat. Pharrell (93′)

SBI – Uh-Huh, Uh-Huh (91′)