Pharrell Williams x Vogue Article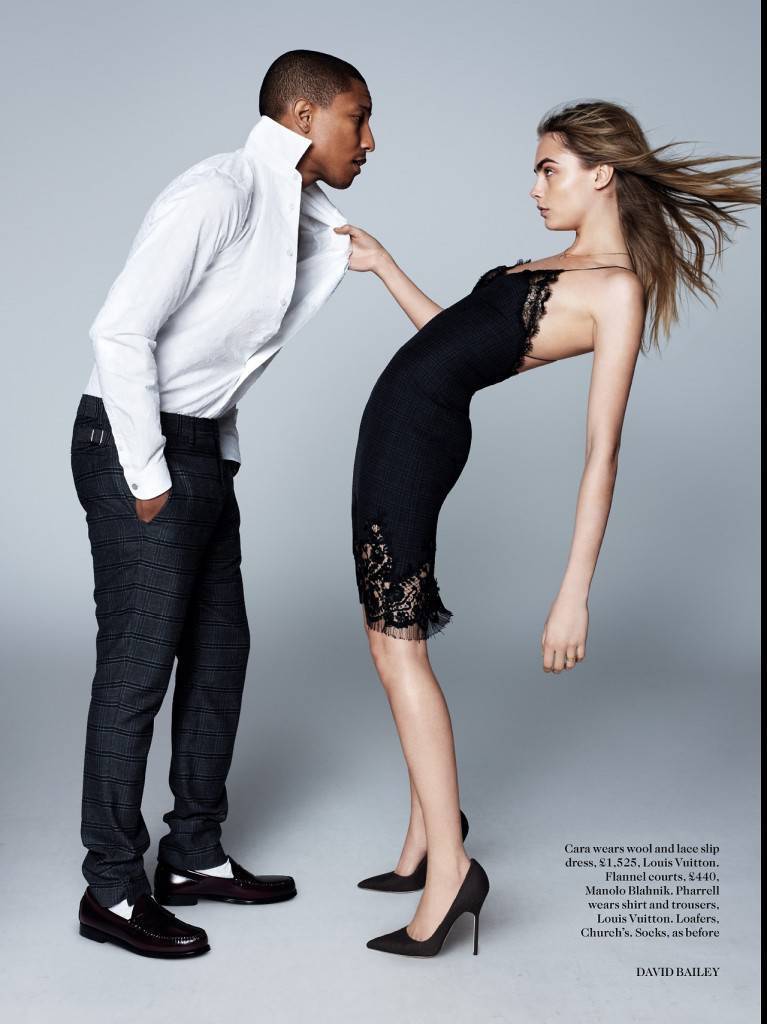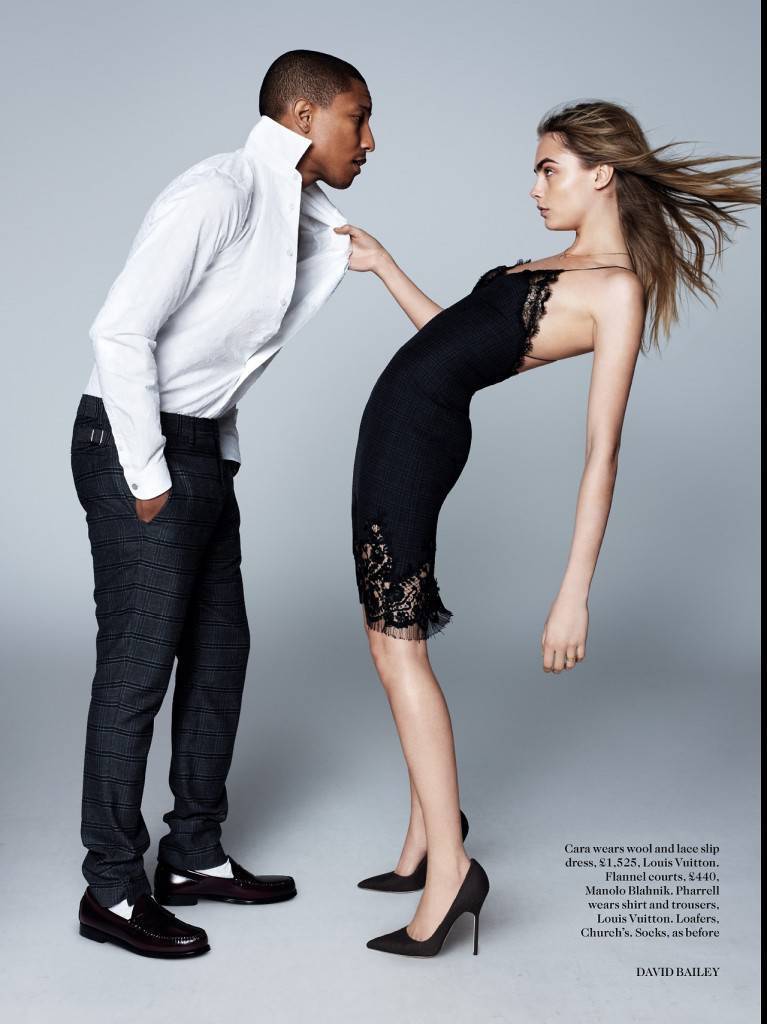 Born Lucky, By Violet Henderson. Pharrell Williams is the music producer with the midas touch; Cara Delevingne is fashion's golden girl. When Vogue brings them together, the couple are utterly dazzling. By Violet Henderson. Styled by Kate Phelan. Photographed by David Bailey. The most desirable music producer on the planet is standing before me in nothing but camouflage boxer shorts, which do little in the way of hiding. Pharrell Williams, 40, may not have a six-pack, but he is far from flabby. His diamond earrings glint in the sunlight and he is smiling.
This is a man with a very legitimate claim to happiness: at the time of going to press, "Get Lucky", his collaboration with Daft Punk, is number one in more than 20 countries. Its only competition for summer-anthem status is "Blurred Lines", the tune he produced for Robin Thicke – in the video for which he cavorts with models in white lingerie (or none, depending on which version you watch). But for now, Pharrell is thinking of different things, looping his hand behind his neck and asking, ever so politely, "Can you see my pubes?"
Pharrell isn't the only semi-naked beauty in the room. Cara Delevingne, the girl with eyes so piercing they induce global hysteria, is also dressed only in her knickers. We are backstage at David Bailey's studio in west London, between takes. is on the phone, which she holds beneath her chin on loudspeaker. She is discussing the night before with a seemingly endless rotation of friends. Pharrell – or, as Bailey insists on calling him, "Farall" – is more subdued. He got off a plane from New York yesterday evening, performed on The Graham Norton Show, hosted a business dinner, and after this has another photo shoot for one of his three clothing labels, Billionaire Boys Club. I ask him if he is tired. "I am in agony," he says, with a smile that is peace incarnate.
The musician is relentlessly polite, calling everyone on set "sir" or "ma'am". When Bailey kicks out two members of his entourage – an assistant and a bodyguard the size of two people – Pharrell shrugs his shoulders and says that's just fine. He is not exuberant, nor is he a talker. In front of Bailey's lens he is relaxed and obedient, interested by the legendary portrait-taker's instructions; any flamboyance he leaves to Cara, who bends and twists her lithe body like a ribbon around him. And yet his presence is as striking as a million lightbulbs each burning at a thousand watts. He has that peculiar sort of charisma that just is.

Pharrell got into fashion 15 or so years ago, he recalls. "I'd just signed this girl called Kelis, and back then all I wore was Ralph Lauren's Polo, because that was the thing. And Kelis turned to me and said, 'You've got to get out of this box.' She introduced me to Prada and Gucci. It was thanks to Kelis I discovered a life outside of monograms."
Billionaire Boys Club celebrates its tenth anniversary this year. "It's insane," says Pharrell of the line, which sells everything from cotton tops to crystal-emblazoned bomber jackets. He also helms a T-shirt and trainer brand called Icecream, and Billionaire Girls Club – although he modestly describes himself as "just a details man". It's when Vogue's Kate Phelan puts him in a pair of Prada socks that he loses his cool. To most people – even fashion people – these would just be a pair of nice white socks; to Pharrell they are a masterwork of silk and perfect seams. His assistant is charged with buying a bag of them as soon as the shoot is over.
Once the Vogue team has dressed him in each new look, Pharrell checks the mirror. But he doesn't come over a peacock: he isn't pulling in his belly or pouting. He is looking at trouser length and width, collar height, whether or not he should roll up his sleeves. He asks where each item comes from, and discusses the ways he might wear them in everyday life. He says he loves to customise his clothes and that he is constantly getting his scissors out on this and that. "Fashion sets Pharrell's mood," says Ronnie Cooke Newhouse, creative director of HOUSE AND HOLME. "He is stylistically brave. Really braver than anyone in music. A magpie of ideas… Which is why he casts such a big fashion influence on boys and girls. It also helps that he can put on anything, and both it and he look great." When Pharrell has analysed his own outfit, he moves on to whatever Cara is wearing. He campaigns to keep her in a red-checked skirt because "against the black-check shirt the colour pops really nicely". The whole room looks around, surprised, and the red-checked skirt remains.
Sphinx-like, with wide-set eyes, long eyelashes and a mouth that flirts with a smile, Pharrell is remarkable looking. He could be the sum of a number of races, but his ethnicity is "black, black, black", he says, only to add that the colour of his skin does not define who he is. Higher on his skin agenda are wrinkles: he attributes his curious absence of them to "being cognisant – I wash my face with Cetaphil and cold water".
If the rapper didn't exude his marketable brand of overt sexuality, he could be charged with being effeminate. Instead, he gives off the palpable sense he is assessing you in the same way he might a gyrating ass in a music video. He is liberal with the compliments, interrupting me mid-sentence to say "you have these enormous pupils" – a disconcertingly niche detection. But none of this is anything more than play, part of the DNA of a global sex symbol who sings about lap dances and girls who "like to move". As of last year, Pharrell is engaged to Helen Lasichanh, a model and fashion designer with whom he has a four-year-old son, Rocket. Wife-to-be and child are strictly off-limits for this interview, but Pharrell later refers to his son as his "greatest co-production".
Away from the distraction of clothes rails, Pharrell considers his music-industry success as the culmination of "a steady grind of working, making music, working, making music, working, making music. It hasn't stopped being like this. It never will." "It" began at band camp, in Pharrell's high-rise, low-income hometown of Virginia Beach. Here, aged 12, he learnt to play the string drum in an orchestra which performed "The Flight of the Bumblebee". He also made a buddy, Chad Hugo, and the two of them got to making tracks on their own aged "17 or 18" – "it was so long ago," he laughs, "I can hardly remember now".
They were discovered by Teddy Riley of Blackstreet fame. Pharrell and Chad then merged to become The Neptunes, a production duo that worked with Kelis, Jay-Z, Justin Timberlake. It didn't stop there, Chad and he joined up with two other musicians and formed the funk hip-hop band N*E*R*D. The musician, who now lives in Miami and works every day in his home studio, says: "I don't have a social life. Because what is that but drama?" In August 2003, a survey calculated that he had produced 20 per cent of all the music played on British radio, a figure which rose to 43 per cent in America. In 2006, Pharrell went solo with his own Grammy-nominated album, In My Mind, and has also written the film soundtracks for Despicable Me and Despicable Me 2, which was released this summer. "It doesn't matter if I make music on my own or with other people, I am just as thankful for its appreciation."
Pharrell's genius is the happy sort, which sleeps well at night. "I never feel anxious about anything," he says. "Why would I? If I felt anxious or put pressure on myself then nothing would be fun." The only time he came near to stage fright was "feeling a little overwhelmed" when he walked on stage to perform The Beatles' "I Saw Her Standing There" with Dave Matthews, Vince Gill and Sting at the 2004 Grammy Awards. But it turned out to be the performance he enjoyed most of his career.
According to Rihanna, it's Pharrell's "unique perspective" that makes him a superstar, and that he creates "music that feels good". And, in fact, his own motto, "Keep talent loyal to creativity", is essentially a pledge to his instinct. This is a man who is absolutely certain of how he sees and hears the world, and what exactly he wants from it. So when he makes a track he thinks about groove, pace, beats, lyrics all working together. The king of analogies, he throws me one to explain his creative process: "It's impossible to make steam without heat and water." Unfortunately, what may seem to him as simple as turning on a kettle gets me no closer to producing a hit record.
Today Cara is singing. A lot. You'd be forgiven for thinking she was at an audition rather than a photo shoot and quite a few Pharrell songs are in the mix. She has a good voice, and all the confidence to pull it off. "I was so excited about working with him," she says. "He inspires me so much. I went on tour with Rihanna recently and 'Blurred Lines' was blasted from the bus to get everyone singing," she says, before breaking into song. Although Pharrell personally requested to be photographed with Cara today, initially, interaction between the two is limited.
But then Bailey plays Bob Dylan's "Spirit On The Water" and the three of them dance together, clicking their heels in unison. When they finally return back behind the clothes rails, the pair share a cheeseburger at the makeshift make-up station and bond over Miley Cyrus – Cara's friend and "like a sister" to Pharrell. They find they share a similar musical outlook. Pharrell says he'd like to hear her material. He goes on to tell the room, how, when he met Cara only for a few minutes at this year's Met Ball, he picked up on her good energy. Pharrell, an Aries, is big on energy. Before they leave, they swap numbers, kiss goodbye and promise to meet again soon. Chances are, next time it may be music which brings them together.