Pharrell On Miley Cyrus: "That Girl's A Threat"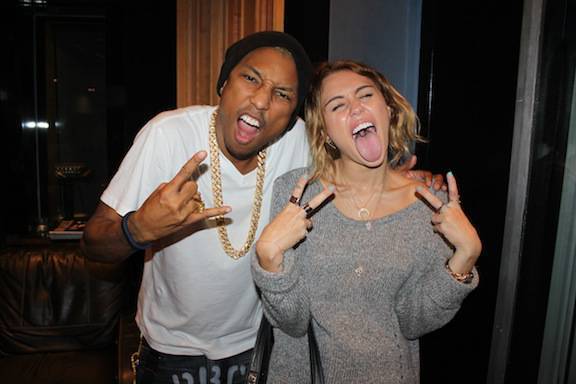 By Joanne Dorken. Pharrell Williams has branded Miley Cyrus "a threat", exclusively telling MTV News UK that the world needs to "get ready" for the star's new album, Bangerz. We caught up with the N*E*R*D star – who has worked with Cyrus on the LP – at the GQ Men Of The Year Awards last night (September 3), where he had nothing but praise for the We Can't Stop singer. Speaking of what people can expect from the former Hannah Montana actress' forthcoming record, Pharrell was keen to defend her raunchy routine at the 2013 MTV VMAs, insisting that twerking is not all what Miley is about.
He told our Becca Dudley: "The world has no idea who she really is, they've gotten just a slice. "If you think about it, when you were 20-year's old and you threw caution to the wind, you did so. Your friends were around, your family was around, strangers were around but it was in the confines of your own privacy, she's done so in public." Williams continued: "It's interesting because while everyone thinks they know who she is and what she's all about now, and they're like, 'Oh, we got it. We saw that performance, we know.' You have no idea.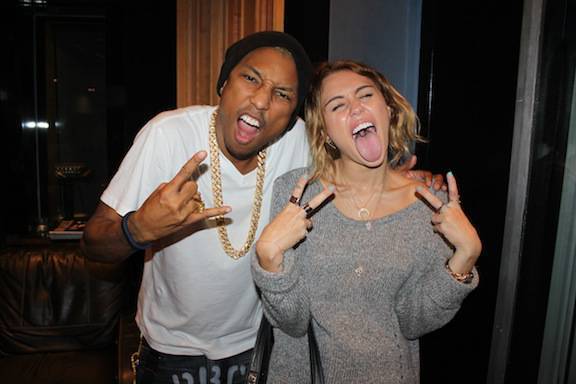 "I'll say this, I'll remind you she's from Nashville, her dad is Billy Ray Cyrus and her godmother is Dolly Parton. All I'm saying is, get ready. That girl's a threat." When probed further for his views on THAT steamy stint on stage at the VMAs, Pharrell went on: "I commend anybody that unzips and bares what they're thinking to the world, cleared for judgement – especially the way she did it, it's so smart dude. "Like when you guys hear the rest of the music, you'll be like, 'Oh, we thought it was just one thing,' which was totally awesome, but wait until you hear that tone. I'm telling you." Cyrus claimed this week that herself and Robin Thicke wanted to "make history" with their performance at the VMAs. Miley's new album Bangerz is due for release in the UK on October 7. We can't wait!