Pharrell Williams Joins NBC's The Voice, Due September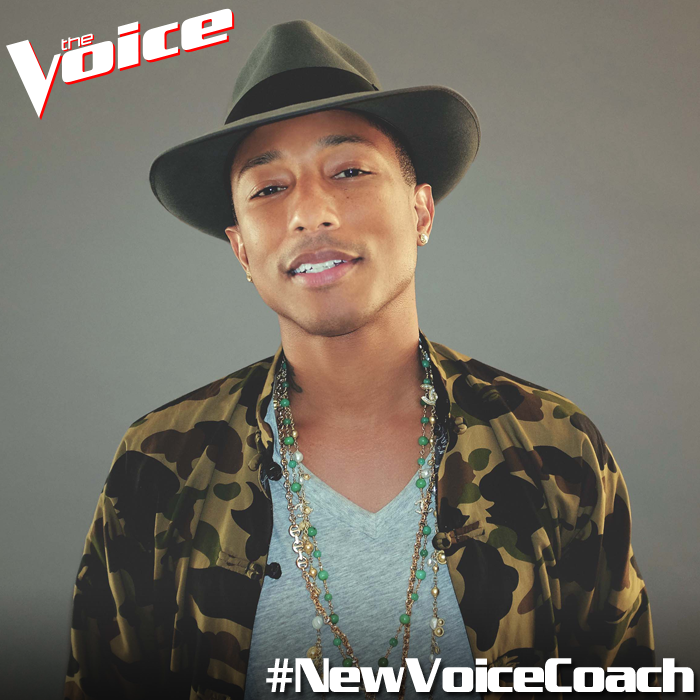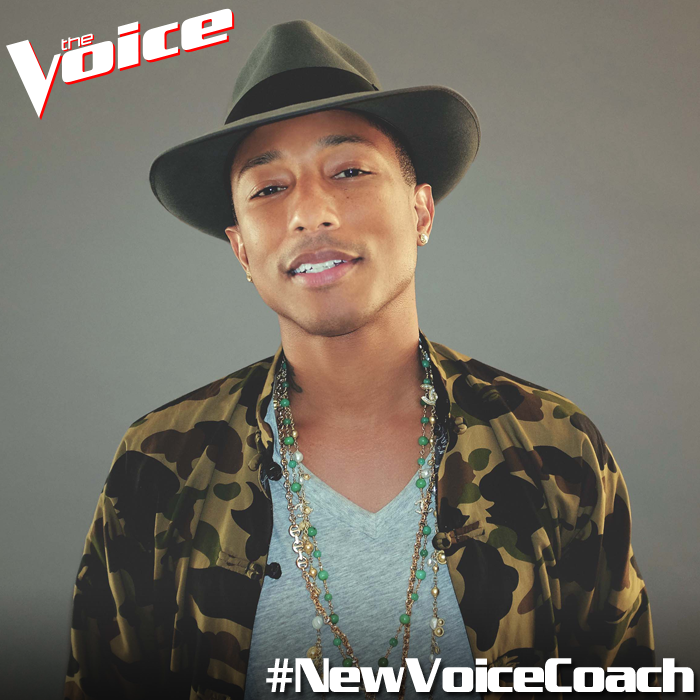 Musical multi-threat replaces Cee-Lo Green in Cycle 7. Grammy-winning singer-songwriter Pharrell Williams is bringing his talents to NBC's The Voice. The 40-year-old Neptunes linchpin and recent Daft Punk collaborator ("Get Lucky") will join the popular musical competition series before the seventh cycle begins in September. He replaces Cee-Lo Green, who last month announced he was leaving the show to focus on his music.
"I'm not coming back, guys," Green said during a Feb. 19 appearance on The Ellen DeGeneres Show. "I don't want to wear out my welcome … I have so many other things that I want to do. I haven't released an album in four years." Pharrell previously served as an adviser to team Usher on Season 4 of The Voice, which aired in the second quarter of 2013. Along with Robin Thicke and T.I,, Pharrell performed the track "Blurred Lines" on The Voice last May.
Whether veteran Voice coach Christina Aguilera will follow Green's lead and surrender her spinning red chair remains to be seen. NBC on Monday said the rest of The Voice's coaching staff will be confirmed "at a later date." NBC teased the announcement earlier today, tweeting a photo depicting Pharrell's signature Vivienne Westwood Ranger Rick hat resting atop one of the show's iconic chairs.
That nod to his sartorial preferences aside, Voice fans won't actually see Pharell sporting his Grammy night lid. The sandwich chain Arby's ponied up $44,100 for the headgear, which bears a striking resemblance to its own logo. "It's been a huge year for Pharrell, with recognition for his contribution in the world of music—the Despicable Me franchise soundtracks, his Oscar-nominated song 'Happy' and his Grammy-winning collaboration with Daft Punk," said Paul Telegdy, president, alternative and late night programming, NBC Entertainment.
"His dominance in record sales in 2014, coupled with his incomparable accomplishments in the world of fashion and design, make him an irresistible addition to The Voice family." One of the most-watched, highest-rated shows on TV, The Voice in Cycle 5 is averaging 13.8 million viewers and a 3.9 in the 18-49 demo, per Nielsen live-plus-same-day data. The fall cycle averaged 12.6 million viewers and a 3.8 rating, down 12 percent from the year-ago period. Pharrell's most recent album, G I R L, was released on March 3. The album debuted at No. 2 on the Billboard 200 chart.