Pharrell Williams x TheTimes.co.uk Interview, Confirms Working On Ariana Grande's Album (2017)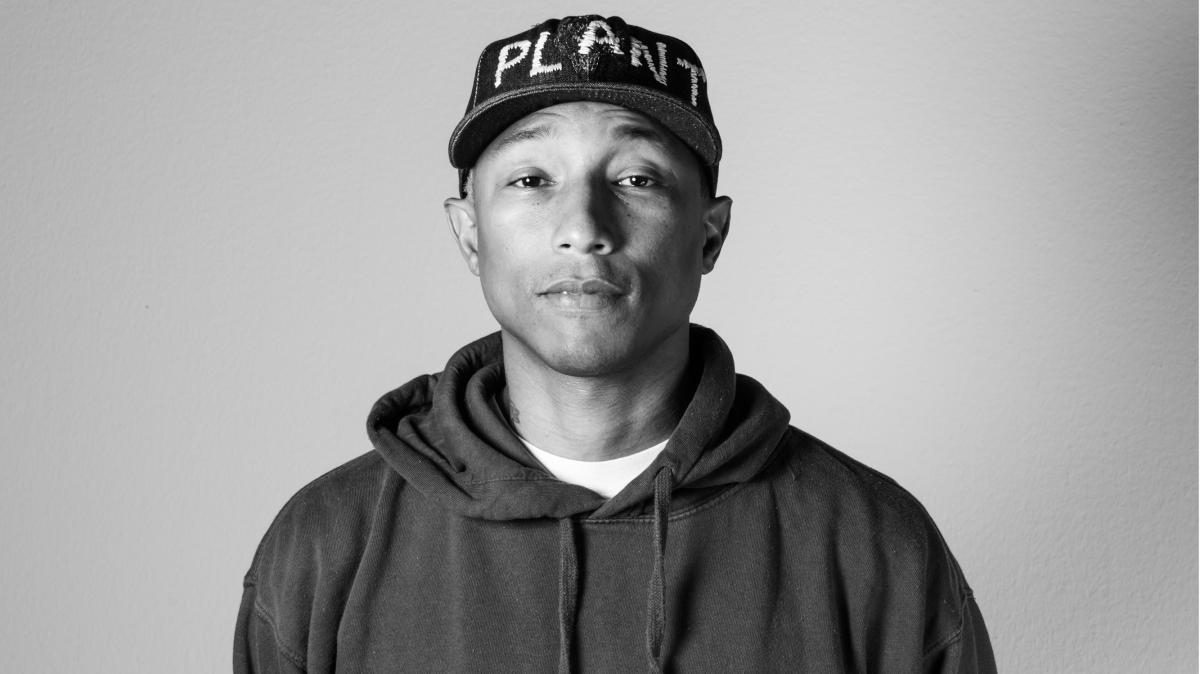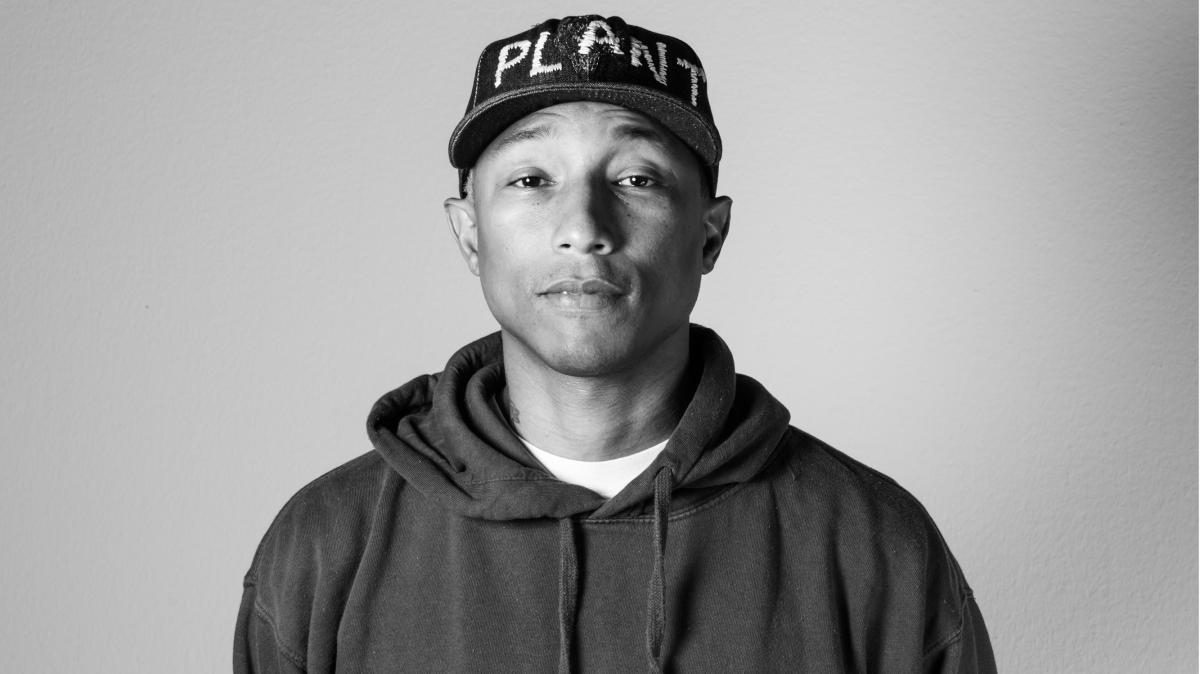 The music producer's latest venture is designing tennis kit for the US Open – but, he tells Sophie Heawood, this is just the start. So there I am, gorging on yellowtail sashimi at Nobu in Malibu, waiting for Pharrell Williams to turn up for this interview, when his assistant arrives to tell me the good news — he's outside! The bad news, though, is that he can't come in, so she is going to drive me to her house (which turns out to be his house, a rented weekend retreat) where we will talk instead. Paparazzi? Sulking? Nerves? No. Apparently, Williams can't leave his black SUV to enter the restaurant because he hasn't eaten all day and the man is ravenous.
Leaving a restaurant because you're hungry — it all makes perfect sense in Celebrityville. Not that I'm complaining. The house turns out to be a minimalist haven, with a wall of glass 80ft wide overlooking the Pacific Ocean and nothing else. On arrival I am asked to remove my shoes, so I plop my sandals into an outdoor basket beside a pair of multicoloured Adidas sneakers that say Pharrell Williams on the back. He is here! Barefoot, wearing a printed lilac T-shirt, baggy jeans and casual gold jewellery, the superstar musician and producer comes to greet me, noticeably polite. In fact, apart from the solid minute he spends deep in prayer to bless the big plate of Southern soul food brought by the chef (his head is down and his lips are moving), Williams doesn't break eye contact for our entire conversation.

It is not outlandish to say that this man has changed the face of pop music. More than 15 years before smash hits of his own such as Happy and Blurred Lines, he was creating career-defining songs for Kelis and Britney; he now has 10 Grammy Awards to his name. But today the 44-year-old doesn't want to talk about music. He will say only that he is working on new albums with Justin Timberlake and Ariana Grande, and that both are "amazing", as well as a new album of his own, "and my fans know what it is". He and his wife, Helen Lasichanh, 37, recently had triplets (they already have a nine-year-old son, Rocket), but he doesn't want to discuss the babies, either.
"Has life gone back to normal? There's no such thing as normal. Life is a kaleidoscope" is as far as we get on that topic. (He recently received an online backlash after saying he didn't change the triplets' nappies, leaving it instead to his wife, aka "Seal Team Six".) Instead, he wants to reveal that he has collaborated with Adidas to design the clothes and trainers for its sponsored tennis players to wear at this year's US Open (beginning on August 28), which is a pretty big deal.
Of course, Williams is no stranger to fashion himself. "You know, I wear girls' clothes sometimes. I wear Chanel sweaters. Belts. Fanny packs. Socks." It's great you don't feel limited only to picking from the men's range. "Well, why should we? Ever? I used to wear a lot of Céline, but then Chanel and I made our thing official. Gabrielle and I, we're dating," he laughs (Gabrielle being the late Coco Chanel's real name). He was the first man to model in a Chanel handbag campaign, and last year he walked in Karl Lagerfeld's show for the label at the Ritz in Paris.
But the collaboration with Adidas isn't just a celebrity brand endorsement. Williams insists that, with some help, he has worked on the form and function of the clothes themselves, "because I told Adidas I want to do something that goes further than aesthetics. I want to do something that digs deeper into real purpose. More about the springs and the sprockets and the gears."
The designs hark back to the 1970s golden age of tennis, with a truly glorious, bright, vintage palette inspired by the colours of Wes Anderson movies — "a huge influence on my life" — but the intention behind the range couldn't be more timely. In fact, at a time of great political upheaval, Williams believes that this Adidas collaboration could mean something for black America. "For me to be able to do what I'm doing with HU" — the name of the collaboration, a contraction of human — "and for Kanye to be able to do what he's doing with Yeezy… I think if you were to go back in the history of fashion or even sportswear… Find me a brand that's ever done that. Find me a conglomerate that's ever said, 'Let's bet on that guy, and let's bet on that guy.'"
But you and Kanye are both huge stars. Is it really that unusual? "Well, someone's gotta open the doors first. Now some young black child can say to himself, 'Yo, I could be a fashion designer, I could be an athlete, or I can be an artist, and I can still end up at Adidas.' That's a huge, huge suggestion to the youth. And the implications of that… There's some kid in junior high school right now drawing shoes, designing shoes, right now, because he knows he has a shot."
I mention that Kanye felt the fashion world shut doors on him because he was a black man. "Mmm hmm," he nods in agreement. Does that feel like it's changing? "Adidas is changing. And we're grateful. Like I said, the implications are huge. And by the way, that's just for us, because, you know, us black people in America, as I'm sure you've seen on the news, just continue to get beat."
I don't understand how police brutality against black Americans cannot be stopped. "Oh yeah, it's unreal," he says, his voice lowering almost to a hiss. "It's unreal. "But you know what," he continues, his voice now incredibly focused, soft, yet ready to make the political speech of his lifetime, "they're beating us because they see that times are changing. And it's not going backwards. And the good news is, all of those guys are old and they're dying. They're dying out. And we're gonna keep on innovating, and we're gonna keep on creating. And we're gonna keep on inspiring, and we're gonna keep on being ambitious, and we're gonna continue to dream beyond our physical and tangible means.
And that excites me. Listen, I have designed and collaborated with a team to make clothing and apparel and sneakers for our tennis players to play at the US Open. You can't beat that. You can swing your baton all you want, but you can't beat that. And that's OK. We know it upsets some of 'em — but they're the few and we're the many. And with corporations like Adidas taking chances on us, allowing us the creative space to do what it is that we're doing… Well, it changes things. So it's deeper, for me. So I thank them."
I ask if he thinks the current American administration will soon crumble. "There are more millennials than there are of them — millennials with the mentality of looking out for your brother and sister. Exclusive just isn't cool any more! Millennials are socialists and nobody has noticed. They're not interested in owning a house, they Airbnb. They don't need to own a super-fast car, they get in a Lyft or an Uber. They're about being communal. So all those old people that are up there" — he gestures somewhere in the metaphorical direction of the White House — "fighting for everything, trying to keep everything closed off, partitions everywhere: it's OK 'cos you're old. And at the end of the day, these kids are the future. I'm old, too!"
Williams believes so strongly in supporting the youth that he has ploughed a significant amount of his own dollars (tens of millions, I am told) into his charity, From One Hand To Another, which works with Apple to provide education — including coding and yoga — to underprivileged kids. These days, his mother does all the hard work for the charity, he says, "not me — and I'm proud of that". His mother is a retired primary-school teacher, his father a handyman, and he grew up in Virginia, the eldest of three brothers. His mother's educational belief? "Yes you can. Yes you will. Yes we shall."
He alludes to the election of Trump. "There are a lot of people who fell for things and thought that was a better route — and now they're seeing how it really is." Almost addressing the president personally now, he adds, "'Cos my thing is, man you're making everything exclusive to you, for what, for how long? For how long? This is the only planet we have, third rock from the sun, and our sun is just another star. When you see all those stars up there, there are planets around them. We ain't alone."