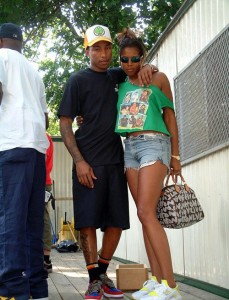 Here is an old Kelis' Livechat from 1999 where fans had the opportunity to ask Kelis questions on Yahoo.com. Thanks to Terr from the Ultimatekelis Forum. Kelis may be the one singing the chorus to Ol' Dirty Bastard's hit "Got Your Money," but it's her own fiery single, "Caught Out There," that's been getting the 20-year-old singer all the attention. The 5'10″ former model had such a good time during her Nov. 12 chat with LAUNCH–her first online chat ever–that she said the chatters asked better questions than the journalists who interview her everyday.
While your favorite rap/ R&B editor is not sure whether or not to take offense, LAUNCH applauds the chatters for a job well done. LAUNCH users got Kelis to divulge plenty of secrets. Just what kind of conditioner does she use to keep her hair so curly? What dyes does she combine to get that bright fuchsia color? What's her ethnicity? Did she kill the guy in her video? Does she inhale? What was it like meeting D'Angelo in person? For an account of all these juicy tidbits and more, take a run-through of the chat transcript below. Heck, you can even forward a copy to your friends.
azureC99: Is your hair naturally curly?
launch_kelis: Yeah, it is. Actually it's always been a mess, but I recently, in the last couple of years figured out how to tame it. Conditioner's the key to life.
manolis_varnassinger: how were you discovered
launch_kelis: I wasn't really discovered. I was actually supposed to sign a deal with another label, and it just wasn't right. A friend introduced me to the Neptune people and they made a demo and took it to Virgin.
manolis_varnassinger: kelis are there any duets on your album
launch_kelis: Yes, there are. There's a duet with me and Marc Dorsey called "Ghetto Children," and one with Marketa, we do a song together called "Mafia."
Rm702: HOW LONG HAVE U BEEN ON THE MUSIC SCENE
launch_kelis: Well, like five years. But successfully only two years, actually.
(more…)