Pharrell Talks Hans Zimmer, Miley Cyrus, Reveals Working On Mac Miller's Album, Dying To Work With Prince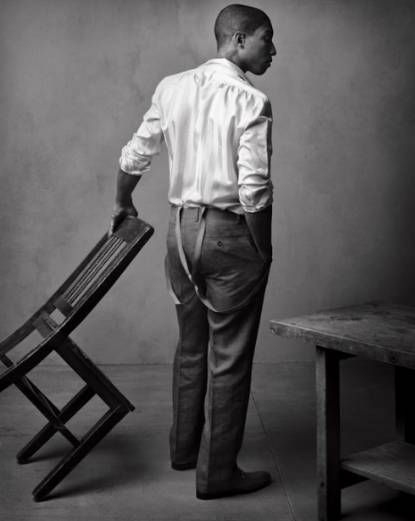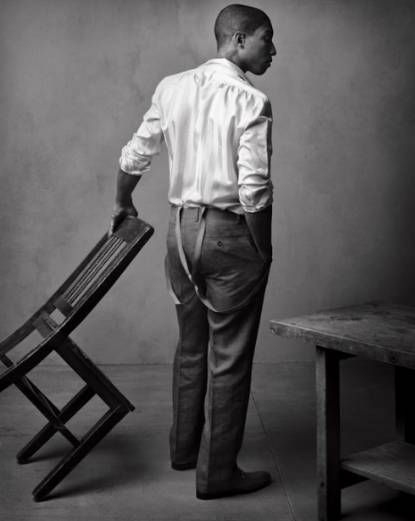 It looks like Mac Miller and Pharrelll scrapped the Pink Slime EP, but are now focusing on Mac Miller follow up 'Blue Slide Park' and working on his second album, furthermore, to The singer/songwriter/producer/jack of all trades is No. 16 on THR's hitmaker's list. Over the past year, you could hear Pharrell Williams' idiosyncratic touch in releases from Rick Ross, Wiz Khalifa, T.I.,Usher and R&B breakout Frank Ocean, who scored six Grammy nominations for his solo debut, Channel Orange. "I wanted to know what a singer was doing with the Odd Future [hip-hop collective]. It had to be interesting," says the sometimes N*E*R*D frontman, and one-half of the producing duo The Neptunes, ranking at No. 16 on The Hollywood Reporter's Hitmakers list.
Curiosity has always fuelled Williams' pursuits, which has more recently led him to Hollywood: writing music for the animated movie Despicable Me 2 and sitting in with veteran composer Hans Zimmer as he scores Superman: Man Of Steel. ("He is the king," Williams says reverentially, of the nine-time Oscar nominee.) Somehow Williams has managed to shoehorn these projects around his day job. Below, Williams compares Ocean to the "black James Taylor," explains why working with Mac Miller is like "a case study" and reveals his theory on Disney kids in an interview with THR.
THR: Why did you want to work with Frank Ocean?
Pharrell Williams: I wanted to know what a singer was doing with the Odd Future [rapper] guys. He really embraces the term "singer-songwriter." The kid just has this thing. He just wants to tell stories, more so than being seen as an R&B singer. I've referred to him as the black James Taylor. I love people who tell stories—Stevie [Wonder] was like that, too.
THR: You've been hanging out a fair bit with Hans Zimmer, whose movie scores have won him countless Oscar nominations. What have you learned from him?
Williams: Hans is a mentor of mine. For me, I'd just gone through various stages in my life… different seasons of inspiration. I like the idea of switching soundscapes. Hans really taught me the importance of embracing that and not taking the conceptual part lightly—and also techniques of building sounds, making things sound bigger. He is the king.
*twitter.com/i_am_other
*hollywoodreporter.com

THR: Recently, you visited him while he was working on the new Superman score.
Williams: I wasn't scoring. He had me come in and sit in with him on Superman. It was a particular session…I was one of a bunch of people to do something in this particular session. But just watching how he assembles things—that was totally valuable.
THR: It's curious that you'd work with rapper Mac Miller, who doesn't really have the respect of his peers. He charted by appealing to white college kids on social media.
Williams: Yeah, we're almost done [with the album]. I like that he understands his pocket, his demographic. To me, it was a case study: I felt like a reporter going on a case, getting an understanding of his world. His skill set and acumen go hand-in-hand. That's what interesting: When you're listening to his songs, you're listening to his business.
THR: How did you come to work with Miley Cyrus?
Williams: I would see her from time to time. I have this theory about Disney artists: They have the best work ethic ever. She had inquired about working with me, but I had inquired about looking for her—we found each other at the same time.
THR: What is it like working with someone who comes from such a song factory?
Williams: We talked a lot before we did anything. She's very clear on what she wants to do. She's not confused at all. And she hears a hit like a baseball coming off a bat. She gets it. People are like, "Really?" And I'm like, "Yeah!" I remember when they said that to me about Britney. I remember when they asked me, "Why Justin?" I was like, "Because there is a guy in that group you think you know—but you really don't.
THR: What will the album sound like?
Williams: She sang me a song—her voice is totally different from the "Party in the U.S.A." thing. There's way more country influence. That should be obvious, but most people don't know that. There's definitely a lot of hip hop at the heart of it. I don't want to give too much away, but her project is a definitely a melting pot of all the stuff she likes.
THR: Is there anyone you'd never work with?
Williams: Yeah for sure, but it's not…[laughs] wouldn't be so becoming for me to say. You say "no" more than you say "yes." It's just that I see things in people that sometimes you don't get. But it is more important to say "no" more than "yes." You have to reserve.
THR: Okay then, whom are you dying to work with?
Williams: Prince.
THR: Why?
Williams: I just…[long pause] you know why!