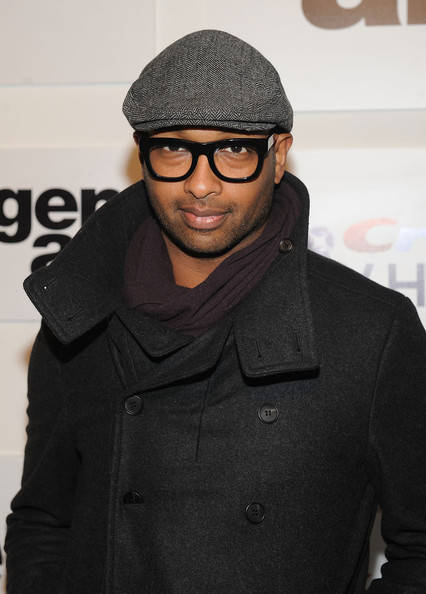 By Kenny Herzog. It makes perfect sense that Kenna's intent on giving credit to artists who blurred lines before him, going so far as to dub his latest series of EPs Land 2 Air Chronicles II: Imitation Is Suicide. More specifically, imitation without repping your influences. As the Ethiopian-born, Cincinnati-bred, Virginia Beach–molded singer/musician/producer/entrepreneur/philanthropist will readily offer, "I'm like the most famous non-famous person on the planet." And indeed, for more than a decade, Kenna's bobbed and weaved through musical consciousness like some kind of Zelig, but with a guiding touch. His 2003 debut LP, New Sacred Cow, was impacting on the likes of Timbaland.
The follow-up full-length, '07's Make Sure They See My Face, nearly ensured that titular imperative via breakout single "Out Of Control (State Of Emotion)." And by the time his Land 2 Air Chronicles 1: Chaos & Darkness EPs arrived in 2011, it sounded like ever major artist in R&B on the radio—be it Bruno Mars, Drake, Santigold, or The Weeknd—had shared in his vision of expression sans boundaries. But despite a prolific yen these past few years—no small feat given his efforts raising funds and awareness for the global clean-water crisis and serving as MySpace's Chief Vision Officer—and pop music seeming to at last catch up with his fantasies, Kenna's mainstream profile remains puzzlingly, comparatively obscure.
No matter. As the man tell us, creativity serves a purpose higher than one individual's commercial achievements. Kenna's not so much interested in pursuing entitlements as trusting his ear and intuition. Still, we'll say it for him: Land 2 Air II—whose three EPs, or "Chapters," are produced by Chad Hugo, Himself and RJD2—are the sum total of that FM sound you hear right now, one he helped pattern and is now pointing toward the future.
Shortly before the release of Chapter 1 (Chapter 2 arrived Oct. 22, with Chapter 3 to follow Nov. 26), Kenna talked about all that's tangential and essential to making and preserving music, staying humble and happy for others' accomplishments, and channeling his "nerd swagger."
Does it feel like there's a zeitgeist happening now that Land 2 Air might fit right in with?
Yeah, absolutely. You know, what's really interesting is it's a very small world when it comes to the tastemakers that make the music we listen to. One of those people is Justin Timberlake. And to be honest, when "Suit and Tie" came out, I think Justin technically slowed radio and music listening down from the frenetic pace of what was happening with music right before that song came out. I always joke around with him, and I'm always saying, "Yo, build me a highway," because anytime he does something, it kind of just decimates whatever sonic is being pushed, and it becomes the conversation or the sound of things. Right after that's when "Blurred Lines" was written, recorded and put out. Daft Punk was putting out an album no matter what, but I think it didn't hurt that that song went to the two-step. So, yeah, I think there's a paradigm shift right now, and I'm really happy that it's musicality that's come back and there's some level of interest from people to hear it and love it and partake.