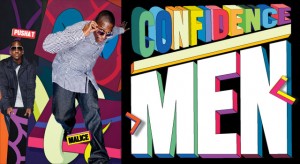 Pusha and Malice live in a world of their own devising. You're welcome to visit, but don't try to tell them they're imagining things. Hip-hop may be an ever-changing beast, but one thing is constant: The Clipse's sense of self. They might not be shouting it from the rooftops, but they clearly think they're the best in the game—which is a little surprising, given their track record. After receiving a platinum plaque for their eerie and exceptionally witty debut, Lord Willin', they fell into label purgatory. Four years and two mixtapes later, the even darker Hell Hath No Fury had critics and fans fawning, but still bricked like a Kwame Brown jumper. Despite the difficulties, Pusha T. and Malice still believe in the Clipse. And somehow, their bravado is understandable; it's what's gotten them here, after all.
When the Internet became saturated with no-name MCs and endless mixtapes, they concluded that fans value quality over quantity. When the economy cratered, they figured their fashion taste could sustain a clothing brand. And when they signed their Re-Up Gang label deal with Sony, they felt strong enough to branch out from under the Neptunes' wings and recruit outside production for their third album, Til The Casket Drops. In fact, that unshakable certainty is probably why our boy KAWS jumped at the chance to design their album art (and this story). The whole thing may sound more crazy than confident, sure—but the best usually are.
Complex: It seems like Till The Casket Drops is very disconnected from the industry as a whole. Like, "Fuck that, this is what we're on."
Malice: This album is like redemption for me. We've been through so much with the label, with so much in our lives. Around Hell Hath No Fury, it was just rough times. You could probably hear it in the music. We had a lot of dead weight around us that got cleared out. This time around, everything is freer; we're in a happier place. You can really hear the change in the music. Listen to "I'm Good." You can feel it that we're better. Definitely. Hell Hath No Fury is about when it was more raw. This album is more along the lines of Lord Willin'. And you know Hell Hath No Fury is my favorite album.
C: Why is it your favorite album?
Pusha: It's everything I want to hear in rap. My taste isn't the most commercial of tastes. When I put on an album, I find those records I like. If I'm listening to Ross, I'm listening to "Mafia Music." If I'm listening to Jeezy, I'm listening to track 17. That's what I want to hear.