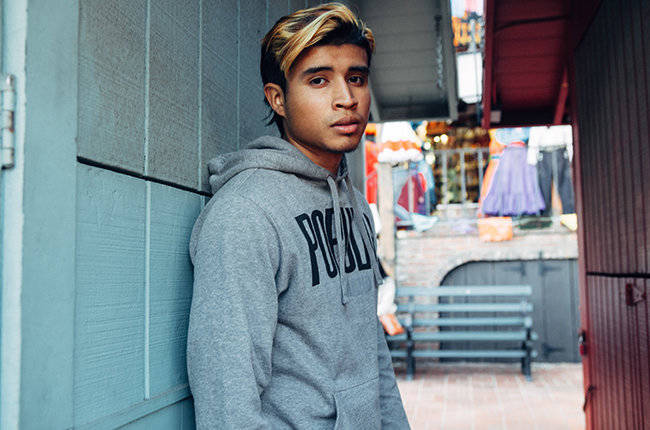 Atlantic Records newcomer Kap G may not be a household name just yet, but he's working on it. On Tuesday, Kap released new single "I Be Up" featuring Nechie on iTunes and all digital providers. Come Friday, the Mexican-American rapper makes his formal theatrical debut — as the character Fidel — when the buzzy coming-of-age flick Dope premieres nationwide. The film's accompanying soundtrack also features the Kap G track "Cocaina Shawty."
Landing The Dope Cameo: KP is good friends with Pharrell, who was looking for someone to play the Fidel character. Pharrell told the film's writer/director Rick Famuyiwa about me. I auditioned and they liked it. It was crazy — my first acting gig. I was a bit nervous on set because there was a bunch of people in the room when I was shooting, including [Dope stars] Chanel Iman and Quincy Brown. I scratched everyone out of my mind and went hard. Everybody says I did great.
Working With Pharrell: When Pharrell brought me in the studio with him, I played him a lot of my songs and we just connected. He likes that I'm bringing something new to the rap game as a Mexican-American. But he also believes I can be a top rapper — not just a top Mexican-American rapper. Make sure to cop 'DOPE OST' now on iTunes.
Kap G – Cocaina Shawty (15′)

Kap G – Cocaina Shawty feat. Fabolous (Mixtape Version) (14′)

*billboard.com
*itunes.apple.com