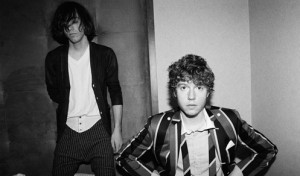 A Band That Knows Where the Money Comes From
Chester French isn't your typical rock band. Singer D.A. Wallach and multi-instrumentalist Max Drummey met as freshmen at Harvard, where lanky, longhaired Drummey majored in social anthropology and twee, preppy Wallach graduated as the top student in the school's African-American Studies program. In the video for their best-known song, "She Loves Everybody," a pretty girl punches the stuffing out of the two helpless weaklings, leaving them bloody-nosed among their broken guitars and drums. Wallach and Drummey, who eschew leather and spandex for bowties and croquet mallets, were signed to Interscope Records just as they graduated two years ago. An album released in April, "Love The Future", has made the duo upcoming stars, albeit not superstars. But besides the fans drawn to their music, Chester French have amassed a following by spending hours a day networking online. Should you encounter the band on Facebook, MySpace, YouTube, Digg, Twitter or any of the other social sites where they've set up shop, you'll be encouraged to sign up at chesterfrench.com as a V.I.P. for the band's concierge service. What you might not realize is you're adding yourself to a database at Salesforce.com.
Wallach told me in a phone call from the band's current tour that he and Drummey aren't kidding that they see their fans, not themselves, as the V.I.P.'s. "Traditional record labels looked at music listeners as fans who were supposed to get in line to get an autograph," he said. That worked, in Wallach's view, when radio and TV were dominated by a few supersize broadcasters. "When the Beatles played 'The Ed Sullivan Show,' seven million people saw it," he said. "But today, there's no channel available that will deliver that size an audience. In this day and age, it's about having a relationship with the people who listen to us. The relationship with someone who likes our music is much more of a conversation than it would have been, even in the '90s." Instead of giving interviews to reporters or dropping by radio stations, Wallach spends most of his time online, going through an average 100 to 200 e-mail messages a day. "We respond to every single e-mail we get," he said. "I do an hour in the morning and an hour at night.