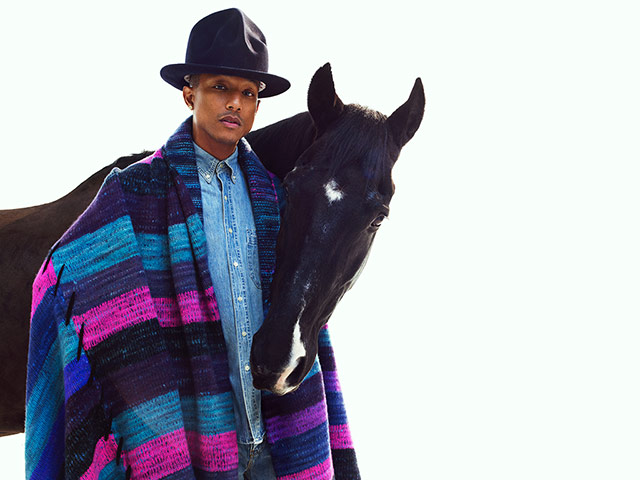 Mention Pharrell Williams to anyone who knows anything about music and they will start throwing figures at you: do you realise that Pharrell is responsible for 50% of the music played on radio, or is it 60%? Pharrell enthusiasts would have you believe that the producer-writer-musician is responsible for every hit record in America and the UK over the past 20 years, and it's true that he has been behind many of them (Blurred Lines and Get Lucky last year; before that, Britney Spears's I'm A Slave 4 U, Justin Timberlake's Rock Your Body, Snoop Dogg's Drop It Like It's Hot and numerous others). In fact, the stat people are thinking of goes back to 2003, when the Neptunes – the production duo Pharrell formed with his old school friend Chad Hugo – produced almost 20% of songs played on British radio and 43% on US radio. It's a remarkable figure.
But what is even more remarkable is that at the age of 40, after more than six years without a major hit single as solo artist or producer, and when many of his contemporaries are considering hanging up their mics, Pharrell has gone stratospheric. He was behind the two biggest hits of 2013, co-writing and singing on Robin Thicke's controversial Blurred Lines (sample lyric: "I know you want it… I'll give you something big enough to tear your ass in two"), as well as dancing on the accompanying video (equally controversial: the men are all clothed and swaggering, the women passive and naked). He did the same for the second bestselling single of the year, Daft Punk's Get Lucky – and then scored his first solo number one with the ecstatic Happy, a Motown-influenced feelgood track as nonsensical as it is uplifting ("Clap along if you feel like a room without a roof"). Last Sunday, he performed it at the Oscars, shimmying along the front row with Meryl Streep and Lupita Nyong'o. All three of these tracks are the work of a pop genius in his prime: right now, nobody can conjure up infectious dance music quite like Pharrell.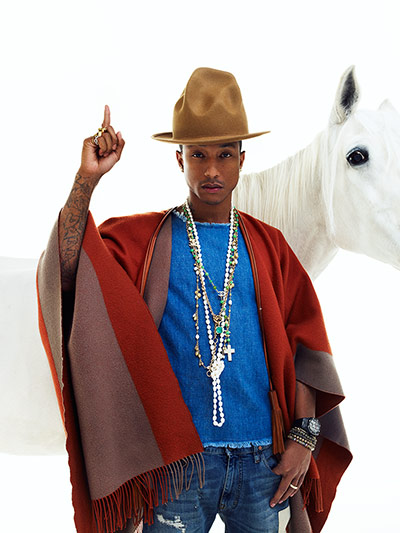 After more than 20 years in the business, he has just released his second solo album, G I R L (he insists on two spaces between each letter). What took him so long? We meet at Sony HQ in London, where he is playing the album to an audience for the first time. By Pharrell's standards, he is casually dressed: polka-dot shirt, grey cardigan, trademark outsized Vivienne Westwood Buffalo hat and a bizarre mix of jade, diamond, gold and water pearls hanging down his chest. He introduces the album in a hypnotically mellow voice. Forget Blurred Lines' "questionable lyrics and the aesthetic of the video", he says – this is what he really thinks about women. Then he goes off on one: how women could shut down our economy if they didn't go to work, how they could end the human species by saying no, how different the world would look and feel if 75% of its political leaders were women ("That's going to happen and I want to be on the right side of history when it does"). He's now really into his flow. It's women who buy his records, he says, women who love him, women who keep him in business, women are his everything. It's hardly Andrea Dworkin, but this does seem to be a partially reconstructed Pharrell.