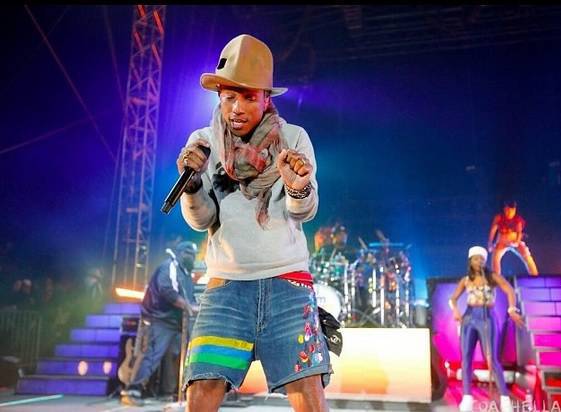 By Ernest Baker. Pharrell's been making music for 20 Years and he's been a superstar for well over 10, but by some strange twist of fate, at 41, 2014 is becoming the best year of his career. While Pharrell's largely known for his production for everyone from Jay Z to Madonna, he's never been a behind-the-scenes type of producer.
Either. His guest appearances on songs like Snoop Dogg's "Drop It Like It's Hot" and Robin Thicke's "Blurred Lines" are a huge part of what made those songs No. 1 hits, but the public's still found it difficult to embrace Pharrell The Solo Artist. Until now.
"Happy," the lead single from his new album, G I R L, is a certified phenomenon, and it's finally given Pharrell a No. 1 hit of his own, topping the Hot 100 for seven weeks now, and showing no signs of slowing down. A No. 1 song is already an accomplishment, but a near two-month run at No. 1 transcends popular.
That's when a record becomes legend, and only a handful in history have had a streak this good or better. Noisey a quick conversation with Pharrell about what it feels to have the biggest song in the world, why this album means so much more than his debut, and why he owes everything to the people.
Noisey: "Happy" is more than a No. 1 song. It's a moment in pop culture. What does that feel like?
Pharrell: It's been amazing, because I know that it's not my doing. Yes, I'm the author of the song, but the people are the author of all the success. When you say the words "big," "huge," and "successful," what you're really referring to is how the public reacted to something. Every time someone votes or requests or downloads, they're contributing to the movement that "Happy" has become. They've pushed it to number one. The only thing I could do is make a song. But how many great songs are written every day? They're not all promised this type of reaction. When you're young and you're doing it, you think it's you, but when you've been doing it as long as I have, you realize it can be great but there are sliding factors that move like plate tectonics. You'll see them time and time again when you thought something was going to blow but it didn't for whatever reason. I'm just really happy that the universe has conspired to give us this kind of moment and I intend to continue to be loyal to it. Just like "Happy" is not preachy, it's just the information is there should you want it; that's how I intend to do my music.
*instagram.com/pharrell
*noisey.vice.com